June 24th, 2020
Thank you, fellow outdoor enthusiasts, for your patience while we navigate these times.
COVID -19 and its many ramifications has meant that we unfortunately have had to cancel our regularly scheduled tours for 2020. Our regularly scheduled tours were comprised of folks from all world and all over Canada and between travel restrictions and the logistics involved in physical distancing with these mixed groups we just could not see how we could offer these tours safely and without negatively impacting the experience dramatically. We did not make this decision lightly as we know how much we could all use a little time to recharge, relax and reconnect with the wilderness. We have been busy contacting all of our guests who were booked for this summer and they have the option of moving their reservation forward to 2021, 2022 or receiving a refund.
In the meantime, we have great news for you!
As we move into Phase 3 of British Columbia's Restart Plan, non-essential travel within the province will again be permitted and we are ready to offer kayaking trips for residents of BC who are 'sharing a private bubble' (members of the same household or who have intentionally and thoughtfully joined forces with another small group or individuals with whom you are not maintain physical distance from).
Your well-deserved summer vacation on the BC coast awaits! We are excited to announce our tour option for this season: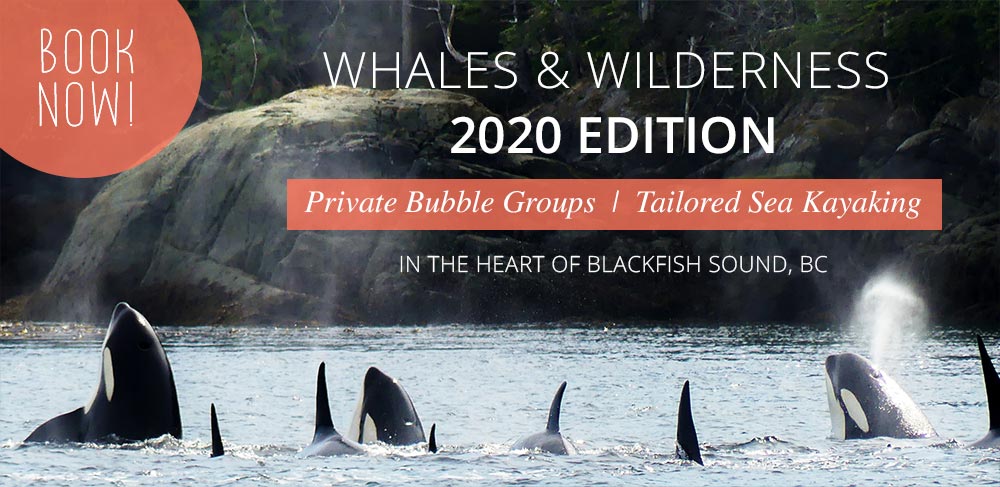 THE Whales & Wilderness – 2020 EditioN
This summer our most popular basecamp, our glamping camp on Swanson Island in the heart of Blackfish Sound will host you and your bubble group. Our well-trained professional guides and dedicated camp hygiene manager will maintain physical distance from your group and we all work together (but apart) to get you a unique time in the wilderness, kayaking, relaxing, adventuring all while keeping safe. This trip is now fully booked for the 2020 season. 
COVID SAFETY ON YOUR TOUR
We are taking the risks associated with COVID-19 very seriously and have been busy preparing to be able to offer tours while minimizing risk. In addition to the measures outlined below, you may wish to visit our Trip Planning in the Summer of 2020 page for more information.
Sign up for our Email Newsletter