British Columbia Kayak Tours
Choose among several professionally-guided 4-8 day bc kayak tours for all experience levels around Vancouver Island. Options include "glamping" basecamp-style with wood-fired hot tub overlooking the Pacific Ocean, expedition-style paddling from camp to camp or the luxury of a mothership. Trips visit Johnstone Strait, the Broughton Archipelago, famous Desolation Sound, Nuchatlitz Provincial Park and the wild Great Bear Rainforest on the Central Coast of BC.
Walk-in canvas tents with real beds
Whale watching around the clock
Boat-based whale watching excursion included
Shower and hot tub
Kayaking in the realm of the whales
Glamping on a private island
West coast cuisine created by our gourmet chefs
Boat-in access via Johnstone Strait
Hot tub & shower with ocean view
Whale watching around the clock
Speed boat journey to camp
Gourmet camp food
Comfortable basecamping
In the heart of Johnstone Strait
Spectacular Coast Mountain scenery
Many islands to explore
Wildlife watching
Swimming in warm lakes & ocean
Protected paddling conditions
Island culture
Killer and humpback whales
Hundreds of islands for exploring
1 night at a floating lodge
First Nations culture and history
Stunning remote camp sites
Gourmet camp food
Easy on the pocketbook
Amazing food
Beautiful & scenic
Amazing orca kayaking experience
Experienced guides
Spirit of the West Adventures quality
Stunning west coast scenery
Beautiful wildlife & rare sea otters
White sandy beaches
Some of the world's finest sunsets
Great food
First Nations culture
A tour designed for families
A great wildlife kayaking adventure
Cozy camping times
Includes child sized equipment
So much to see & learn
Good and fun food
Wildlife viewing
White sandy beaches
Stunning wild campsites
First Nations culture & history
Most remote area of BC's coast
Gourmet camp food
* Kayaking trips & tours are priced and charged in Canadian dollars; prices in other currencies can be estimated by clicking here. Prices are subject to 5% GST and optional $20 sustainability fee. Please see our terms and conditions for full payment and fees information. "Family Friendly" indicates trip dates that welcome children under the minimum age of 12.
International Kayak Tours
Chilean Patagonia, The Bahamas and Greenland. Three exceptional destinations that are exceptionally suited to travel by kayak, and all run directly by us to maintain the highest of standards in quality and safety.
Patagonia Mothership
Small group travel (8)
Rich wildlife including blue whales
Private chartered mothership
Abundant untouched wilderness
Gourmet cuisine
Travel by yacht, explore by kayak
Abundant untouched wilderness
Paddling at San Rafael Glacier
Rich wildlife including blue whales
Hot springs, all to ourselves!
We take care of all travel details
Small group travel (8)
The Bahamas
Paddling among sandy cays
Bahamian culture
Endless warm water snorkeling
Beach combing
Small group travel
Rich Bahamian wildlife
Viewing iguanas, sea turtles and much more
See the famous swimming pigs
Paddling among sandy cays
Magical Bahamian nature
Beachcombing & camping
Fantastic refreshing food
Greenland
Unique paddling among icebergs
Amazing wildlife
Remote arctic fiords
Hiking in open tundra
Greenlandic culture
Small group travel
* Kayaking trips & tours to destinations outside of Canada are priced and charged in US dollars; prices in other currencies can be estimated by clicking here. There is no additional tax on tours to international destinations. Please see our terms and conditions for full payment and fees information.
Private and Customized Tours
Want to do a trip, but the dates don't quite work out? Have a group with a different idea for a trip? Draw on our experience of more than 20 years organizing trips in BC, and let us arrange something that works just for you.
Many of our guests are interested in forming their own group and custom designing a trip, such as private sea kayaking, that focuses on their own unique interests. Spirit of the West guides have a wealth of experience on the BC coast in a number of areas and range of different interests.
We would be happy to arrange a special private sea kayaking itinerary for you.
SOME CUSTOMIZED ITINERARY IDEAS COULD BE ADDED TO YOUR TOUR:
Boat based whale watching trip
Grizzly bear watching trip
Additional time for photography
Additional time for hiking
Salmon or rock fish fishing
Yoga
We can also host family reunions, birthday parties, and family trips with young kids. The options are endless.
Below is a list of some popular destinations. If there is another area on the BC coast that you would like to check out, we can possibly arrange that for you as well.
CUSTOM ORCA BASE CAMP TOURS
Swanson ISLAND BASE CAMP
If you would like flexibility for your group on a base camp style trip, you can stay at our Base Camp on Swanson Island. This camp is designed with custom trips in mind so you can choose your group size or several options for getting there, such as paddling in from Telegraph Cove, boating in from Telegraph Cove, or by boating in from Campbell River. This camp is in a beautiful setting, close to some spectacular paddling and with an excellent chance of seeing both Orcas and Humpback whales. The price of this tour will vary depending on the style of trip you choose, length of stay as well as number of people in your party.
JOHNSTONE STRAIT ULTIMATE
Our most popular tour is our Johnstone Strait Ultimate kayak tour. If you would like to make this tour a customized trip for your group you will need to book a minimum of 10 people or pay the equivalent of what 10 guests would cost. We can take a maximum of 13 guests at this camp. Due to the existing trip schedule we are not able to be flexible on the trip dates, so you will need to choose a date that is already on the schedule. We can however customize a 4 day itinerary to your liking.
Private sea kayaking EXPEDITIONS
Spirit of the West would be happy to organize an expedition style trip for your group. We can arrange a trip to any place we go on our regular schedule such as Johnstone Strait, the Broughton Archipelago, the Great Bear Rainforest, the Nuchatlitz, Desolation Sound and the Discovery Islands. We can also arrange tours to other beautiful kayaking destinations on our coast such as Kyuquot Sound, the Broken Group, Nootka Sound and Haida Gwaii (formerly the Queen Charlotte Islands).
Please contact our office anytime. We are looking forward to planning your unique private adventure.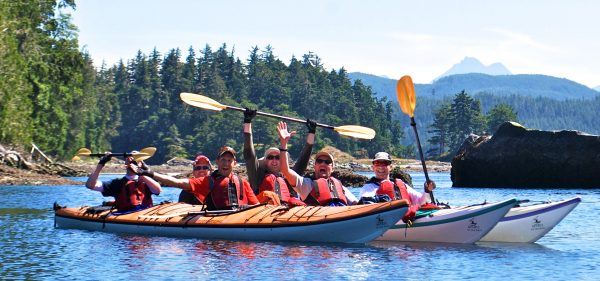 ---
Guys we are still buzzing from just the best time ever..!
Thank you for making Kates birthday so very special, even from the beginning what seems like forever ago now with dates, fitting in with airlines and trains, right up to when we arrived back to the HBI it has been so easy and relaxed and just perfect I cannot imagine a bitter trip, you have set the bar on what all other tour operators should be aiming for.

From our guests Dan Cooper & Kate Taylor from the UK

---