Make any of our tours a private tour
Length:
Various - tour depending
Location:
Various destinations off Vancouver Island
For Who:
Everyone, focus on whales and diverse paddling
Tour Price:
CAD $See below*




* Kayaking trips & tours are priced and charged in Canadian dollars and are subject to 5% GST and $20 / person environmental sustainability fee. Please see our Terms and Conditions for complete terms. To check live availability on any trip, click the Book Now tab and select a trip date.
What is a private Tour?
Relax, recharge, and reconnect with nature and a private group of your friends and family. Choose any of our kayaking tour types, pick a regularly scheduled tour with no other bookings, and decide who you will share it all with. You and your hand-chosen group will enjoy exclusive access to our various private campsites, facilities and your own guides.
HOW DOES IT WORK?
To make a tour private we ask for one designated person/tour organizer to be our primary point of contact and to handle logistics for your group including payment for the tour. You organize the group and determine your desired travel companions and group size up to our group size maximums. The price doesn't change based on group size and you and your group sort out who is paying what amongst yourselves.
PRIVATE TOUR COSTS
On a private tour, you are buying out a full tour so the price is a set amount for the group (not a per person cost). See below for private tour rates by tour type:
Whales and Wilderness Glamping (max 12 guests): $29,106*
Johnstone Strait Ultimate (max 12 people): $21,945*
Whales and Wilderness Expedition (formerly Johnstone Strait Expedition) (max 10 people): $19,755*
Johnstone Strait Expedition (formerly Orca Lite) (max 10 people): $13,455*
Desolation Sound Expedition (max 10 people): $15,255*
Ultimate Family Adventure (formerly Orca Family tour) (max 12 people): $21,945* 
Nuchatlitz Expedition (max 9 people): $19,960* 
Great Bear Rainforest Expedition (max 10 people): $32,355* 
*No other discounts are applicable to these rates. All tour rates above are also subject to 5% GST and a $200 sustainability fee. Additional individual fees for dietary accommodations and rental rain gear or sleeping bags may apply.
LARGER GROUPS
Have a larger group? Up to 14 people may be able to be accommodated on the Whales and Wilderness Glamping, Johnstone Strait Ultimate and Ultimate Family Adventure tours for an additional fee. We may also be able to accommodate up to 10 people on our Nuchatlitz tour for an additional fee. Larger group accommodation depends on guide and water taxi availability as well as tent sharing arrangements. Contact us for pricing and to discuss if this is an option for your group. 
TOUR DATES
Any available* scheduled tour and date can be reserved as a private trip. Contact our office today with your desired trip and date(s) and we will help you find the perfect adventure.
Call 1-800-307-3982 (from within Canada and the U.S) or 1-250-285-2121 (from overseas). We can be reached by email at [email protected].
*Tours are no longer available for private group bookings if other guests have booked spaces on the tour.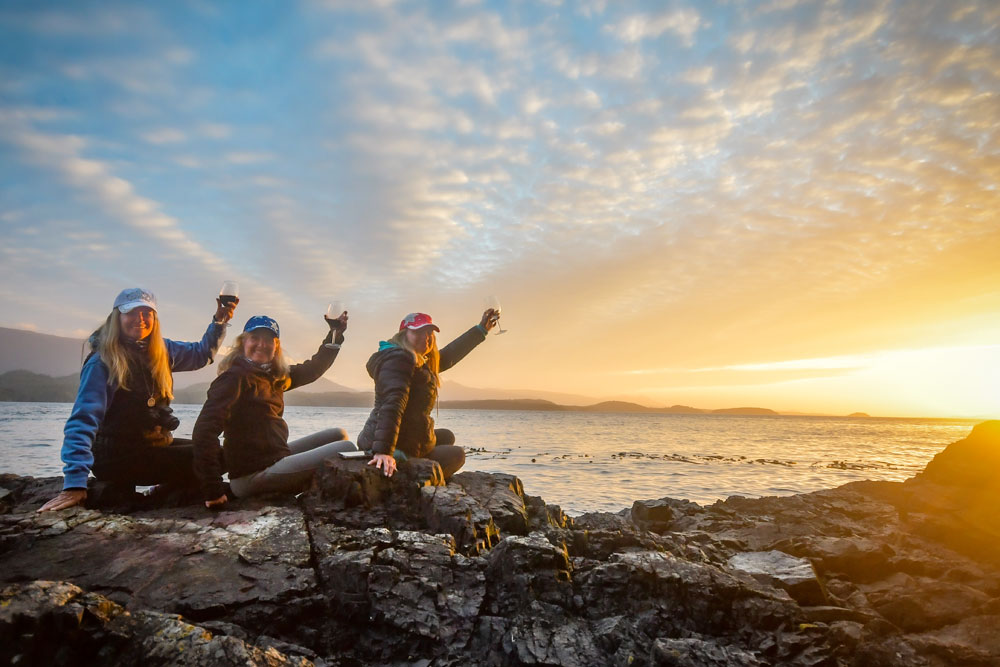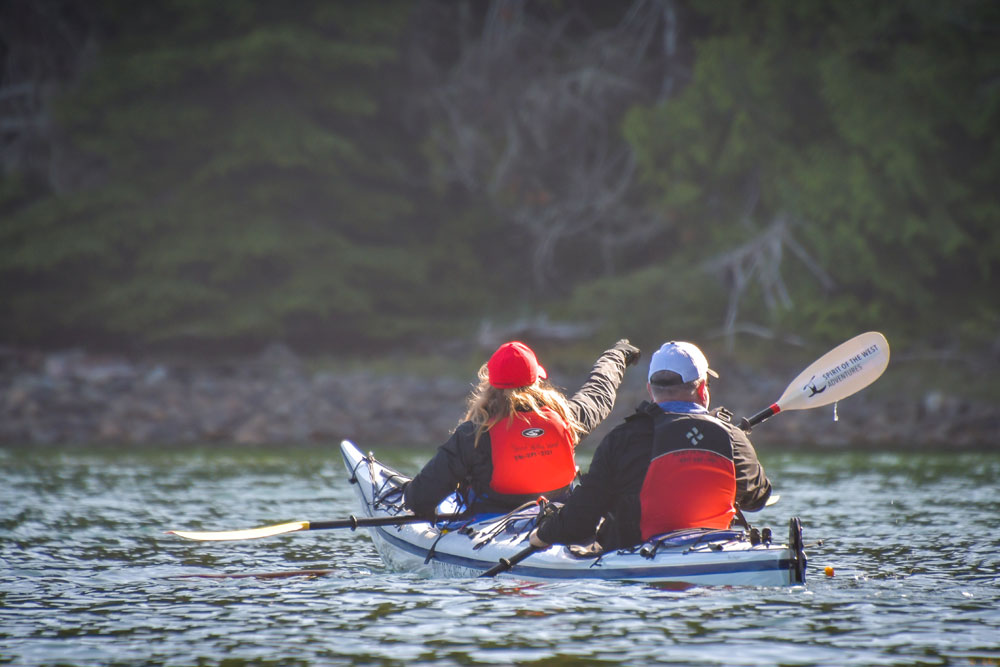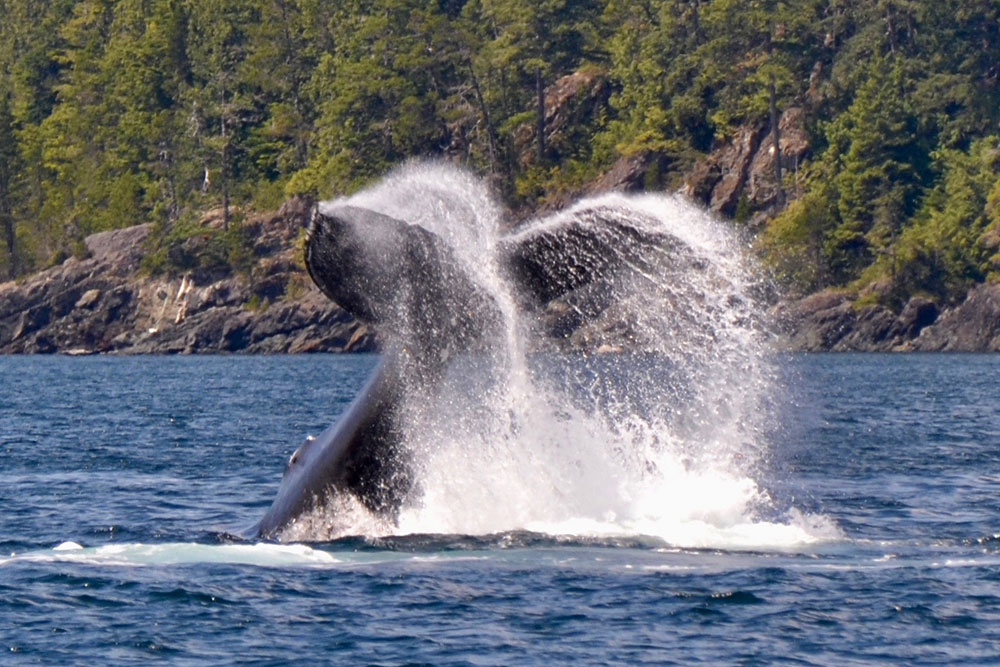 WHAT'S INCLUDED?
Professional guiding service
Kayak as much or as little as you wish
All kayaking equipment (including kayaks, PFDs, paddles, pumps, ropes, dry bags, and sponges)
All meals and snacks during kayak trip
Everything you need for a wonderful camping or glamping experience
Private return water taxi service to camp for basecamp trips or to starting/finishing location for expeditions (certain tours only)
Wine with dinner (Whales and Wilderness Glamping tour only)
Park and land use permits
WHAT'S NOT INCLUDED?
Flights, airport transfers, ferries, or any transport required to get to our meeting spot
Accommodation before and after your tour
Travel/medical insurance (Please read our helpful guide to Travel Insurance)
Alcoholic or carbonated beverages
Rain gear (may be rented if you prefer; laundered between every guest)
Sleeping bags (may be rented if you prefer; laundered between every guest). At our Whales & Wilderness Glamping tour all bedding is included in the costs)
Personal items (toiletries, clothing, etc.)
Gratuities
MORE QUESTIONS?
Check out our FAQ tab at the top of this page for more details about private tours.
Spirit of the West acknowledges and operates in the unceded traditional territory of the Mamalilikulla-Qwe'Qwa'Sot'Em, 'Namgis, Tlowitsis, Kwikwasut'inuxw, Nuu-chah-nulth, We Wai Kai, Homalco, Klahoose and Heiltsuk First Nations.
FAQ
Answers to some frequently asked questions, specifically for those coordinating a private tour group.
+ What is the cancellation policy for private tours?
Private Tour Cancellation Policy: If you have reserved a private tour and have to cancel your trip:
60 days or more prior to your tour departure date – $1000 cancellation fee.
59-30 days prior to the trip departure date – 50% of total tour price is refunded.
Less than 30 days prior to the trip departure date – No refund will be given.
60 days or more prior to your tour departure date, your group may change your tour type from a private tour to a public tour.
Group members need to be identified no later than 30 days prior to your tour departure in order for our food team to adequately prepare for your tour. If you have a group member cancel, you can replace that individual with another friend, but if it is closer than 30 days to tour departure and complex dietary needs will need to be accommodated, please contact our office to see if we can accommodate them. Additional dietary accommodation fees may apply.
Full cancellation policy can be found on our Terms & Conditions page.
+ I have fewer people than I had hoped, what are my options?
Even if you have fewer people than planned, you are welcome to continue with your trip as long as the the remaining group members are comfortable paying the full cost of the trip.
If it is greater than 60 days prior to your tour departure, you may also contact the Spirit of the West office and we can open your tour to other travellers and your group would then revert to paying our usual per person fees for our tours as advertised on our website. Your original date of reservation applies for our standard Terms and Conditions.
If your group decides to cancel outright, the Terms and Conditions for private tours apply. The key date to know is that 60 days or closer to your tour departure you commit to the private tour and the private tour rate regardless of your final group size.
+ I have had someone in my group cancel, what are my options?
You are welcome to change group members up until 30 days prior to your departure. 30 days or closer to the tour departure we may still be able to accommodate a change in person, but complex dietary needs would need to be discussed with our food team. Any changes in dietary needs could result in the dietary accommodation fee being added or removed from your tour cost.
+ How do we pay for our private tour?
We ask for the payment to be made by the group organizer via credit card, e-transfer, cheque or wire transfer. A deposit of 25% is required to secure your tour, with the final balance being paid 60 days prior to your tour departure. 
+ How much do I charge each person in my group?
That is up to you and your group. Spirit of the West charges the private tour rate and you determine how much each person contributes to that rate.
+ How do my group members get their paperwork (medical information forms & waivers ) back to Spirit of the West?
The group organizer is responsible for adding the email addresses of each guest to your booking and sending them their forms. This is an essential step for ensuring guests receive automatic tour emails from us and complete the necessary paperwork. Instructions for this can be found in the Private Tour Handbook (sent to group organizers when booking). 
+ People from my group have questions about the tour, can they contact you if they aren't the trip coordinator?
Absolutely! They are welcome to call or email with any questions about the tour.
Book Now
READY TO BOOK YOUR PRIVATE TOUR? Great!
Contact our office to book your private tour. We can be reached by email at [email protected] or by phone at 1-800-307-3982 (from within Canada and the U.S.) or 1-250-285-2121 (from overseas).
If you think that you would like to book a trip, but need time to look into other travel arrangements, please contact our office anyway – we will place a temporary hold on your spaces.  We are always happy to help in any way we can!