Learn about kayaking and whale watching around Vancouver Island
Spending some time learning about an area before you visit can be truly rewarding - it's like extending your vacation time as you immerse yourself in a destination! We've put together a few resources for you here to help you prepare for your trip, but if you don't find what you're looking for please feel free to get in touch.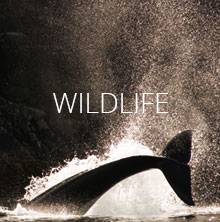 WILDLIFE
The incredible diversity of wildlife never ceases to amaze. From the smallest creature living in the rocks on shore, to the more visible bird life, deer, bears, dolphins, porpoise and whales, we are fortunate to share this beautiful area with so many incredible species. Our philosophy is to not interrupt the natural behaviour of the wildlife. We think of it as an extreme privilege to view these animals in their natural habitat and to catch a glimpse into their daily lives and behaviours.