A west coast guide favourite
Location:
West Coast Vancouver Island
For Who:
Expedition travel, some wilderness experience




* Kayaking trips & tours are priced and charged in Canadian dollars and are subject to 5% GST and $20 / person environmental sustainability fee. Please see our Terms and Conditions for complete terms. To check live availability on any trip, click the Book Now tab and select a trip date.
What makes this tour so special?
If you crave adventure, and a desire to kayak and explore an area that few ever get to, then this west coast sea kayaking expedition is for you. Our expert guides know the area, the currents, winds, and of course the best camping and sunset spots! Together with your small group, you will see sites and visit places that are outside the realm of the modern world, and accessible to only a select few. The dramatic seascape of the wild northwest coast of Vancouver Island provides the setting for one of the finest sea kayaking destinations in Canada, Nuchatlitz Marine Park. The area is sheltered from the open ocean by small and enchanting islands. This string of islets gives the adventurous kayaker an opportunity to experience the rugged coast while paddling in relatively protected waters.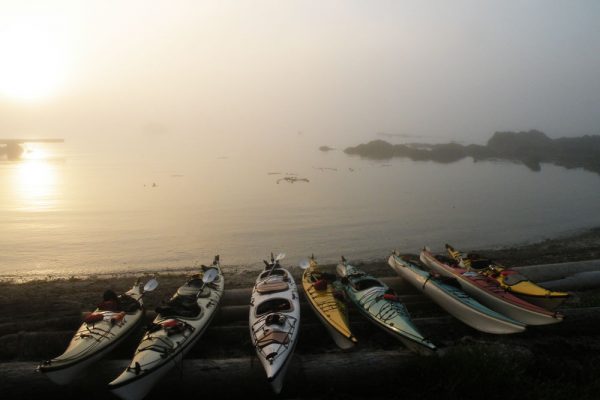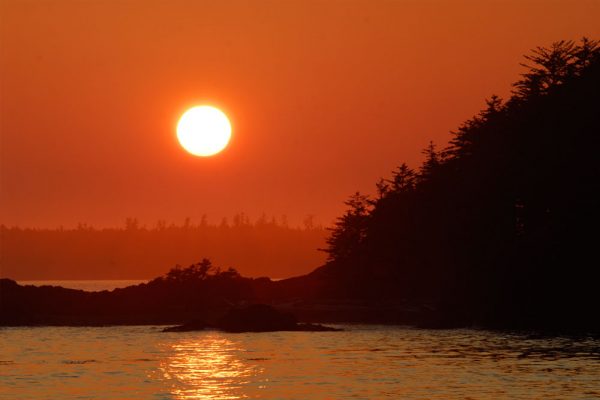 The Area
This remote area is one of the few places where you can escape the crowds. Getting out to the park can be difficult for the solo paddler or independent group as the distance is far from the launch site and headwinds are often encountered deeper in the inlets. To avoid this long and arduous paddle, Spirit of the West Adventures will transport you by water taxi to and from this prime kayaking destination. Once there we will establish our first night's camp on a secluded beach among old-growth forests. Each day we will explore the numerous islands and beaches, marvel at the natural rock formations like sea caves and towering rock pinnacles, and reflect on the rich west coast First Nations culture.
Sea Otters
The Nuchatlitz is home to one of the largest sea otter populations on the west coast of North America. Once hunted to extinction in this area, the sea otter was reintroduced in the late 1960s and now thrives. Their extinction caused considerable upheaval in the natural world, however, with their return the area is returning to ecological health once again.
west coast Sunsets
The sunsets on the West Coast of Vancouver Island are simply stunning. Watch as the sun sinks over the horizon to the west and beautiful colours illuminate the skies. Most of the campsites on the Nuchatlitz tour offer west-facing beaches where you can enjoy these amazing spectacles.
WHITE Sand
Most sea kayaking areas on the Inside Passage, between Vancouver Island and the mainland, have landing areas that range from rock to pebbles or gravel due to the lack of consistent wave action. Here on the outer coast, we are treated to numerous beaches where you can walk barefoot and really get the sand between your toes.
The Tour
Our adventure begins from the town of Tahsis on the west coast of Vancouver Island. From here we jump aboard our water taxi and head into the heart of the Nuchatlitz Provincial Marine Park. En route, we take in the mountainous coastal landscape and keep our eyes peeled for wildlife as we pass by historic village sites. In the park, we have six days to explore. Our itinerary is quite flexible and the route will be mostly dictated by wildlife viewing opportunities, tide heights, wind direction/speed, and wave conditions. Our guides will base campsite choices on scenic qualities, availability, and, of course, group preferences.
Sea Stacks & Caves
Stacks are formed when part of a headland is eroded by hydraulic action. The force of the water weakens cracks in the headland and causes them to collapse, forming free-standing stacks and small islands. These formations, along with the numerous sea caves in the area, make for some of the most picturesque and interesting paddling on the coast.
WHAT'S INCLUDED?
Professional guiding service
All kayaking equipment (including kayaks, PFDs, paddles, pumps, ropes and sponges)
Meals (lunch day 1 to breakfast day 6)
Camping equipment including tents, camp pillows, Therm-a-Rest sleeping pads, tarps, and more.
Water taxi service
Park and land use permits
If you are planning on bringing any of your own equipment please double-check the packing list to ensure you have the appropriate gear and please let our office know in advance of the tour to avoid us bringing duplicates.
WHAT'S NOT INCLUDED?
Not included in the tour cost are accommodation before or after the kayaking portion of your trip;
Flights, airport transfers, ferries, taxis
Travel/medical insurance
Alcoholic or carbonated beverages
Rain gear*
Sleeping bags*
Personal items (toiletries, clothing, etc.)
Guide gratuity
Sleeping bags and rain gear may be rented if you prefer not to travel with them (please reserve in advance; maybe booked online with your trip reservation).
---
Also Available for private group Reservations
If you have a large group that would like to book a the whole tour as a private group, ask us about booking out the whole trip for just you & your group.
Spirit of the West acknowledges and operates in the unceded traditional territory of the Mamalilikulla-Qwe'Qwa'Sot'Em, 'Namgis, Tlowitsis, Kwikwasut'inuxw, Nuu-chah-nulth, We Wai Kai, Homalco, Klahoose and Heiltsuk First Nations.
Itinerary
The Nuchatlitz tour launches from the town of Tahsis on the West Coast of Vancouver Island.
TOUR MEETING LOCATION
Where & WHEN: Tahsis, Municipal dock/public boat launch, 9 AM (Day 1)
Our adventure begins from the town of Tahsis on the west coast of Vancouver Island. (An approx. 3-hour drive by car from Campbell River on the east coast of Vancouver Island.) Please arrive 30 minutes early to allow time to unload, carry your luggage down to the launching spot, and arrange parking.
RETURN TIME
WHERE & WHEN: Tahsis, BY APPROX. 10 am – 12 PM (DAY 6)
Return time can depend on weather and travel conditions. We try our best to get you back on time for your onward travels or to explore more of what Vancouver Island has to offer.
---
Day 1
At 9 am you will meet your guides at the Municipal Dock. We will transfer ourselves and equipment aboard our water taxi and begin the scenic journey to the west coast paradise of the Nuchatlitz Marine Park. En route, we take in the mountainous coastal landscape and keep our eyes peeled for wildlife as we pass by historic village sites. After settling into our new surroundings and lunch we will have a kayak orientation and discuss safety procedures before setting off on an afternoon paddle. We will return in time for a fresh wild fish dinner (alternatives of course for those who do not eat fish). Enjoy the sunset from the beach (or from your tent) before retiring to rest for more fun in the morning.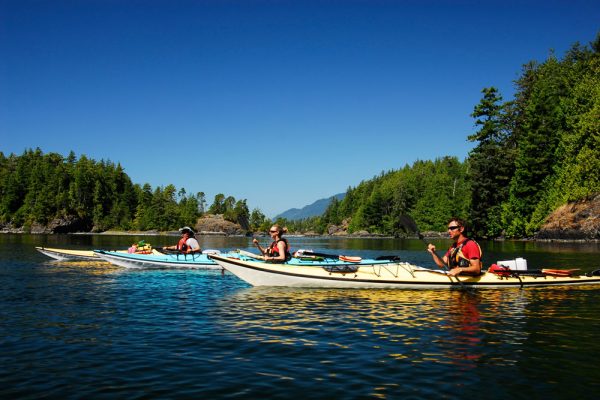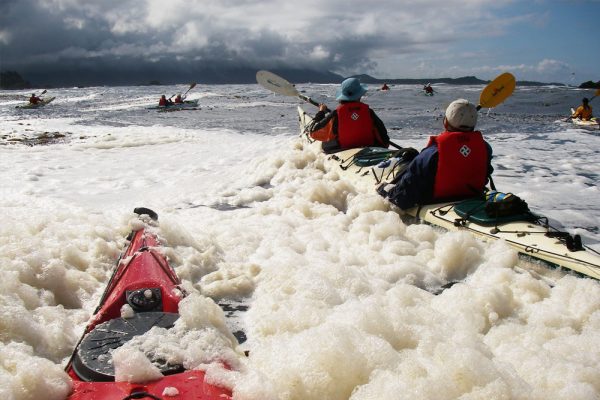 DAY 2 to 5
After waking up in one of the most beautiful places on earth, to stunning sunrises, we will begin our day with a delicious breakfast before we break camp. On the Nuchatlitz tour, there is no set itinerary. Instead, our route will depend on weather conditions and the group's desires. Our days will be spent exploring the picturesque islands, lagoons, beaches, and sea caves hidden behind cascading waterfalls. We will also take some time out for beach combing, or simply lounging and taking in the magnificent surroundings. If we are fortunate we will end our day with a famous west coast sunset. Campsites are plentiful and scenically situated on either sand or pebble beaches, grassy knolls or beneath the canopy of ancient rain forests.
DAY 6
This is our last day to enjoy the marine environment of the west coast. In the morning, our boat transport will take us back to Tahsis. Time for one last deep breath of ocean air, to take in the panoramic scenery and all the natural wonders around us, before our real life catches up with us. This 6-day adventure is the perfect introduction to sea kayaking in a remote and coastal BC environment. To learn new wilderness skills, and take a break from the hustle and bustle of your everyday life.
FAQ
Below is a list of commonly asked questions.
If you have any further questions or concerns please do not hesitate to call us.
+ WHAT MAKES THE NUCHATLITZ EXPEDITION SPECIAL?
This stunning area features big sandy beaches, spectacular rock features such as sea caves and sea stacks, waterfalls pouring right into the ocean, and rugged west coast geography. The sheltered islands create the perfect opportunity to experience mild ocean swell, surf beaches, and diverse open coast paddling. This expedition is a truly one-of-a-kind experience for the paddler who wants to experience a remote and wild environment. 
Completely self-supported, we pack all our supplies into our kayaks each day. We typically change campsites most days but occasionally spend a couple of nights at the same camp to allow us an in-depth exploration of the area.
+ WHAT ARE THE CAMPSITES LIKE IN THE NUCHATLITZ REGION?
Throughout this tour, our wilderness shelter each night will be provided by the tents and tarps we carry with us. This region has the incredible windswept beaches that the west coast of Vancouver Island is so well known for. We pitch our tents at undeveloped campsites that are tucked away in the forest or among driftwood on white-sand beaches. 
While our Nuchatlitz expedition is one of the more remote trips we offer, there may be times when we encounter other paddlers. Our daily campsite choice will be based on weather, sea state conditions, route options, and group size.
+ HOW MUCH PADDLING EXPERIENCE IS NEEDED? HOW MUCH TIME IS SPENT KAYAKING?
The Nuchatlitz area is a completely different experience from any of our other tours. This trip is most suitable for the intermediate to advanced paddler. Beginner kayakers are also welcome as long as they have a good sense of adventure, have some wilderness camping experience, comfort on the water, and are willing to try new things. We may experience some ocean swell and surf landings on this tour. 
Paddling time will vary depending on each individual trip, our campsite options, sea state and weather conditions, and the group's abilities and desires. Generally, we travel between 4-6 hours a day on our expedition tours, not including breaks and lunch. We always paddle at a pace dictated by the group and take lots of breaks to stretch and explore the shoreline.
+ WHERE DO WE WASH UP? ARE THERE TOILETS?
There is very minimal fresh water to be found in the Nuchatlitz area. Therefore, seawater is your best bet for freshening up. We ask that you only pack biodegradable, environmentally friendly shampoo and soap brands.
Washroom facilities are not common in most wilderness settings, although some sites in the Nuchatlitz area have basic pit toilets. We also carry a portable toilet system which will be our primary toilet option. Your guide team will always designate an area that works for ensuring guest privacy. We are very familiar with bathroom etiquette in a wilderness setting and will ensure all guests feel comfortable and informed. If you have concerns regarding this matter, please don't hesitate to contact our office team and we'd be happy to discuss in further detail. 
+ WHERE DO WE MEET OUR GUIDES ON DAY 1?
Pre-trip meeting location: Grillhouse Restaurant at the Westview Marina in Tahsis at 7 pm the day prior to your tour departure (Day 0)
Tour meeting location: Tahsis Municipal Dock / Public Boat Launch at 9 am (Day 1)
Our adventure begins from the town of Tahsis on the west coast of Vancouver Island. (An approx. 3-hour drive by car from Campbell River on the east coast of Vancouver Island.) Please arrive 30 minutes early to allow time to unload, carry your luggage down to the launching spot, and arrange parking to leave your vehicle for the duration of your tour.
+ MORE FAQS
Reviews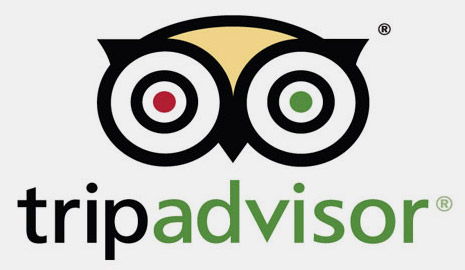 We're proud of our great reviews - but don't just take our word for it, see what people are saying over on Trip Advisor. View Reviews
THE EXPERIENCE
"A wonderful experience for me - being on the ocean - seeing sea otters and tidal pools. A beautiful area of the world. Seeing a humpback from the water taxi. It was very well organized with safety as a priority."
Trish Feeney
June 2022
Sea otters - LOTS of sea otters! First time paddling big ocean swells. Fantastic weather, awesome area, fun people and paddling."
Katherine Taylor
June 2021
"Our group was like a little family that got along from the first moment. The group size was perfect. The guides were always going the extra mile: setting up camp despite the weather, cooking fabulous meals, answering all of our questions about everything. The respect for the lands and the environment was so lovely to be around while we were a part of it and trying to leave it as we found it."
Wendy and Dave Brauning
August 2022
"We have been on six camping kayaking tours and this rates as one of the best. The scenery and wildlife in the Nuchatlitz area are wonderful."
Lin and Brian Weich
"I had a great time and a wonderful experience. I am 100% satisfied."
Corey Jolseth
"Better than we could have imagined. The scenery was breathtaking, the guides were fun, the food was amazing... a 10."
Beth and Simon Mielniczuk
"This was my second trip with Spirit of the West : Fantastic just as the first one. Hard to improve a very good formula."
Varhaenacher Doch
THE WILDLIFE
"A beautiful area and most wonderful wildlife. (AKA. a humpback whale up live and close)."
Kari Huss
"I came back happy and relaxed. Any holiday that can do that is tops........beautiful area, wildlife was superb a real highlight."
Tina Vanderwal
THE GUIDES
"Our guide Jason was excellent as lead guide. Very easy with group but was directive when necessary."
Sally and Gary Allen
"Scott was an excellent guide,
very competent safety conscious
and responsible."
Jacqui and Andrew Hakes
THE FOOD
"Over the top! Better food than in most restaurants. Jolie's table decorations were great. Even baked a cake on the last night. WOW!!"
John and Nancy Nixon
"The food was a 10+++ very impressive both in quality and quantity. (Salmon on the first night was awesome!)"
Beth and Simon Mielniczuil
"Lots and Lots and Lots of food! Watching the guides make a chocolate layered cake on the campfire was impressive."
Michael Vercaign
Book Now
Our online booking system allows you easy access for booking your tour with Spirit of the West Adventures, any time of day.
Before finalizing your reservation, please carefully read over our Terms & Conditions, as these terms will apply to your booking. We also highly recommend that you look into Travel Insurance options to protect your travels before booking your tour as some types of insurance (such as Cancel for Any Reason insurance) can only be accessed within a limited period of time after paying for any portion of your tour.
If you think that you would like to book a trip, but need time to look into other travel arrangements, please contact our office and we will place a temporary hold on your spaces. We also offer real humans to speak with if that's your preference, so feel free to call our office at 1-800-307-3982 (from within Canada and the U.S) or 1-250-285-2121 (from overseas). We can be reached by email at [email protected]. If, for any reason, you are having trouble booking your trip, please do not hesitate to contact us. We are always happy to help!
---
DIETARY RESTRICTIONS?
We are happy to accommodate many dietary restrictions. However, dietary restrictions add additional complexity and costs to preparing for your tour. Please see below for some of the dietary restrictions we can accommodate and the associated costs for substitutions.
$75 fee: gluten-free, dairy-free, soy-free, nut-free, and vegan (please add by pressing the blue + beside "Dietary Accommodation" when booking) 
No additional cost: vegetarian, no red meat, no pork, no fish, no seafood
If you have dietary restrictions or allergies not listed above, please contact us at [email protected] to discuss if we are able to accommodate your needs and any additional charges. We take great pride and pleasure in serving you the best food we can for your adventure!
---
Searching Availability…