REMOTE GLAMPING - WEST COAST KAYAKING AND WHALE WATCHING
Location:
Blackfish Sound, British Columbia
For Who:
Everyone, focus on whales and diverse paddling
Minimum Age:
12, 6 on private tours




* Kayaking trips & tours are priced and charged in Canadian dollars and are subject to 5% GST and $20 / person environmental sustainability fee. Please see our Terms and Conditions for complete terms. To check live availability on any trip, click the Book Now tab and select a trip date.
WIDE OPEN SPACES, FRESH SEA BREEZEs, AND ABUNDANT WILDLIFE
Want to get out camping, kayaking, and wildlife watching in the BC wilderness? Join us kayaking and glamping on Swanson Island in the heart of Blackfish Sound.
RELAX, RECHARGE, AND ADVENTURE RESPONSIBLY
Our comfortable outdoor basecamp allows us to enjoy stunning and remote locations – exploring by kayak by day, and relaxing in comfort every evening.
---
YOUR ACCOMMODATION – GLAMPING
We have all the details covered. The only thing you have to do is to arrive, relax, and enjoy every moment.
Imagine beautiful, big white cozy tents set against the backdrop of towering fir trees and the blues and greens of the ocean lapping at your doorstep. The sounds of silence interrupted only by the occasional blow of passing whales or the songs of the birds as they wake with the sun.
Tents are large 10×12′ (3×3.6m), bright and spacious cotton canvas tents complete with real beds, private outdoor toilets and sinks, and sweeping views of the forest and/or ocean. The tents are perched off the ground on cedar platforms spaced out throughout the forest for privacy. The beds (twin or king-size bed settings available) each have a 6-inch thick soya foam mattress, 2 pillows (one thick and one thin), crisp white linens, a warm duvet, and fleece blankets for those cooler nights. We have 8 tents available for each tour (if you are traveling solo and would like your own private tent, please indicate this at the time of reservation). The camp also has multiple hand washing sinks, 2 hot water showers, a comfortable lounge and wood-fired hot tub both overlooking the ocean.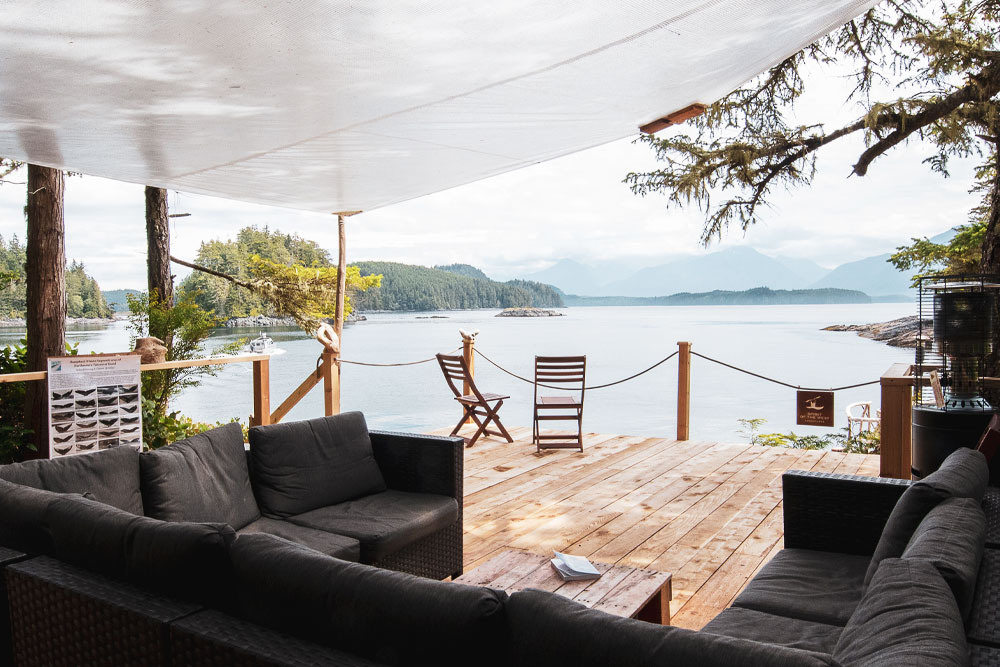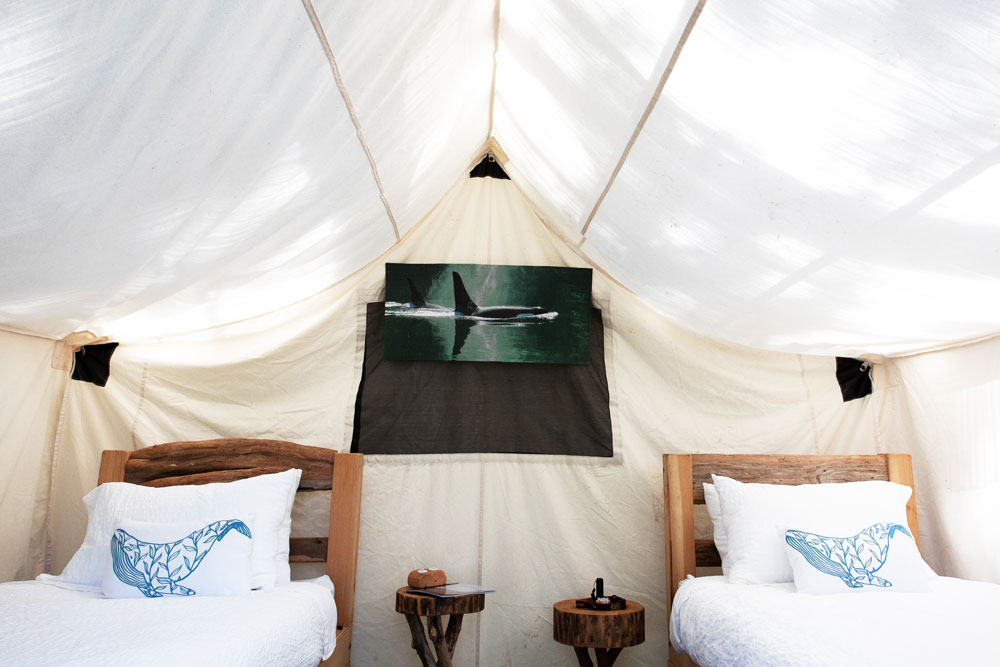 The Setting
A stunning private campsite on remote Swanson Island. We have exclusive rights to the use of this little piece of heaven. The site overlooks Blackfish Sound which is renowned for its biodiversity including being home to many humpback and orca whales. This site offers extraordinary land-based whale watching, sunrises and sunsets, and diverse kayaking at the edge of the Broughton Archipelago.
The Area
Sandwiched between the mainland mountains and Vancouver Island, tidal currents stir up the water column and create an environment rich with nutrients and oxygen. Abundant marine life of all shapes and sizes make their home here, from the smallest crustacean to the largest whales. From our camp, we have the opportunity to look out into the open waters of the Sound and paddle among the small islands and narrow passages, an ideal combination for the wildlife enthusiast.
What's cooking?
Fresh, hearty, and locally inspired. Some of the perks that come with the basecamp site are a full-time chef and a well-established kitchen which allows us to prepare tasty food while easily maintaining food safety. Enjoy locally caught wild fish, fresh garden veggies and so much more. Meals will be enjoyed under a covered but open-air dining area overlooking the ocean or on one of the many beaches. Please call our office to discuss your dietary needs and restrictions.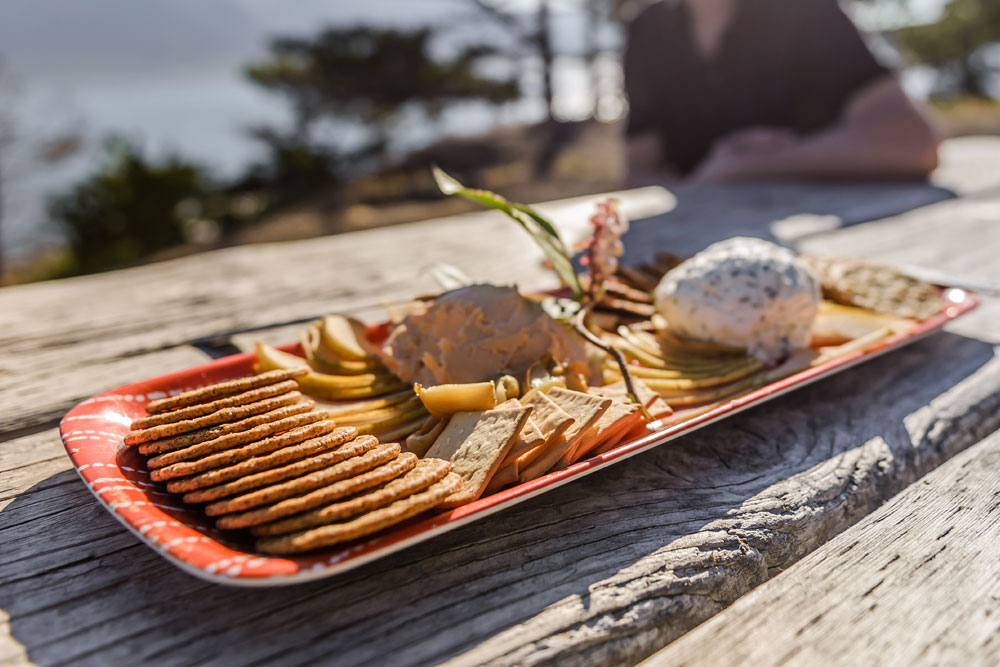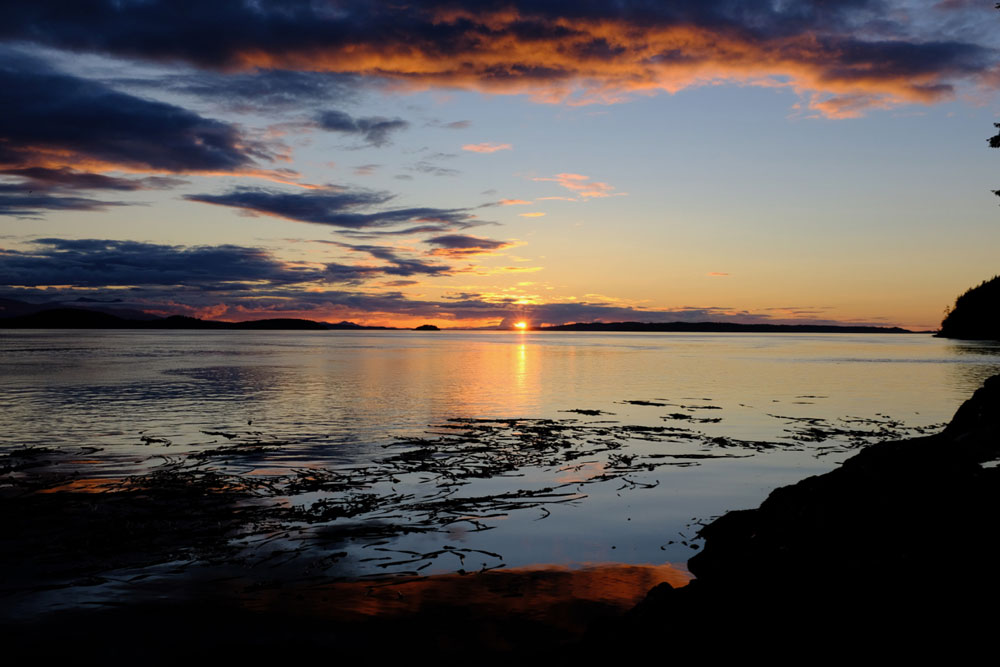 ---
Endless PADDLING Options
Kayaks are a great way to get outside together and explore. Your guides will share their love and passion for the coast and kayaking with you.
The days on the water are flexible based on the abilities and desires of each group. Longer explorations or shorter excursions are both an option as long as we maintain our guest-to-guide safety ratio. Your guides will always make sure to keep an eye on the weather conditions and help design each day's activities appropriately.
We'll head off in our kayaks to explore the many nooks and crannies of the shoreline. Keep your senses alert for the tell-tale blow of some of the area's more famous residents like orcas and humpback whales.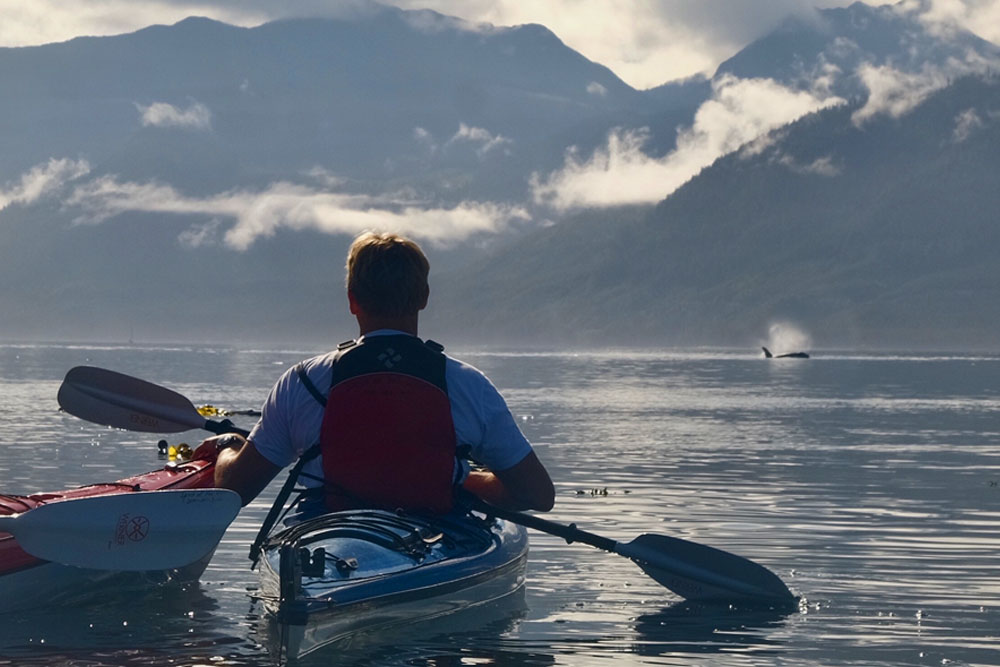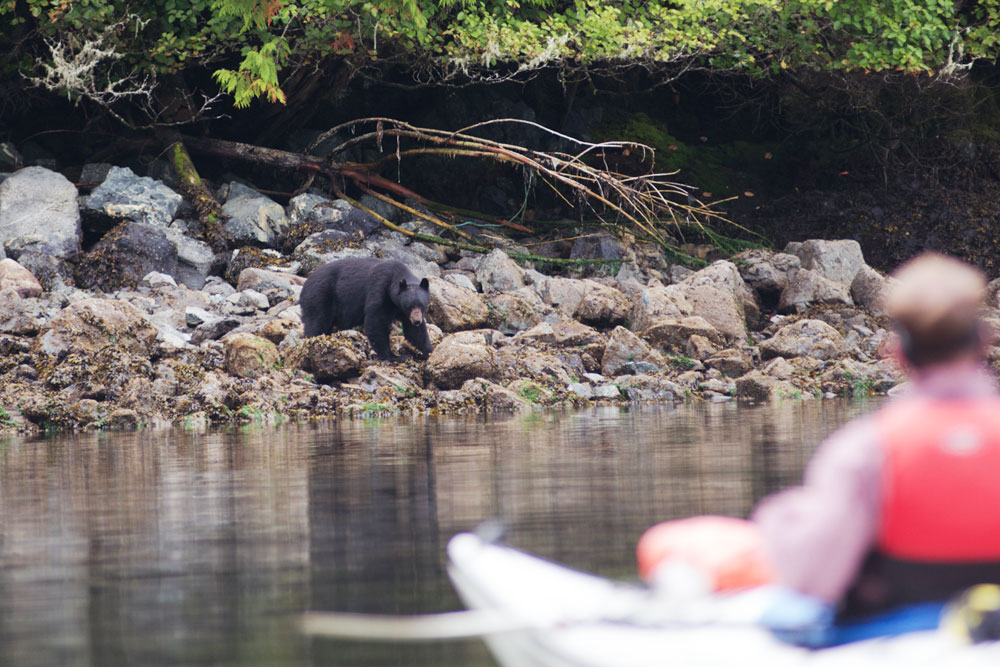 The Best Place for Whale Watching in BC
In addition to orcas, we are lucky to share the ecosystem with humpback whales, bears (it is not uncommon to see black bears foraging along the shores for seafood during low tide), deer, cougars, shore and seabirds, minks, river otters, dolphins, and porpoise – to say nothing of the abundant, vibrant and colourful intertidal life one can see below the surface. Witnessing these incredible creatures in their natural habitat is truly breathtaking.
Trip HIGHLIGHTS
This camp location provides a great chance of viewing orcas, humpbacks, bears, and all sorts of wildlife in their natural habitat
Explore the coastal environment responsibly and safely by kayak with our wonderful, highly trained guides
Flexible paddling distances and speeds; paddle as much or as little as you wish or stay and enjoy the camp – you choose.
Hot tub overlooking the ocean
Private toilets and hand-washing sinks right at your tent
Outdoor hot showers with ocean views
Delicious and locally-inspired meals
Attention is given to the smallest details to make for the perfect trip
Large bright spacious tents, comfortable beds, warm duvets
Responsible ecotourism, sustainably run operation that gives back to research and conservation in the area
So much open space to relax and recharge. The supernatural beauty of BC is all yours to enjoy!
WHAT'S INCLUDED?
Professional guiding service
Kayaking as much or as little as you wish
All kayaking equipment (including kayaks, PFDs, paddles, pumps, ropes, dry bags, and sponges)
All meals and snacks (dinner day 1 to lunch day 5) and wine to accompany dinners
Everything you need for a wonderful glamping experience: spacious tents, comfortable beds, all linens, and towels, private toilets and sinks, hot showers, flashlight/headlamp, a library of natural history books, camp binoculars, and more
Private return water taxi service from Alder Bay
Park and land use permits
WHAT'S NOT INCLUDED?
Flights, airport transfers, ferries, or any transport required to get to our meeting spot
Accommodation before and after your tour
Travel/medical insurance (Please read our guide – Travel Insurance)
Carbonated beverages and alcohol (a glass of wine is provided at dinner, guests are welcome to bring other drinks as well)
Rain gear (may be rented if you prefer; laundered between every guest)
Personal items (toiletries, clothing, etc.)
Gratuities (if you feel you had exemplary service)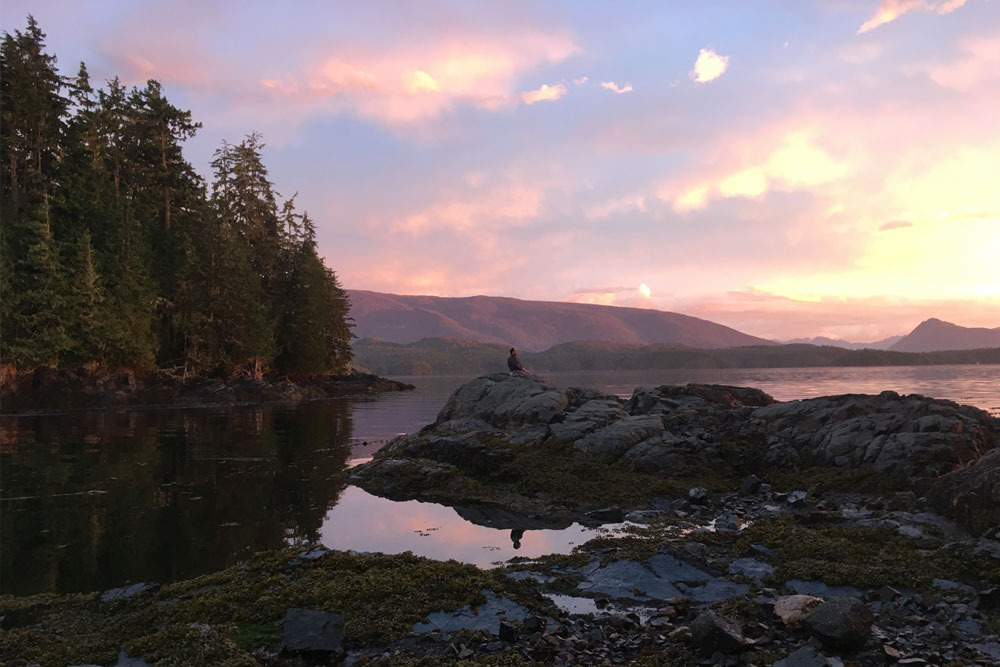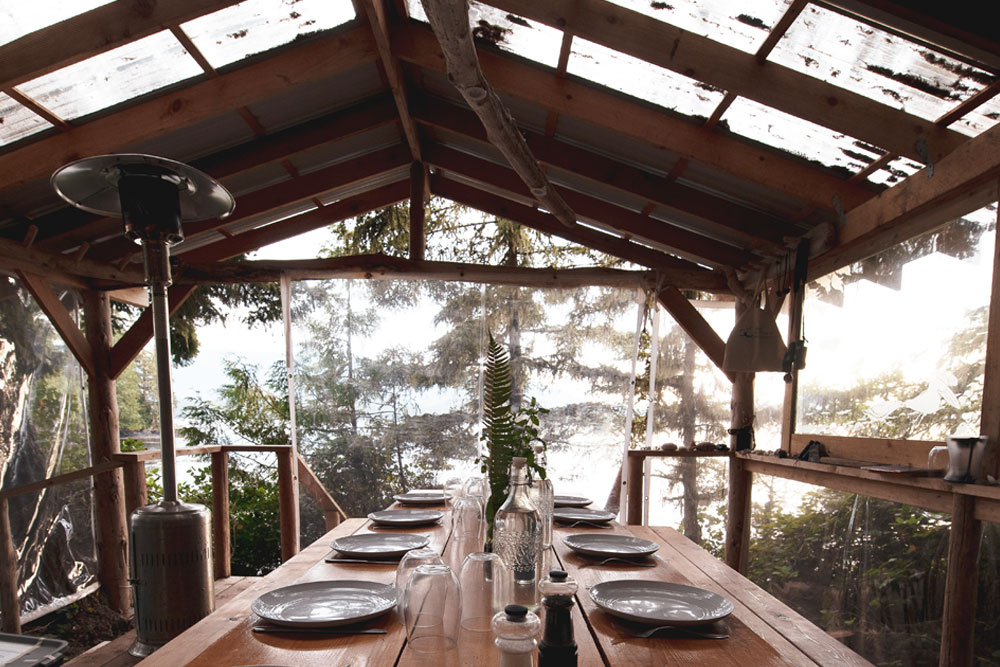 ---
Also Available for private group Reservations
If you have a large group that would like to book the whole tour as a private group, ask us about tour/camp buy-outs.
Spirit of the West acknowledges and operates in the unceded traditional territory of the Mamalilikulla-Qwe'Qwa'Sot'Em, 'Namgis, Tlowitsis, Kwikwasut'inuxw, Nuu-chah-nulth, We Wai Kai, Homalco, Klahoose and Heiltsuk First Nations.
Itinerary
Our adventure begins the moment we step off the docks onto our water taxi. Relax in comfort as we whisk you away to the scenic waterways of our remote wilderness camp in Blackfish Sound.
Tour MEETING LOCATION
WHERE & WHEN: ALDER BAY RESORT & MARINA AT 2 PM (Day 1)
On day 1 of your trip you will meet your water taxi driver in Alder Bay on Vancouver Island (approximately a 5.5-hour drive by car north of Victoria or 4 hours north of Nanaimo). Please arrive 15 minutes early to allow time to park, unload, and carry your luggage down to the launching spot.
Return time
WHERE & WHEN: ALDER BAY RESORT & MARINA, by 11 AM – 12:30 pm (Day 5)
Return time can depend on weather and travel conditions. We try our best to get you back on time for your onward travels or to explore more of what Vancouver Island has to offer, but please give yourself extra time when planning.
---
Below you will find our recommended or typical trip itinerary. Please remember that paddling times and distances may vary based on group desire and abilities. Your guides have extensive training and will let you know what is possible in terms of safety, weather, and sea conditions. The first and last days of your tour will allow for a short morning or evening paddle and days 2-4 will be full paddle days (weather permitting).
DAY 1
At 2 pm (unless otherwise informed) meet the water taxi that will take you across Johnstone Strait into Blackfish Sound. En route, sightings of marine life such as porpoises, dolphins, sea lions, and whales are common. Your water taxi journey will be approximately 40 minutes.
After arriving our team will provide a thorough safety briefing and orientation. We will then settle into the camp and have a kayak orientation and paddle before dinner. After dinner, enjoy the sunset from the lounge or hot tub overlooking the ocean before retiring to rest for more exploration in the morning.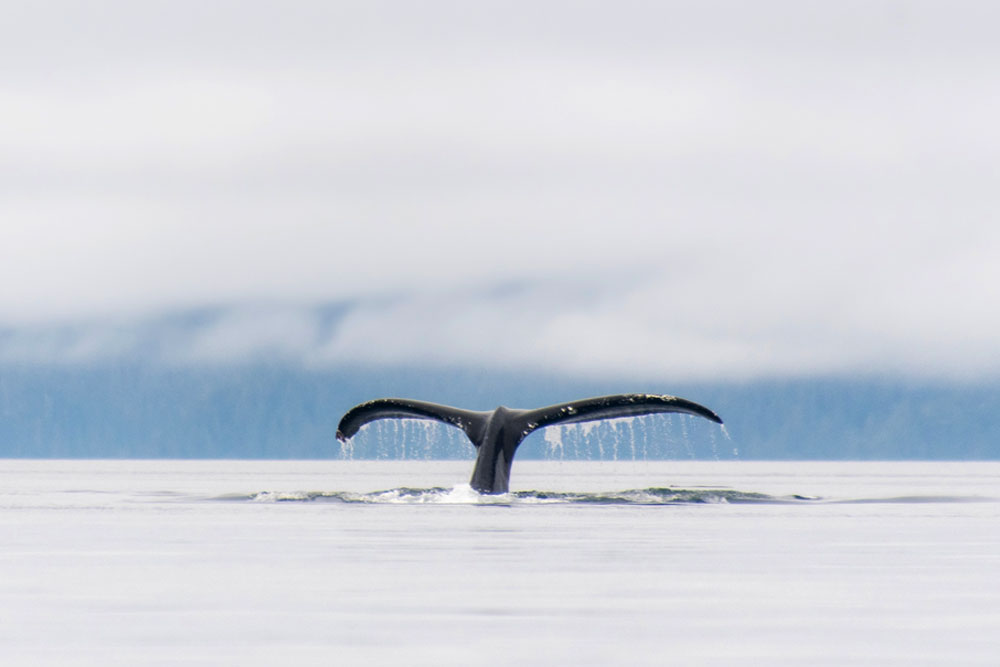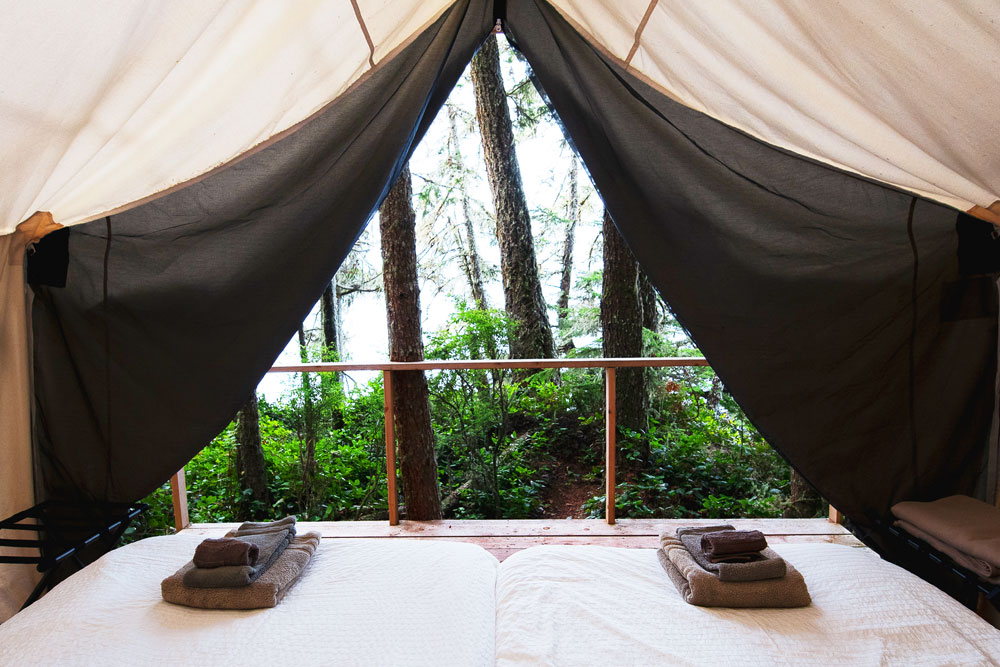 DAYs 2-4
After a hearty camp breakfast, we will meet to discuss our plans for the day. Our route and schedule will depend on weather conditions, wildlife viewing opportunities, and group preferences. Generally, we set out in our kayaks after breakfast and paddle to one of the area's many pocket beaches for a picnic lunch before paddling 'home' again in time for some relaxation before dinner. There is always something to see and learn around the camp. On our way, we'll take breaks for stretching and snacks, and we always take lots of time to explore the intricate shoreline, rich intertidal world, and marine and land-based wildlife.
DAY 5
This is our last day of exploration. We will have an early breakfast and for those who are keen we will have a morning paddle shortly after. After a final debrief, the water taxi will arrive at approximately 10:30 am to transport you back to the starting point. You should be back in Alder Bay by approximately 11 am-12:30 pm for your onward travels.
Please know we are working in wild areas and our timing can be variable due to factors such as weather conditions. Please account for extra time when planning onward travel.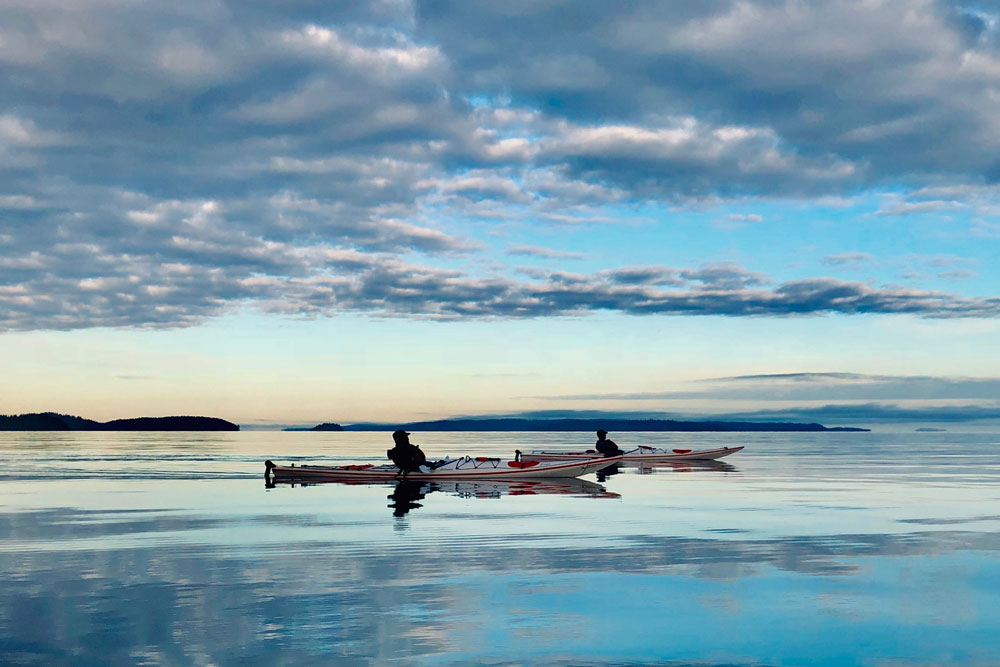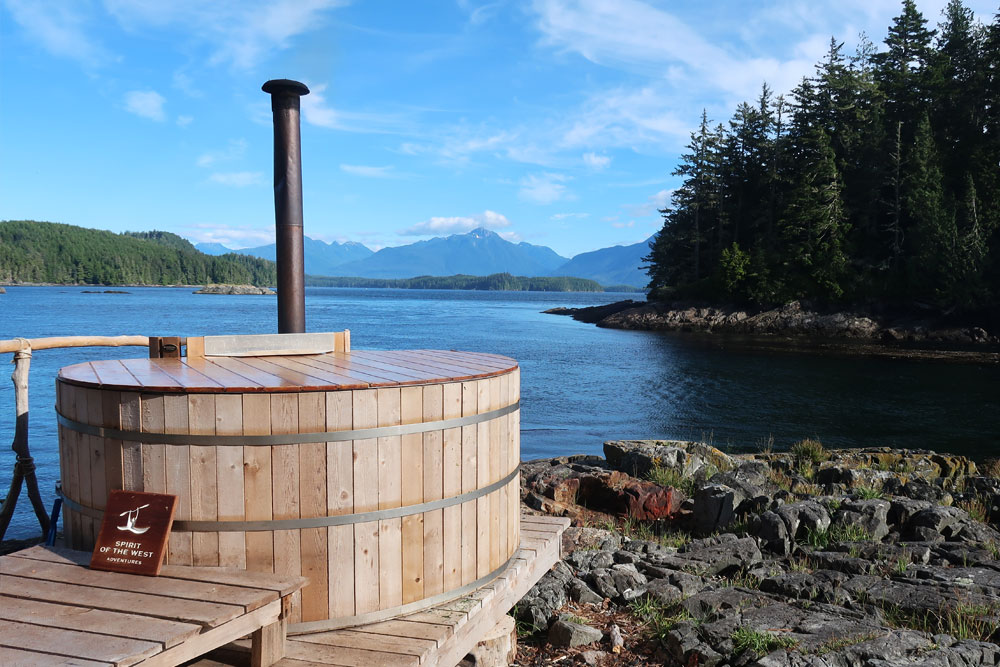 FAQ
+ WHAT MAKES OUR WHALES & WILDERNESS GLAMPING TOUR SPECIAL?
Where do we begin? Our Whales & Wilderness Glamping tour is award-winning and one of our most popular tour offerings! Thoughtfully designed to cater to every type of paddler, this experience wows every guest who has the chance to visit. Established on the forested shores of Swanson Island with extraordinary views of Blackfish Sound in every direction, this basecamp is a stunning backdrop for your kayaking adventure. Boasting an on-site chef, a curated menu with locally-sourced ingredients, and comfortable amenities, you'll quickly forget that you are 'camping'. 
If the accommodations, food and team that provide this experience weren't enough, the wildlife viewing and paddling routes from this camp are unparalleled. Enjoy awe-inspiring wildlife viewing opportunities right from our covered lounge and dining areas that look out over Blackfish Sound. Orca, humpback, dolphin, and porpoise activity is frequent as they forage, gather in, and transit through this resource-rich area. Paddle through intricate channels, into sheltered bays, and around gorgeous islets while learning all about the natural environment from your expert guides with each new day.
+ WHAT IS THE WHALES & WILDERNESS CAMP SET UP LIKE?
If you are looking for the most comfortable camping experience, this tour is your best choice. The Whales and Wilderness Glamping provides large walk-in canvas wall-style tents, real beds with organic soy foam mattresses, pillows of various levels of firmness, cozy bedding, towels, power for charging devices and lighting, private composting toilets and handwashing sinks at each tent, two shared hot showers with ocean views, a wood-fired hot tub, a large deck with a comfortable lounge and outdoor covered dining in the Blackfish Sound Bistro.
When not on the water, you can use the yoga mats in our lounge to stretch, look through our library filled with books about the local area, or ask your guides to show you the small beach trail that goes to the opposite end of Freshwater Bay. 
Want to see what the camp looks like for yourself? Head to our Gallery tab to view the camp! 
+ HOW MUCH KAYAKING EXPERIENCE IS REQUIRED FOR THIS TOUR? HOW LONG ARE THE PADDLING DAYS?
This tour is designed to cater to all levels of experience and abilities from the first-timer to the expert paddler. Our guides are there with you every step of the way to provide encouragement and ensure you get the most out of your kayaking adventure. 
Paddling days on the water can be adapted to shorter or longer excursions depending on the group's desire and abilities. Generally, we travel between 3-5 hours a day on our base-camping style tours. Your guides set a pace which is enjoyable and attainable for all with frequent breaks for stretching and snacks. The first and last day will be shorter paddles due to water taxi transport and camp changeovers, with days 2-4 of the tour being full days of paddling.
Your guides have extensive training in keeping all sea kayaking excursions safe and engaging and will always consult the group in terms of the weather and wind forecasts. 
Remember that this tour can also be booked as a customized and tailored trip for your private group.
+ HOW MANY PEOPLE CAN EACH TENT FIT?
These spacious tents are designed to fit two adults comfortably. Each tent contains two twin beds (with bedding included) that can be pushed together to make a king size bed if you prefer. We do have folding cots with therm-a-rest mats that can be added if you would like to have your younger family members stay in your tent or we have some tents that are closer together making them ideal for friends or families who want to be close, but not sharing a tent. 
Inside the tents, there are additional comforts such as extra blankets, a lamp, handmade bedside tables, electrical outlet, coat hooks, and headlamps. We have 8 guest tents at this camp and it usually is no problem to have your own tent if you are travelling on your own, but please contact us to confirm. 
For our private group tours, you can decide amongst yourselves the preferred tent arrangement for the group.
+ IS THERE CELL SERVICE OR ELECTRICITY AT THE CAMP?
This basecamp is situated on Swanson Island, on the shores of Blackfish Sound. While there is fairly reliable cell-service throughout this area, most of our guests opt to keep their devices on airplane-mode to enjoy the experience free from screen time and distractions. 
We have plenty of electricity supplied by a solar system (no stinky or noisy generators here). When the sun is shining strongly, we have more power. Each of the tents has a lamp inside for lighting as it gets dark. Everyone should be able to keep up a charge on a camera battery or phone during the trip, but we are not able to power high-demand appliances like hair dryers. We highly recommend packing your own personal battery bank to use throughout your tour or while on the water so you don't miss any photo-worthy moments.
+ WHERE IS THE MEETING POINT TO START THIS TRIP?
Tour meeting location: Alder Bay Resort & Marina at 2 pm (Day 1) 
On day 1 of your trip you will meet your water taxi driver in Alder Bay on Vancouver Island (approximately a 5.5-hour drive by car north of Victoria or 4 hours north of Nanaimo). Please arrive 15 minutes early to allow time to unload, carry your luggage down to the dock, and arrange parking (if necessary) to leave your vehicle for the duration of your tour.
+ MORE FAQS
Reviews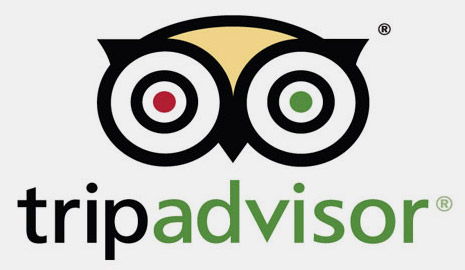 We're proud of our great reviews - but don't just take our word for it, see what people are saying over on Trip Advisor. View Reviews
THE EXPERIENCE
"It was completely a joy. The intentionality of the trip and guides added an educational flair that was impactful. Unlike other vacations I feel like we will be leaving here impacted."
Katie Cahn
June 2022
"I'll remember this trip for the rest of my life. Number one place I have ever swam in a hot tub. I literally drank my coffee in a kayak next to a whale. How do you ever top that?"
Carly Eberts
July 2022
"Perfect balance between comfort and rustic. Food was exceptional. Really appreciated the guide Josh sharing his knowledge of the local environment."
Susan Wheeler
August 2022
"Exceeded expectations in all respects. Wonderful hosts/guides who provided personal attention: Brandon, Bev, & Mel went to every length to accommodate me (with a back injury). Kayaking was wonderful and well planned and led. Saw lots of marine life- orcas & humpbacks superb! Really appreciated the guides' knowledge and sharing."
Ian Hill
July 2020
"We were very satisfied with the COVID precautions and the guides did a great job working within the rules as well as set a good example for my family to follow."
Chris Bulowski
August 2020
"During the pandemic we felt super grateful to be able to have this amazing experience. You handled the change in logistics wonderfully. Our guides were impeccable, informative but also allowing for quiet times."
C. C.
September 2020
"Exceeded Expectations! Highly Recommend!"
It was the trip of a lifetime! Everything was perfect. I'm from the West Coast and have seen lots of whales in my lifetime... or so I thought. We saw many humpacks, pacific white sided dolphins, orcas, porpoises, eagles, and sea lions.
We fell asleep to the sounds of whales and sea lions at night. We soaked in the hot tub after long days of kayaking and played with the bio luminescence at night. Dolphins interacted with humpbacks and killer whales and multiple pods of dolphins road our wake and swam all around us. It was like heaven for a whale enthusiast like myself!
Ash and Rowan were fantastic guides with incredible knowledge and positive vibes. The kayaking everyday was easy and enjoyable for everyone. Neil is an incredible chef.
I have done a lot of travel throughout Canada and I think this tops it all - a big thank-you!"
Sarah
September 2019
"The Best of BC: Wild nature, wonderful people. It doesn't get better than this!"
Alastair
July 2018
"Whales and Glamping! Who could ask for more? This was an amazing experience. We hadn't even got in our kayaks when our guide (Kevin) had to rush onto the water to rescue a drowning juvenile bald eagle. Scooped onto the deck of his kayak via a paddle under his butt, he dried out for several hours on the shore and recovered. Hard to top that, but we did. So many humpback whale viewings, sea lions, convocations of eagles and orcas. The campsite is located in a truly outstanding location, hot showers, gourmet food and fabulous staff rounded out our trip. If you are looking for an outdoors trip, this is it."
Anna-Loise
June 2018
"If ever you want to kayak and get up close and personal to whales and orcas and dolphins and... Followed by perhaps a cold swim and or a hot tub and comfortable beds and great food, this is the trip for you. Oh, and fabulous guides as well!"
Jan
August 2018
"My husband purchased this trip for us both as last year's Christmas present - it turned-out to be the best Christmas present ever! I'd never been to coastal British Columbia before, and the scenery is beyond amazing. And the wildlife is unbelievable - I can't believe how much we saw in just four days. This company is very organized, the trips are well-run, and the guides are great. Also, the food is amazing. We got lucky with great weather and nice people on the trip, but the rest is definitely due to the great team at Spirt of the West. It's also worth sticking around the area a few days after the trip - there's so much to see and do!"
Alison
August 2019
"From the moment you start communicating with the SOTW team, you understand immediately why they have an excellent rating. They were informative when I was researching, helpful when I had complex travel needs, incredibly FUN and safety minded. We had all gear and full delicious meals and lots of adventures. I had such an amazing time getting to know the guides (truly incredible) and the fellow guests (a fun bunch for sure!). We had lots of hours on the water and such unbelievable sightings of wildlife. I was quite sad and emotional to end the week - saying good-bye knowing that this moment would not likely be repeated. This is truly an incredible way to take a vacation, get off the grid and reconnect in many ways."
Sue
July 2016
"Beautiful scenery, expert guides, great equipment and DELICIOUS food. I can't rate Spirit of the West highly enough - and what a beautiful are of the world to explore in a kayak!
We saw lots of wildlife (including humpbacks and eagles), our guides were exceptional - thank you!
I've done broadly similar trips in Finland and Ontario in the past - as good as they were, they don't even compare to Spirit of the West. Not sure how my future vacations will ever live up to this amazing experience!"
Soph
September 2016
"The water taxi ride to and from the base camp was so much fun, especially on the way home. The White-sided dolphins played in the water beside us for 15 minutes, jumping and chasing us. A highlight of the trip."
Kath
September 2016
"Without a doubt the best trip I have ever taken! I'm still in Awe and Wonder."
Henry
August 2016
"It was incredible to see orcas, humpback whales, minkes, eagles... the wildlife was superb. Our guides were awesome: very friendly, helpful, hard working but also relaxed. They created a great group atmosphere. I would highly recommend this trip... a once in a lifetime experience."
Christina
August 2016
"Awesome! I love you guys! Want to bring my daughter. Thank you so much for a trip I will never forget! Thank you all!"
Yvonne Piazza
"A Whale of a Time... again!"
Nic
July 2016
"Outstanding outfitter for sea kayak expeditions! Everything was organized top notch starting with getting us there, keeping us safe, well fed and teaching us all about the sea, marine life and environment.
Our guides were fantastic!
Highly recommended!"
Kyle
June 2016
"Over the top! I hate writing reviews but Spirit if the West certainly deserves an EXCELLENT PLUS. This was my 4th trip with Spirit of the West and as usual nothing on the coast can compare with the experience!"
Ray
September 2015
THE GUIDES
"Above and beyond! We so very much appreciated the guides knowledge of the environment/wildlife and their attention to detail and the guests. Everything was wonderful and lots of fun! Thank you!
Michele Wallcraft
August 2020
"Everyone very helpful and patient. Food, kayaking, accommodations all great. People before trip on phone very helpful. A trip we will always remember. Thank you!"
Ruth Gilmour
"We both really enjoyed the trip. The guides, area and wildlife were amazing. Great balance between organized time and "own time" Guides were very accommodating, relaxed, made all feel welcome!"
Heather and Mark Elliott
"Experience of a life time. I will be back with my family. Your dedication to your company 'shined' through your staff."
Lynun Rtley
"The trip was all around awesome.
This guides and organization was phenomenal."
Charles Berdemann
"So impressed with the guides depth of knowledge and how the trip is run so smoothly. Base camp is a wonderful place. Would be happy to wake up every morning there."
Helen McDonnoll
THE CAMP & FOOD
"Quality of the accommodations were exactly what we hoped kayaking was great with enough but not too much instruction. Location is spectacular."
Earl Lawson
July 2020
"Friendly guides, fun, great food, and group was super too! Hot tub and shower unreal! "
Carol
"With my dietary limitations, everyone at Spirit of the West went out of their way to make delicious food. I have never gotten service like that before."
Carmen Petrick
"Great trip, great camp, never seen a beautiful hot tub in such a beautiful scenery."
Andreas
"Awesome! Most luxurious camping trip ever with fun and knowledgeable staff!"
Ryan
The food… ahhh yum. The hot tub and tent amenities were luxurious! Overall I feel very satisfied and unwilling to leave! Thank you to the great staff for a wonderful experience!"
Jenny Berger
"Fantastic overall. Wonderful food and accommodations top notch (hot tub!) Amazing guides, great pace. Essentially a perfect trip. Bascamp, food, guides are all amazing. Keep it up! Thank you for being awesome!"
Peter
THE WILDLIFE
"Oh the whales and the sea lions and wild weather and the eagles….a perfect West coast experience. We loved every moment."
Jennifer Black
September 2020
"Welcomed on day 1 by orcas & humpbacks!!! 3 days of viewing orcas, humpbacks, and porpoises was unbelievable. Completely calm water most of the time. Great food. Great guides."
Anita Winkle
July 2020
"Beyond expectations - deluxe guiding, food and hot tub! The kayaking was amazing, The wildlife just incredible!"
Ben Smith
"A truly wonderful and inspiring trip. I slept under the stars last night to hear the orcas and was lucky enough to see an incredible asteroid shower. A once in a lifetime experience. (Although I hope to repeat it soon!)"
(John) Brian Weir
"OMG!! Saw everything, whales, humpback, bear, eagle, seals. The guides were amazing, knowledgeable, funny and friendly! The guests were great everyone got along. Felt like we were all old friends."
Pam Vandumeu
Book Now
Our online booking system allows you easy access for booking your tour with Spirit of the West Adventures, any time of day.
Before finalizing your reservation, please carefully read over our Terms & Conditions, as these terms will apply to your booking. We also highly recommend that you look into Travel Insurance options to protect your travels before booking your tour as some types of insurance (such as Cancel for Any Reason insurance) can only be accessed within a limited period of time after paying for any portion of your tour.
If you think that you would like to book a trip, but need time to look into other travel arrangements, please contact our office and we will place a temporary hold on your spaces. We also offer real humans to speak with if that's your preference, so feel free to call our office at 1-800-307-3982 (from within Canada and the U.S) or 1-250-285-2121 (from overseas). We can be reached by email at [email protected]. If, for any reason, you are having trouble booking your trip, please do not hesitate to contact us. We are always happy to help!
---
DIETARY RESTRICTIONS?
We are happy to accommodate many dietary restrictions. However, dietary restrictions add additional complexity and costs to preparing for your tour. Please see below for some of the dietary restrictions we can accommodate and the associated costs for substitutions.
$75 fee: gluten-free, dairy-free, soy-free, nut-free, and vegan (please add by pressing the blue + beside "Dietary Accommodation" when booking) 
No additional cost: vegetarian, no red meat, no pork, no fish, no seafood
If you have dietary restrictions or allergies not listed above, please contact us at [email protected] to discuss if we are able to accommodate your needs and any additional charges. We take great pride and pleasure in serving you the best food we can for your adventure!
---
Searching Availability…