Beautiful, scenic and natural
Location:
Johnstone Strait and Blackfish Sound
For Who:
Everyone, focus on orcas and affordability



* Kayaking trips & tours are priced and charged in Canadian dollars and are subject to 5% GST and $20 / person environmental sustainability fee. Please see our Terms and Conditions for complete terms. To check live availability on any trip, click the Book Now tab and select a trip date.
PREVIOUSLY CALLED: ORCA LITE TOUR
A Big Adventure FOR those short on time
This tour is simply about giving you an accessible expedition kayaking experience for those wanting to explore the wildlife-rich region of the Johnstone Strait and Blackfish Sound. This will mean fewer frills than our 4-day Johnstone Strait Ultimate tour and a shorter length than our 6-day Whales & Wilderness Expedition, but you will still have the best-trained guides on the coast, top-of-the-line gear, industry-leading pre- and post-trip service, and most importantly, plenty of safe, fun, adventure and wildlife!
The Area
Vancouver Island is the best place on earth to see killer whales in the wild. Most of British Columbia's 300 or so orcas return to these waters to feed, sleep, play, and rub their bodies on the pebble beaches of world famous Robson Bight Ecological Reserve. And there's no more exciting way to encounter pods of these fascinating animals than from the seat of your very own sea kayak. Also sharing this diverse habitat are dolphins, porpoises, sea lions, harbour seals, humpback whales, eagles and black bears, to name just a few.
The Tour
We meet in Bauza Cove on Northern Vancouver Island where we will begin our kayaking adventure. Prior to departure, the group will take part in a route planning session with the guides. After some kayaking skills instruction and packing our kayaks, we will begin our journey into the rich and diverse waters of Johnstone Strait. Our route and itinerary are flexible and will be dictated by wildlife viewing opportunities, tidal, wind, and wave conditions. To allow us to tailor make your holiday, we base our campsite choices on scenic qualities, availability and group preferences.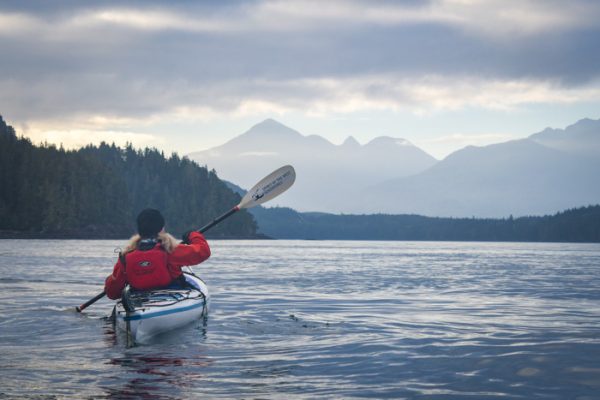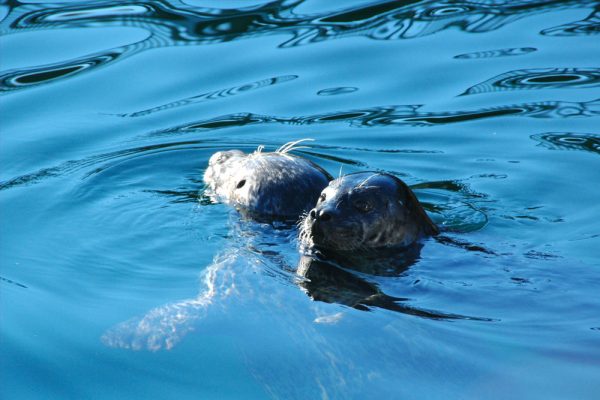 Paddle in and Paddle Out orca kayaking
Unlike our other tours, our 4-day Johnstone Strait Expedition does not make use of expensive water taxi services. Instead, we choose to navigate our way through the beautiful waters of Johnstone Strait and Blackfish Sound under our own steam. We launch our kayaks in Bauza Cove, a 2.5 hr drive north of Campbell River, or a 40-minute drive south of Port Hardy. This is a nomadic style trip, in the realm of the whales, and we will explore many beaches along the rich and rugged shoreline of Vancouver Island and other smaller island in the area. We launch our kayaks and return 4 days later in Bauza Cove before we say goodbye to our fellow kayakers.
The Menu
The 4-day Johnstone Strait Expedition menu is fresh, hearty, healthy, abundant and designed to fill your belly after lots of time spent on activities such as paddling, beach walking, wildlife viewing, and relaxing.
Camping
This is a true expedition style trip, which means we will move from camp to camp. If we find the perfect location we may choose to spend a couple of nights camped at the same beautiful sites. However, most nights we will be at a new campsite.
WHAT'S INCLUDED?
Professional guiding service
All kayaking equipment
(including kayaks, PFDs, paddles, pumps, ropes and sponges)
All meals and snacks from lunch on day 1 to lunch on day 4
Non-alcoholic beverages (tea, coffee, water, and juices)
Camping equipment including tents, pillows, Therma-rest sleeping pads, tarps, and more.
Park and land use permits
If you are planning on bringing any of your own equipment please double-check the packing list to ensure you have the appropriate gear and please let our office know in advance of the tour to avoid us bringing duplicates.
 WHAT'S NOT INCLUDED?
Not included in the tour cost are accommodation before or after the kayaking portion of your trip;
Flights, airport transfers, ferries, taxis
Travel/medical insurance
Alcoholic or carbonated beverages
Rain gear *
Sleeping bags *
Personal items (toiletries, clothing, etc.)
Guide gratuity
* Sleeping bags and rain gear may be rented if you prefer not to travel with them (please reserve in advance).
---
Also Available for private group Reservations
If you have a large group that would like to book a the whole tour as a private group, ask us about booking out the whole trip for just you & your group.
Spirit of the West acknowledges and operates in the unceded traditional territory of the Mamalilikulla-Qwe'Qwa'Sot'Em, 'Namgis, Tlowitsis, Kwikwasut'inuxw, Nuu-chah-nulth, We Wai Kai, Homalco, Klahoose and Heiltsuk First Nations.
Itinerary
The idea behind our 4-day Johnstone Strait Expedition tour is to get you out into the heart of the realm of the killer and humpback whale! This tour is geared towards our kindred adventurous spirits: families, backpackers, solo travellers, shoestring wanderers. As well, the shorter duration of the tour (4 days as opposed to our 6 day expeditions) may fit more easily into busy travel schedules...
Lets get Ready for the adventure
The Spirit of the West Adventures crew will meet you in Bauza Cove, just outside of Telegraph Cove on northern Vancouver Island. From here we have immediate access to one of the richest and most diverse areas on our coast. Most of British Columbia's 300 resident orcas return to this area every summer to eat, sleep, play, and rub their bodies on some of the small pebble beaches of Johnstone Strait. In addition to orcas, the kayaker must keep their eyes peeled for the large and majestic Humpback whale, the speedy Dall's porpoise, or perhaps for a large group of cavorting dolphins. The lower cost of this trip means no water taxi transportation but nothing less than the highest standards when it comes to your guides, top-of-the-line gear, industry-leading pre and post-trip service, and most importantly, plenty of fun and adventure!
---
TOUR MEETING LOCATION
WHERE & WHEN: BAUZA COVE (right-hand side of cove) at 11:30 am (Day 1)
On day 1 of your trip you will meet your guides in Bauza Cove (just outside of Telegraph Cove) at 11:30 am on Vancouver Island (an approx. 5.5-hour drive by car north of Victoria or 4 hours north of Nanaimo).
Meeting point: Bauza Cove landing
Bauza Cove Directions: Just before you arrive at Telegraph Cove, turn right onto the gravel road above the hotel. Take the second left turn through the open gate and drive all the way down the hill until you get to the end at the water. While Google Maps doesn't show the last road, it's there!
Please arrive 15 minutes early to allow time to park, unload, and carry your luggage down to the launching spot.
RETURN TIME
WHERE & WHEN: BAUZA COVE, BY APPROX. 11 AM – 12 PM (DAY 4)
Return time can depend on weather and travel conditions, but is typically between 11 am – 1 pm. We try our best to get you back on time for your onward travels or to explore more of what Vancouver Island has to offer.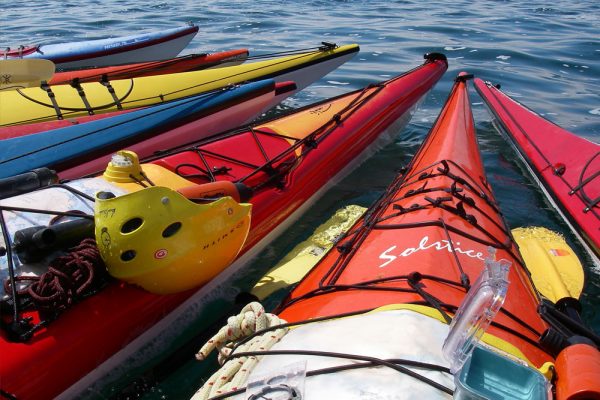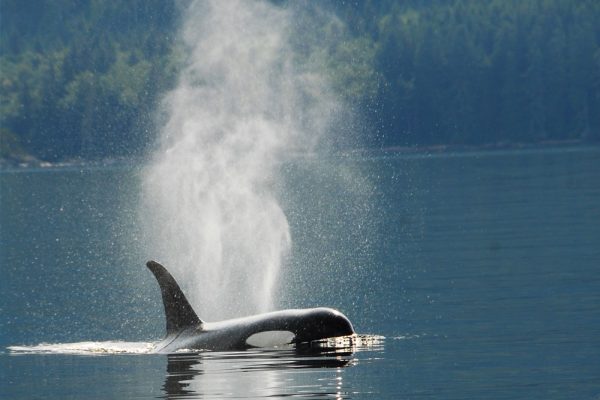 DAY 1
Our day starts in Bauza Cove on the northern part of Vancouver Island, BC, Canada. With coaching from your guides, we will pack up all of our gear into our kayaks at 11:30 am. After a safety briefing and orientation to kayaking, we will head out into the waters of Johnstone Strait. We will paddle to our first campsite, either at a remote site on Vancouver Island or on one of the smaller islands nestled between Johnstone Strait and Blackfish Sound – the territory of the orca and humpback whales. After a hearty meal for dinner and  a bonfire on the beach, you will be ready for your first night's sleep under the stars in the wild coastal paradise of Johnstone Strait and Blackfish Sound.
Days 2 to 3
Our route and schedule for the 4-day Johnstone Strait Expedition are entirely flexible. This allows our guides to customize the trip depending on weather conditions, campsite availability, group preference, and wildlife viewing opportunities.
After a hearty breakfast, we will enjoy a new adventure on the water each day. Time will be spent exploring the nearby islands and shorelines, always looking and listening for the many marine mammals including orcas, humpbacks, minke whales, dolphins, and porpoises.
For our lunch breaks, we will enjoy picnics on various beaches. These breaks will also give us the opportunity to stretch our legs, discover the creatures that live in the intertidal zone, and explore the lush coastal rainforests with old-growth cedar trees.
Day 4
After our last breakfast in the wild, we will pack up our gear and leave for our last day of exploration. On the paddle back to Bauza Cove we will have more opportunities to paddle along various shorelines and islands, experience  the rich intertidal life along BC's coast, and of course, watch out for more wildlife. 
This 4-day expedition is the perfect introduction to paddling in a remote and coastal BC environment.
FAQ
Below is a list of commonly asked questions. If you have any further questions or concerns please do not hesitate to call us.
+ WHAT MAKES OUR 4-DAY JOHNSTONE STRAIT EXPEDITION SPECIAL?
We developed the 4-day Johnstone Strait Expedition tour to be a shorter expedition-style, wildlife-focused trip. This expedition spends all four days exploring the more open waters of the Johnstone Strait, where we are most likely to encounter marine mammals such as orcas, humpbacks, dolphins and porpoises in their core habitat. This tour is nomadic in nature, moving from rustic campsite to campsite each day and sleeping in expedition-style tents with therm-a-rests on the ground. Self-supported in nature, we pack everything we need into our kayaks each day for the ultimate freedom to explore. We paddle approx. 4-6 nautical miles per day, with a pace comfortable for people of all abilities and experience levels. The paddling on this tour is comparable to the paddling on our basecamp tour in terms of distance travelled and conditions encountered. We welcome paddlers of every experience level. 
+ WHAT ARE THE CAMPSITE OPTIONS LIKE ON THE 4-DAY JOHNSTONE STRAIT EXPEDITION TOUR?
For this particular tour, we will be paddling and camping all along the Johnstone Strait and Blackfish Sound areas where large marine mammals such as orca and humpbacks are known to frequent. We seek out campsites with beautiful surroundings and solitude; these are all undeveloped and may be clearings throughout the forest, on small islet bluffs, or above the high tideline on beaches. The camping options throughout this area are plentiful, boasting awe-inspiring views and opportunities for wildlife viewing right from camp. 
There may be the occasional circumstance when we are camping next to other paddlers. Campsite choice will be based on weather conditions, route choice and group size. Please be aware that no campsites on this tour have power, charging sources, showers, or access to our wood fired hot tubs.
+ AM I EXPERIENCED ENOUGH FOR THIS EXPEDITION? HOW MUCH TIME IS SPENT PADDLING?
Our 4-day Johnstone Strait Expedition is our shortest and most accessible expedition for paddlers who would like to gain experience in multi-day kayaking in a supportive and fun environment. If you are new to paddling, our expert guides will walk you through everything you need to know to have the experience of a lifetime. For those with existing paddling experience, you can look forward to strengthening your skills, refining your camp craft, or asking your guides to teach you something new!
Paddling time and distance covered will vary depending on the trip, our daily route, weather conditions, and the group's abilities and desires. Generally, we travel between 4-6 hours a day on our Johnstone Strait Expedition, not including lunch and rest spots. We set a pace that is manageable and enjoyable for all with frequent opportunities for breaks to stretch, hydrate and have snacks, and go to the bathroom.
+ WHERE DO I GO TO THE BATHROOM? WILL I BE ABLE TO WASH UP?
There is very little fresh water to be found in these marine areas. Therefore, seawater is your best bet for washing up. We also recommend bringing a set of personal wet wipes for use throughout the tour. Please only bring environmentally-friendly soap or shampoo.
We carry a portable toilet system which we use the majority of the time. A few of the campsites we may visit have pit or outhouse style facilities. Your guides will always designate an area that works for ensuring your privacy and comfort. 
We understand and expect some guests to be unfamiliar with backcountry bathroom etiquette – we are here to help! We are very accustomed to making sure all of our guests feel comfortable and informed – please feel free to ask us any questions you might have, before or during your tour.
+ WHERE IS THE MEETING POINT TO START THIS TRIP?
Tour meeting location: Bauza Cove (right-hand side of cove) at 11:30 am (Day 1)
On day 1 of your trip you will meet your guides in Bauza Cove (just outside of Telegraph Cove) at 11:30 am on Vancouver Island (an approx. 5.5-hour drive by car north of Victoria or 4 hours north of Nanaimo). Please arrive at least 15 minutes early to allow time to unload and arrange parking (if necessary) to leave your vehicle for the duration of your tour. 
+ MORE FAQS
Reviews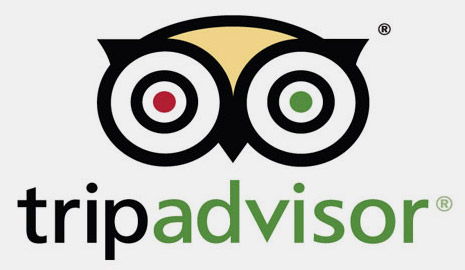 We're proud of our great reviews - but don't just take our word for it, see what people are saying over on Trip Advisor. View Reviews
The Experience
"Had a fantastic trip in beautiful and varied weather and waters. Group guides were knowledgeable and really really nice. And group members were sociable and fun to be with. Wildlife was amazing!! Tons of eagles, several close encounters with humpbacks, seals and sea lions. Got lucky to see two pods of orcas and white sided dolphins and two sorts of porpoises. Fantastic!!!"
Carsten, Freja and Lotte
July 2022
"Four sun-filled days on the water with many beautiful wildlife sightings (Orcas, humpbacks, seals, sea lions, sea otter, salmons, eagles, and many 'little guys' [startfish, sea cucumber, urchins, etc.]). Highlights include all the wildlife, great weather, amazing food, good laughs and learning about the Johnstone Strait. Everything from the food, the sites, the guides and the equipment felt like high quality. Jenna and Adam were also caring and supportive on the water and made me feel 110% safe on the water!"
Ismena Bystron
July 2022
"An amazing once in a lifetime experience. Our guides were experts in their field, the knowledge that they shared and guidance they provided was beyond my expectations. They gave us great insight and a deep and profound respect for the wilderness and nature. They went above and beyond working tirelessly to ensure we had an amazing adventure! This trip will be a cherished memory for the duration of my life. Living my best life now includes an incredible "Spirit of the West Adventure" with an amazing group of women and two incredible individuals that guided us."
Barb Jamison
August 2022
The group was excellent from the moment of pick up to the drop off. We have all got memories to last a lifetime. The hydrophone was brilliant, seeing and hearing Orcas was incredible. The guides' knowledge was really broad; all of them were so enthusiastic and willing to share their knowledge.
Mike, Caroline and Family
Thank you for all the memorable experiences. We will recommend you to all our friends. I was able to fulfill a lifelong dream on this trip.
Ben B.
I highly recommend your paddling company. My experience was superb, food and guides were exemplary. I always appreciate a personal, yet professional approach and you have this mastered. Excellent job. Thanks so much for a wonderful time - it was good for the soul.
Joni Grundy
I am very happy I came on this trip. Not only did I have fun, but I learned a tonne about the area and how precious it is. I'm so happy to be a resident of BC and be so close to pristine wilderness.
Colleen B.
The Guides
Really every comfort was considered in allowing us to experience the gorgeous wilderness as fully as possible. Can't say enough about how excellent those guides were.
Jennifer J.
Ryan and Robin were brilliant. They both knew a lot about the area and wildlife which really adds to the experience. Food incredible.
Vicki S.
Great service from start to finish. Very detail oriented (hydrophone, whale book library, etc.). The guides always made us feel super comfortable, they were competent kayakers, and knew a lot about the marine environment, ecosystems, going green...
Martina and Patrick V.
The Food
Exceeded expectations, guides were 200%! All facilities were top notch and equipment too! Food and dietary accommodation was superb. Our group had gluten, dairy and fruit allergies, all were well fed (an understatement).
Andrea V. and Rod S.
Book Now
Our online booking system allows you easy access for booking your tour with Spirit of the West Adventures, any time of day.
Before finalizing your reservation, please carefully read over our Terms & Conditions, as these terms will apply to your booking. We also highly recommend that you look into Travel Insurance options to protect your travels before booking your tour as some types of insurance (such as Cancel for Any Reason insurance) can only be accessed within a limited period of time after paying for any portion of your tour.
If you think that you would like to book a trip, but need time to look into other travel arrangements, please contact our office and we will place a temporary hold on your spaces. We also offer real humans to speak with if that's your preference, so feel free to call our office at 1-800-307-3982 (from within Canada and the U.S) or 1-250-285-2121 (from overseas). We can be reached by email at [email protected]. If, for any reason, you are having trouble booking your trip, please do not hesitate to contact us. We are always happy to help!
---
DIETARY RESTRICTIONS?
We are happy to accommodate many dietary restrictions. However, dietary restrictions add additional complexity and costs to preparing for your tour. Please see below for some of the dietary restrictions we can accommodate and the associated costs for substitutions.
$75 fee: gluten-free, dairy-free, soy-free, nut-free, and vegan (please add by pressing the blue + beside "Dietary Accommodation" when booking) 
No additional cost: vegetarian, no red meat, no pork, no fish, no seafood
If you have dietary restrictions or allergies not listed above, please contact us at [email protected] to discuss if we are able to accommodate your needs and any additional charges. We take great pride and pleasure in serving you the best food we can for your adventure!
---
Searching Availability…