Welcome to the realm of the orcas
Location:
Johnstone Strait and Blackfish Sound
For Who:
Families, focus on wildlife and ease with kids




* Kayaking trips & tours are priced and charged in Canadian dollars; prices in other currencies can be estimated by clicking here. Prices are subject to 5% GST and optional $20 sustainability fee. Please see our terms and conditions for full payment and fees information.
Unforgettable memories together as a family!
The Area
Vancouver Island is the best place on earth to see killer whales in the wild. Most of British Columbia's 300 or so orcas return to these waters to feed, sleep, play, and rub their bodies on the pebble beaches of world famous Robson Bight Ecological Reserve. And there's no more exciting way to encounter pods of these fascinating animals than from the seat of your very own sea kayak. Also sharing this diverse habitat are dolphins, porpoises, sea lions, harbour seals, humpback whales, eagles and black bears, to name just a few.
Customize Your orca family Tours
We understand that families will have varying degrees of comfort when it comes to camping and kayaking, therefore we offer a lot of flexibility in this trip. This tour can be offered either as a basecamp style trip where we set up camp and paddle from that location every day, or as an expedition style trip where we pack up camp every night and set up at a new site. While both of these trips would offer a variety of paddling every day and would be based in the prime location for wildlife sightings in Johnstone Strait, some families may prefer to avoid the extra chores of pack up camp every day. *The basecamp trip is described on the itinerary page; please give us a call if you are thinking about booking this tour, and we can further discuss the options with you.
About The Paddling Route
The Orca Family tour is based in the heart of the action of Johnstone Strait. This trip launches from picturesque Telegraph Cove and offers paddling options in the west end of the Johnstone Strait and Blackfish Sound, to return to Telegraph Cove four days later. This area of the coast has a true rugged northwest feel with its lush temperate rain forests, rolling mountains, and an abundance of seabirds and marine wildlife including the infamous transient and resident pods of killer whales.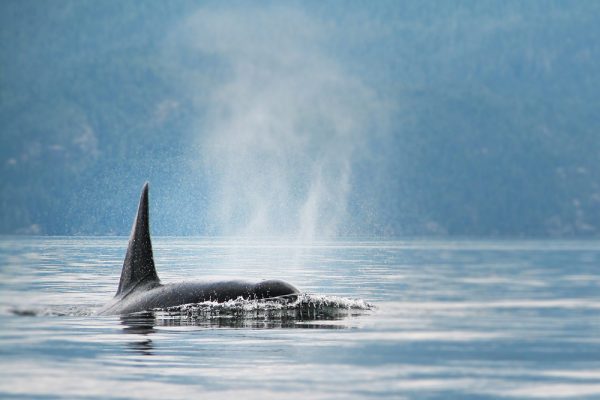 The Hanson Island Basecamp
We will camp at our Hanson Island basecamp which is built up with tent platforms, and rustic driftwood counters in the kitchen for cooking. This site is tucked away in an open forest, and has a gravelly beach that faces west to catch the summer sunsets as they bring a long and exciting day to a close. A comfortable, established site is the perfect place to base ourselves for exploring the local area.
The Orca Family Menu
Our menu provides hearty and nutritious meals for the whole family. The meals include breakfast, lunch and dinner, and plenty of snacks for hungry paddlers. Our menu for this trip is slightly different from our regular trips in that it attempts to provide "kid-friendly" options or alternatives for certain meals. This is another area of this trip where we are love to be flexible and work with your needs as a family to accommodate allergies, dietary restrictions, and to ensure that your kids will be happy with our food.
Listening to the Whales Sing 
We are equipped with a portable underwater hydrophone so we can listen to the beautiful songs of the orca as they pass while we are paddling.
Most Importantly – The Fun!
Above all else, we want to make sure that everyone in your family has fun on this kayaking trip! Our trained guides will help to keep your family happy with games, activities, and stories around the campfire that everyone can enjoy. We hope you can join us!
WHAT'S INCLUDED?
Professional guiding service, all kayaking equipment (including kayaks, PFDs, paddles, pumps, ropes and sponges), meals (lunch day 1 to lunch day 4), cooking equipment, camping equipment including tents and Therma-rest sleeping pads, water taxi service, park and land use permits are included in your tour package. If you are planning on bringing any of your own equipment please double-check the packing list to ensure you have the appropriate gear and please let our office know in advance of the tour to avoid us bringing duplicates.
WHAT'S NOT INCLUDED?
Not included in the tour cost are accommodation before or after the kayaking portion of your trip, flights, airport transfers, ferries, taxis, travel/medical insurance, alcoholic or carbonated beverages, rain gear, sleeping bags or personal items (toiletries, clothing, etc.). Sleeping bags and rain gear may be rented if you prefer not to travel with them (please reserve in advance).
WHAT'S INCLUDED?
Professional guiding service
All kayaking equipment
(including kayaks, PFDs, paddles, pumps, ropes and sponges)
Meals (lunch day 1 to lunch day 4)
Cooking equipment
Camping equipment including tents and Therma-rest sleeping pads
Water taxi service
Park and land use permits
If you are planning on bringing any of your own equipment please double-check the packing list to ensure you have the appropriate gear and please let our office know in advance of the tour to avoid us bringing duplicates.
 WHAT'S NOT INCLUDED?
Not included in the tour cost are accommodation before or after the kayaking portion of your trip;
Flights, airport transfers, ferries, taxis
Travel/medical insurance
Alcoholic or carbonated beverages
Rain gear
Sleeping bags
Personal items (toiletries, clothing, etc.)
Sleeping bags and rain gear may be rented if you prefer not to travel with them (please reserve in advance; may be booked online with your trip reservation).
Itinerary
PRE-TRIP MEETING
WHEN: DAY PRIOR at 6PM, WHERE: HERIOT BAY INN ON QUADRA ISLAND
Your guides will go over the logistics of the tour and answer any questions or concerns you may have. This meeting will be held in the lounge at the Heriot Bay Inn on Quadra Island at 6pm the day prior to departure. If you cannot make it to the meeting just be sure to call in the day before departure to confirm your arrival. This allows us to confirm the exact departure time and location, or to alert you if there are have been any last minute changes.
THE TOUR
MEETING LOCATION
WHEN: DAY 1, WHERE: QUADRA ISLAND at 7am, CAMPBELL RIVER at 8.20am OR Telegraph cove at 11am
You can meet either on Quadra Island, in Campbell River or in Telegraph Cove. If meeting in Campbell River or Telegraph Cove, please call our office to let us know. Spirit of the West Adventures is based on Quadra Island (a 10 minute ferry ride from Campbell River) and this is where our tour starts. We highly recommend making Quadra Island a part of your vacation plans. Our beautiful island has a whole different and laid back feel to it, complete with endless opportunities for outdoor activities, beaches to relax, amazing accommodations and great local artisans. On the morning of the tour, your guides will pick you up from Quadra Island or Campbell River in the Spirit of the West Adventures van and transport the group up to Telegraph Cove. From here we will go over the kayaking basics and essential safety procedures before heading off on our expedition. Our first day will be spent exploring the shore of Johnstone Strait on the lookout for the Northern Resident killer whales and other marine life.
DAY 1
On the morning of the tour, your guides will pick you up from Quadra Island/Campbell River in the Spirit of the West van and transport the group up to Telegraph Cove. Families can also drive up to Telegraph Cove in their own vehicle and meet the guides there. From here we will go over the kayaking basics and essential safety procedures before heading off on our expedition. A certified water taxi will whisk us across Johnstone Strait to be dropped right at our camp on Hanson Island. Our first day will be spent exploring the shore of Johnstone Strait on the lookout for the Northern Resident killer whales and other marine life.
Day 2 & 3
On days 2 and 3 we will paddle the waters of the Johnstone Strait and possibly up to the nearby Blackfish Sound. Our route each day will depend on weather, currents and group desires. Each night we will stay at the established Hanson Island basecamp, saving the chores of packing up camp each day. There is a lot of flexibility on these days and ultimately we will choose the best route based on the weather and the group's strengths and desires.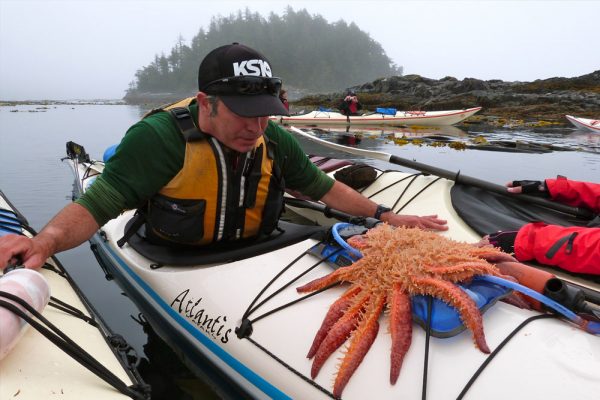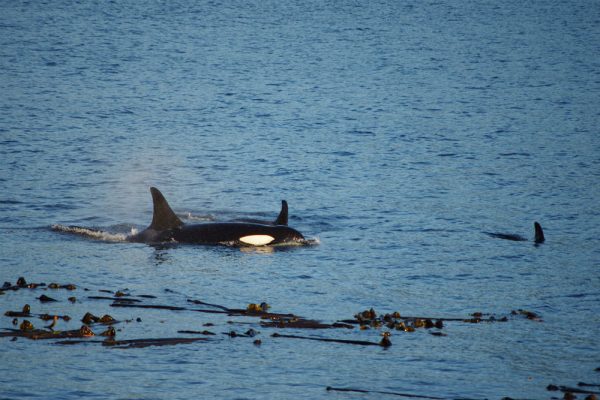 Day 4
On day 4, after another hearty breakfast, we will pack up our gear for the water taxi ride back to Telegraph Cove. We'll have some time to explore the Bones Project, a museum with educational displays of coastal wildlife in BC, including whole skeletons of seals, otters, and whales. After a picnic lunch in Telegraph Cove, we will load up into our van and transfer back to Campbell River and Quadra Island.
Our approximate return time to Campbell River and Quadra Island is between 4 and 6 pm. However, due to the number of variables with wilderness travel we recommend that you plan to stay in the area for this night to avoid unnecessarily stressful complications should our return be delayed by something out of our control. Please feel free to contact us you would like to discuss your travel plans in more detail.
FAQ
Below is a list of commonly asked questions. If you have any further questions or concerns please do not hesitate to call us.
What is included? What do I need to bring?
There are no additional costs once on our tour. On our guided tours we supply everything that you will need for kayaking and camping except for a few personal items such as a sleeping bag and rain gear (these can be rented if needed), your clothes and toiletries. We are happy to pick you up free of charge from your accommodation on Quadra Island on the morning the trip starts and we will drop you off there when the tour is finished. All other transportation, food, gear, etc, while on trip is included in the cost of the tour. Once the tour begins we provide all meals and non-alcoholic beverages (wide selection of teas, coffee, juices, hot chocolate) from morning snack on day one to lunch on the last day. You are welcome to bring your favourite wine, beer or pop, but this is not included in the tour price. There is a grocery and liquor store very close to the location of the pre-trip meeting if you would like to pick up extra beverages on the evening before the tour.
How much kayaking experience is required to join this trip?
No experience is required for our kayak tours! Our adventures are for everyone. Our trips are designed to cater to all levels of experience and abilities. The majority of people who join our tours are first time kayakers. All that we ask is that you welcome adventure with an open mind and are able to laugh and have fun when encountering the unexpected.
Do I need to be in great shape for this trip?
No. Our adventures are not considered to be overly strenuous or physically demanding, and we do not require a high level of fitness. We just ask that you are capable of a few hours of moderate exercise each day. Keep in mind that good general health will go a long way if we happen to encounter some strong winds or time restrictions. Most important is an adventurous spirit.
Are there any age requirements?
This tour is designed specifically for children ages five and up.
What is the camp set up like? 
All of our campsites are in wilderness settings. The Hanson Island site is established with tent platforms, kitchen area and outhouse.
How much paddling is generally done in a day?
Paddling time will vary depending on our daily plans and the family abilities and desires. We are often away from camp for as long as 6-7 hours (with lots of breaks on shore to stretch, have lunch or run around to burn off steam), or sometimes will plan a morning and afternoon paddle with lunch back at the main camp.
How stable are the kayaks? What is the likelihood of flipping over?
The kayaks we use on our tours are stable and designed for comfort. For those a little concerned, the double kayaks are slightly more stable than the singles. The likelihood of a capsize is minimal, and generally only occurs in an uncommon situation.
What happens if my kayak flips over?
If for some reason your kayak flips over, all of our guides have ample practice time on the water with rescue procedures, in order to quickly and efficiently get you back in your boat. At this point we will take you to the nearest shore to change into some warm cozy clothing and carry on with our journey. While we are out on the water, it is of the utmost importance that the group sticks together in the event of capsize or change of route plan.
What if the weather turns bad? Will I be comfortable and warm?
Our weather in the Pacific Northwest is generally pleasant from May through until the end of September. The temperature will vary slightly depending on which area you visit. In the Johnstone Strait area, the weather will generally be cooler than what you may see on the forecast for Campbell River – sometimes by as much as 10 degrees. Fog is very common on summer mornings, however this nearly always clears at midday to make way for clear skies and sun. Although it is uncommon, it can rain in the summer. A good rule of thumb is to be prepared for any type of weather and you will stay comfortable. Layering is the key, and it allows you to put on or take off layers while on the water if you need to.
What sort of wildlife might we see on the tour? What are the chances of seeing killer whales?
The diversity and abundance of wildlife in the Pacific Northwest is one of our privileges. With river run-off from the mountains, ocean currents, tiderips, eddies and upwelling these waters are among the most productive on earth. From the rich marine life of colourful plants and invertebrates, seabirds, shorebirds, waterfowl, mink, otter, seals, sea lions, dolphins, and whales, to the land animals of deer, raccoons, cougars, wolves and bears, we are bound to see something. For those with an eye for eagles take note that they are most prominent in the earlier months before the salmon migration in the late summer/early fall. On the Orca Lite Tour we move between the open waters of the Strait and the intricate islands of the Broughton Archipelago. The days we spend in the more open waters of Johnstone Strait are the most likely time for us to encounter larger marine mammals such as Orcas and Humpback whales. As we travel deeper into the islands, keep your eyes peeled for dolphins, porpoise and all of the land animals with which we share this beautiful ecosystem. Please remember though that these whales are wild and can travel large distances in a day. You have put yourself in the best possible location for viewing and now you just have to see what mother nature provides.
How close do we paddle to the Orcas?
Day to day travel patterns for whales are unpredictable, so we travel in the most likely places to encounter them in order to maximize our opportunities to view them. Hearing the blow of a whale even from a mile across the Strait will create a sensation of excitement. Note that in accordance with industry whale watching regulations we do not approach killer whales within 200 meters and all other whales within 100 meters. This is out of respect for the whales' space and to ensure that we do not interfere with their natural behaviour.
Where do we wash? Are there toilets?
There is very little fresh water in the Johnstone Strait area. Therefore, seawater is your best bet for washing up. Please use biodegradable, environmentally friendly soap brands. There is an outhouse at the Hanson Island campsite.
Where can I leave luggage that I won't need on trip?
If you are staying on Quadra Island, many of the B&Bs offer free luggage storage – simply check with your host. Alternatively, guests staying on either Quadra Island or in Campbell River have the option of storing excess luggage at our office. Please ensure that your luggage is clearly labelled with your name, tour and trip date, and leave it with us on the first day of your tour for return to our office.
Where can I leave my vehicle while on tour?
Free parking will be available for your vehicle while on tour with us. Many of the accommodations on Quadra Island also have free parking included with your stay. Parking is also available at Telegraph Cove for a daily fee. Parking details will be discussed further at the pre-trip meeting.
If I would like to tip the guides, what is the industry standard?
If you would like to express your appreciation to the guides through a gratuity, such recognition would be enthusiastically received. The industry standard for tipping is approx. 10% per person of the trip cost. All tips received will be collected and disbursed amongst your guides & basecrew by the trip leader.
Reviews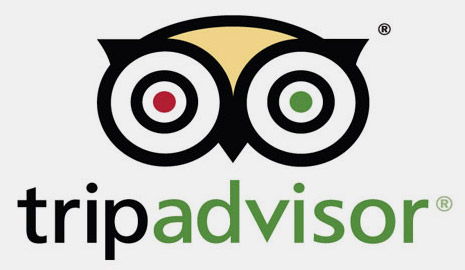 We're proud of our great reviews - but don't just take our word for it, see what people are saying over on Trip Advisor. View Reviews
Kids' reviews
"The best trip ever! Say thanks to the awesome guides!"
Gabriel, 10 years
June-28, 2016
"We had great guides and they were super nice!"
Skye, 11 years
June-28, 2016
"Very fun, exciting and so adventurous!"
Julia, 12 years
June-28, 2016
"Very cool and great food and a fun experience overall!"
Ruby, 13 years
June-28, 2016
Parents' reviews
"A wonderful experience. Love learning new things and our guides were very knowledge-based."
Misty Rorrer
June-28, 2016
"Excellent knowledge and skills shown by our guides!"
Pedro Dedesma
June-28, 2016
Packing
On the Family Orca tour we will be taking a water taxi to travel to our campsite. If base camping, space is not limited to what you can pack in the kayaks, so it won't be a problem to bring enough to stay warm and dry. The following is a list of suggested items that should keep you a happy camper. The key is to pack into small compact bags which we will provide. We will also provide some tips and tricks for packing when you arrive.
Sea kayaks are oddly-shaped vessels to pack, so the key is to pack into the small compact bags which we provide. (The video to the right also provides some practical, and humorous, tips and tricks you might appreciate).
Sea kayaks are basically watertight, although small amounts of water may get in through the rudder lines and hatches. In the event of rain or dropping gear in the water we try to keep things as waterproof as possible. We provide you with waterproof storage bags also known as 'dry bags' (these will be given to you at the pre-tour meeting or the following morning if you are unable to attend).
If you prefer to bring your own dry bags, please note the largest bag should not be larger than a sleeping bag or 20 litres; several small bags are best. We will provide one 5 litre, two 10 litre and one 20 litre dry bags for you to pack into. Additional bags may be available depending on space in the kayaks. The 5 litre bag is good for storing small items such as cameras, sunscreen, glasses, etc. The larger ones will be used for storing the rest of your clothing. Please see our suggestions for waterproofing your sleeping bag.
Shoes can generally be packed loose in the kayak. All participants will also pack some of the group gear and food in their kayak. Don't worry, it always looks like an impossible mountain of stuff to fit in the kayaks, but with some perseverance and coaching from your guides we always manage to fit everything.
TEMPERATURES
Please note that our summer temperatures from July until September are generally quite comfortable with temperatures from 18-30 degrees Celsius / 70-85 degrees Fahrenheit. It's not uncommon to find mid day summers hot enough to want to cool off in the ocean! June and later September will have cooler temperatures, and at ANY TIME OF YEAR we can have rain & wind, with temperatures occasionally as low as 13 C / 55 F. So, we say it is best to come prepared for any type of weather.
PLEASE NOTE WHAT WE PROVIDE:
– ALL KAYAKS & SAFETY GEAR
– TENT & SLEEPING PADS
– DRY BAGS
– SMALL CAMP PILLOW
If you have your own gear and would prefer to use it on your tour, please bring it to the pre-trip meeting so that we can make sure it is suitable and meets safety requirements. The following is a list of suggested items to bring along. If you have any concerns or questions about the list, please don't hesitate to contact us.
Sleeping bag – A 3-season synthetic bag is recommended. Down bags will work but please take extra care to waterproof. If you are uncertain about whether or not you have the appropriate bag just give us a call or check with your local outdoor store. If you do not have a sleeping bag or would prefer not to travel with one, these may be rented for $25 plus tax. Please reserve in advance. To waterproof  your sleeping bag line a compression sack with a heavy duty garbage bag. Press the air out of the bag with your knee and then keep it compact with the compression sac (may be purchased at any outdoor shop). This also helps keep your bag small for travel.
Wetshoes – A pair that can get wet such as sturdy full strapped sandals (such as Keens, Tevas or Chacos), neoprene booties, crocs, or rubber boots. Please avoid flip-flops/thongs. Spirit of the West has a wide range of rubber boot sizes (youth – men's size 13) available to borrow free of charge if you don't have your own wet shoes or have limited space in your luggage. There will be an opportunity to try on boots at the pre-trip meeting.
Camp footwear – An additional pair of footwear that you plan to keep dry. Runners, trainers or light hikers are great.
Hat – A sun hat such as a baseball hat or full-brimmed hat as well as a wool or fleece warm hat for evenings or cooler days.
Sunglasses & sunscreen (stored in a Ziploc bag) – A must for protection from sun and glare off of the water. Safety cords on your glasses are highly recommended.
Small flashlight or headlamp – With spare batteries. Headlamps are preferable as they allow for hands free operation.
Camera – In a waterproof bag or case, or you may use our dry bags.
Bathing suit
Personal items – Toothbrush, toothpaste, biodegradable soap/shampoo, washcloth, feminine hygiene products, hairbrush, etc.
Medication – If you are bringing medication please ensure that… 1) The name and expiry date of drug is on the container; 2) You have the detailed instructions of your dosage and frequency; 3) It is packed in a water and sunproof container; 4) You bring a full extra dosage of your medication in a separate container to leave with your guide, in case you misplace or lose yours, or are weathered in. If you are flying, please pack all necessary medication in your carry-on luggage. This will help eliminate some stress should your checked bags be misplaced in transit.
Mosquito repellent – Insects are not a significant concern for us in our coastal ecosystem, however for those unused to insects or with particular sensitivities some repellent may come in handy.
Ziploc bags & several large garbage bags – We will provide you with dry bags, but these come in handy for transporting laundry and/or wet clothing.
Water bottle – Bike bottles or Nalgene-style bottles work best.
Gloves (optional) – Biking gloves work well to protect your hands from blisters. If you are really concerned abut cold hands, and are paddling in the spring or fall seasons, you may want to invest in neoprene gloves or pogies.
Beverages – We supply a wide range of teas and coffee as well as juices. You are welcome to bring along soda pops or alcoholic beverages if you choose to. Please note however that we do expect our guests to consume alcoholic beverages responsibly and strictly enforce a no alcohol on the water policy.
Fishing gear (optional) – Make sure you have a valid B.C. fishing license. These can be purchased on-line at http://www.pac.dfo-mpo.gc.ca/fm-gp/rec/licence-permis/index-eng.htm
Book or journal
Binoculars (optional)
Gratuity for your guides – at your own discretion.
CLOTHING
Clothing should be suitable for the time of year, bearing in mind that it could become cold and wet at any time of year. Layering is the best way to regulate body temperature and maintain warmth. We suggest avoiding cotton (except for those hot days). Cotton has no insulation value when wet. An inner material that wicks moisture from the body and gives a comfortable dry feeling even while wet is the best first layer (Polypropylene, Lycra, Nylon, Polyester). A synthetic material such as fleece or pile makes the best second layer to provide warmth. Wool is also suitable.
Rain jacket & rain pants – For the unexpected nasty weather. To test your waterproofness – jump in the shower and see if you stay dry! (we're serious!). If you would like to rent/hire raingear from us, please reserve in advance of the tour. Tops and bottoms can be rented for $25 plus tax for the set.
Light windproof jacket (optional)
Long-sleeved non-cotton shirt (synthetic/wool) – 2
Long pants – 1 pair of fleece or warm comfortable pants. 2 lighter pairs made of a quick drying, synthetic fabric. Athletic style pants (running or yoga) are generally appropriate. Jeans are NOT recommended for paddling.
Lightweight long underwear – 2 pairs, helps to keep you warm at night or as a base layer during the day. We recommend one set for kayaking and one set which is reserved for sleeping and always stays dry.
Sweaters – 2 warm wool or fleece sweaters (one may be all you need, but it is nice to have a spare in case one gets wet).
T-shirts – 2 or 3.
Shorts – 1-2 quick dry nylon
Warm socks – 3 to 5 pair (1 warmer pair for around camp)
Undergarments
An extra set of clothes that you may want to reserve for the end of the trip.
Book Now
Our online booking system allows you easy access to booking your tour with Spirit of the West Adventures, any time of day. If you think that you would like to book a trip, but need time to look into other travel arrangements, please contact our office and we will place a temporary hold on your spaces.
We also offer real humans to speak with if that's your preference, so feel free to call our office at 1-800-307-3982 (from within Canada and the U.S) or 1-250-285-2121 (from overseas). We can be reached by email at [email protected] If, for any reason, you are having trouble booking your trip, please do not hesitate to contact us. We are always happy to help!

Searching Availability…