Welcome to the realm of the orcas
Location:
Johnstone Strait and Blackfish Sound
For Who:
Families, focus on wildlife and ease with kids




* Kayaking trips & tours are priced and charged in Canadian dollars and are subject to 5% GST and $20 / person environmental sustainability fee. Please see our Terms and Conditions for complete terms. To check live availability on any trip, click the Book Now tab and select a trip date.
Make Unforgettable memories with your family!
The Area
Northern Vancouver Island is the best place on earth to see killer whales in the wild. Most of British Columbia's 300 or so orcas return to these waters to feed, sleep and play. And there's no more exciting way to encounter pods of these fascinating animals than from the seat of your very own sea kayak. Also sharing this diverse habitat are dolphins, porpoises, sea lions, harbour seals, humpback whales, eagles, and black bears, to name just a few.
Customize Your Tour
We understand that families will have varying degrees of comfort when it comes to camping and kayaking, therefore we offer a lot of flexibility with this trip. The amount of time in kayaks, the route, the activities, etc can all be tailored to meet the needs of your family.
This tour offers a wide range and variety of paddling experiences all in a prime location for wildlife sightings in the Johnstone Strait. As a basecamp style tour, we save time packing up camp each day and instead come home to the same campsite each night exploring by kayak during the day.
Let Us Take Care of the Details & the Cooking!
We take care of the details so you and your family can focus on fun and adventure. Our dynamic guide team will keep you and your family well-fed, engaged, smiling, laughing, and learning about the wonders of the BC coast.
We also welcome participation and are happy to help share our skills and knowledge with you and the kids if you would like to learn more about kayaking, camping, and wilderness skills.
Where We Kayak
The Orca Family tour is based in the heart of the action of Johnstone Strait. This trip starts and ends with a water taxi ride to our camp on West Cracroft Island. This area of the coast has a true rugged northwest feel with its lush temperate rain forests, rolling mountains, and an abundance of seabirds and marine wildlife including the world-famous resident pods of killer whales.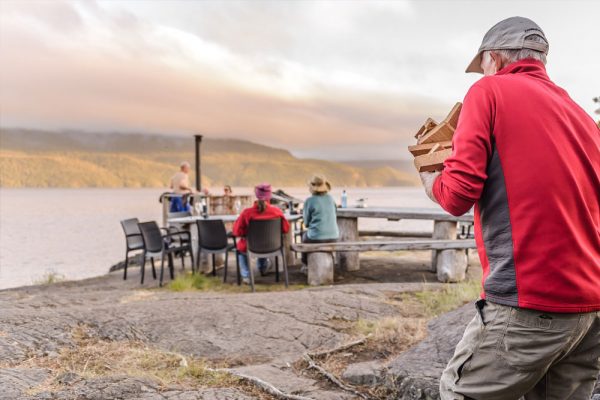 Our Base Camp across from robson bight ecological reserve
Built onto a rocky bluff, the camp has lots of open outdoor space and unobstructed views of the ocean. The camp also features a large kitchen and communal dining area, as well as a wood fired hot tub overlooking Johnstone Strait.
Comfortable amenities include large white cotton canvas tents on wooden tent platforms, complete with a simple bed & pillow. Bring your own sleeping bag (or contact us if you need us to bring one for you) for sleeping. You'll have a designated outhouse, as well as shared access to a heated outdoor shower.
Things to note: although our camp is well developed, it is on a remote island without access to key infrastructure. There is no WiFi and very limited cell service. We get electricity through solar panels and our water comes from a mountain spring – we do our best to manage them, but both can be limited by nature. While building our camp, we tried to be as low-impact on the environment as possible, so be aware that the paths may be uneven under foot.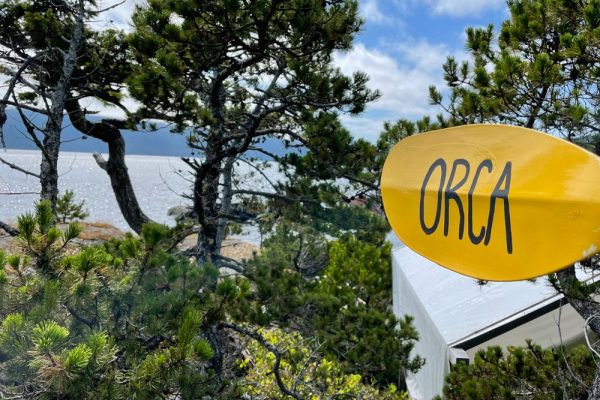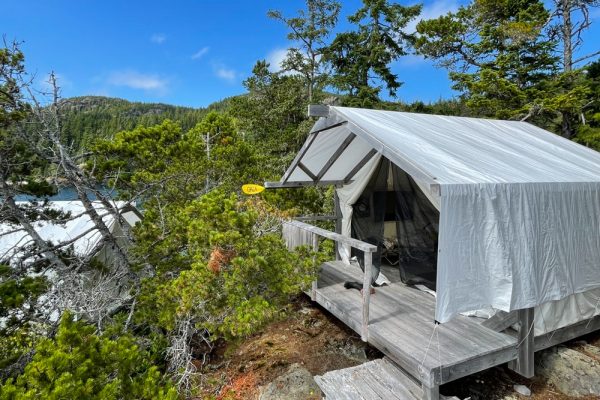 The Orca Family Menu
Our menu provides hearty and nutritious meals for the whole family. The meals include breakfast, lunch, and dinner, and plenty of snacks for hungry paddlers. Our menu for this trip still appeals to adult palates but we also provide "kid-friendly" options and alternatives to keep everyone a happy camper! This is another area of this trip where we are love to be flexible and work with your needs as a family to accommodate allergies, dietary restrictions, and to ensure that your kids will be happy with our food.
Most Importantly – Fun!
Above all else, we want to make sure that everyone in your family has fun on this kayaking trip! Our professional and dynamic guides will help to keep your family happy with games, activities, and stories around the campfire that everyone can enjoy. We hope you can join us!
WHAT'S INCLUDED?
Professional guiding service
All kayaking equipment
(including kayaks, PFDs, paddles, pumps, ropes, sponges, and back support pillows)
Prepared, tasty Meals (lunch day 1 to lunch day 4)
Camping equipment including tents and Therm-a-rest sleeping pads and camp-style pillows
A special take-home gift for kids
Park and land use permits
 WHAT'S NOT INCLUDED?
Not included in the tour cost are accommodation before or after the kayaking portion of your trip;
Flights, airport transfers, ferries, taxis
Travel/medical insurance
Alcoholic or carbonated beverages
Rain gear
Sleeping bags
Personal items (toiletries, clothing, etc.)
Guide gratuity
Sleeping bag (we can provide a complimentary sleeping bag for your family if needed – please let us know in advance)
Rain gear may be rented if you prefer not to travel with them (please reserve in advance).
"We had a wonderful time! This is a great introduction for our 6-year old kids to this area of the world. It is also great for my 78-year old parents to be able to see all these animals in their natural habitat. Guide Bob was so great with my parents. I know they were in really good hands and Nicole and Mackenzie were awesome with the kids and us!"  Alice Yu from San Francisco, USA
---
Also Available for private group Reservations
If you have a large group that would like to book a the whole tour as a private group, ask us about booking out the whole trip for just you & your group.
Spirit of the West acknowledges and operates in the unceded traditional territory of the Mamalilikulla-Qwe'Qwa'Sot'Em, 'Namgis, Tlowitsis, Kwikwasut'inuxw, Nuu-chah-nulth, We Wai Kai, Homalco, Klahoose and Heiltsuk First Nations.
Itinerary
TOUR MEETING LOCATION
WHERE & WHEN: ALDER BAY RESORT & MARINA AT 11:30 AM (DAY 1)
On day 1 of your trip you will meet your water taxi driver in Alder Bay on Vancouver Island (approximately a 5.5-hour drive by car north of Victoria or 4 hours north of Nanaimo). Please arrive 15 minutes early to allow time to park, unload, and carry your luggage down to the launching spot.
RETURN TIME
WHERE & WHEN: ALDER BAY, BY APPROX. 12:30-1:30 PM (DAY 4)
Return time can depend on weather and travel conditions, but is typically between 12 – 2 pm. We try our best to get you back on time for your onward travels or to explore more of what Vancouver Island has to offer.
---
DAY 1
Meeting in Alder Bay at 11:30 am, we will go over the kayaking basics and essential safety procedures before heading off on our paddling adventure. A certified water taxi will whisk us across the Johnstone Strait to be dropped right at our camp on West Cracroft Island. Our first day will be spent exploring the shores of the Johnstone Strait on the lookout for the Northern Resident killer whales and other marine life. We will enjoy our first delicious dinner together and having a bonfire on the beach – perfect opportunity to share our highlights of the day.
Day 2 & 3
On days 2 and 3 we will paddle the waters of the Johnstone Strait. There is a lot of flexibility on these days and ultimately we will choose the best route based on the weather and the group's strengths and desires. Each night we will stay at the established West Cracroft Island basecamp, saving the chores of packing up camp each day. For our lunch breaks, we will enjoy picnics on various beaches. These breaks will also give us the opportunity to stretch our legs, discover the creatures that live in the intertidal zone, and explore the lush coastal rainforests with old-growth cedar trees. The evenings can be designed tailored to your family. Each day will be full of events but also leaves enough time to relax and simply take in all the natural wonders of our surroundings. The cozy camping under the stars and the chance to listen to the blows of the whales passing by is highlight for every kid (and parent)!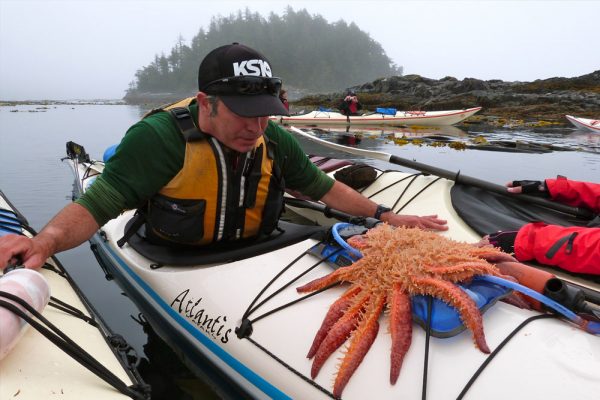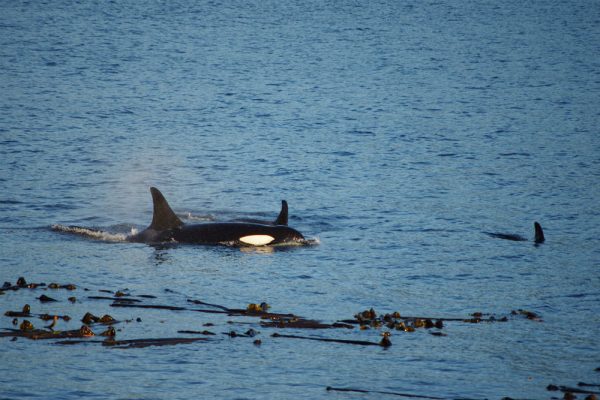 Day 4
On day 4, we will have another hearty breakfast and a morning paddle. After the paddle, we will have a quick lunch and pack up our gear for the water taxi ride back to Alder Bay.
This 4-day adventure is the perfect introduction to sea kayaking in a remote and coastal BC environment. To learn new wilderness skills, and the take a break from the hustle and bustle of your family's everyday life.
---
FIND OUT WHAT YOU NEED TO PACK FOR FOR THIS TRIP:
FAQ
Below is a list of commonly asked questions. If you have any further questions or concerns please do not hesitate to call us.
Where can I find updates to COVID-19 from Spirit of the West?
Click here to visit our COVID–19 Resource Centre:
learn about safety measures, mitigation plan, and procedures
see answers to our most frequently asked questions about COVID
learn how to travel and adventure safely in British Columbia.
To read our Terms and Conditions, please click here.
We also published a guide for Travel Insurance which will help you answer basic travel insurance questions, such as 'What is travel insurance?' and 'Why do I need it?'
Please don't hesitate to contact our office if you have any further questions.
What is the minimum age required to join our tours?
We cater to all ages of adventurers. Kids age 5 to 12 are encouraged to join the Family Orca Tours which have been designed with the needs of younger kayakers. For most of our other regularly scheduled tours we prefer a minimum age of 12, except for the Great Bear Rainforest trip, which has a minimum age of 14. If your child is almost 12 or your family has a good deal of experience kayaking and camping we do occasionally make exceptions. We like to assess each case individually. We can also organize private, custom style adventures. Feel free to call us and we would be happy to discuss the options.
What is the average age of our guests?
We have guests from age 5 and up on our family tours and ages 12 to 85 joining our regularly scheduled tours. The average age ranges between age 30 to 65. Each tour and tour date is different, but we usually get a good mix of ages. For those concerned with being in 'their older years' or anyone unsure of which tour fits them best, we welcome you to contact us and we will be happy to help you find the perfect trip.
Are there any single supplement fees if I am travelling on my own?
There are NO single supplements or any other extra fee. We encourage solo travelers to join us and often have several solo travelers on each tour. It should be no problem to have your own tent and you will have access to both single and double kayaks.
Can you accommodate food allergies/special diets?
We are happy to accommodate many dietary restrictions. However, dietary restrictions add additional complexity and costs to preparing for your tour. Please see below for some of the dietary restrictions we can accommodate and the associated costs for substitutions.
$75 fee: gluten-free, dairy-free, soy-free, and vegan
No additional cost: vegetarian, no red meat, no fish, no seafood
If you have dietary restrictions or allergies not listed above, please contact us at [email protected] to discuss if we are able to accommodate your needs and any additional charges.
We take great pride and pleasure in serving you the best food we can for your adventure!
Will I comfortably fit in the kayaks?
If you are over 6ft (182cms) tall, if you are on the more petite side of things, have larger hips or weigh over 250lbs (115 kg) we have certain kayaks that may work best for you. Please give us a call and we can ensure we have the appropriate kayak available for you.
What is included in the tour costs?
We supply everything that you will need for kayaking and camping except for a few personal items such as your clothing, toiletries, sleeping bag and rain gear (sleeping bags and rain gear can be rented if needed).
We provide all meals during your trip and non-alcoholic beverages including a wide variety of teas, coffee, juices, hot chocolate are provided. Alcohol is not provided on our tours and you are welcome to bring your favourite wine, beer or carbonated beverage to enjoy responsibly. There are no additional costs once on our tour unless you wish to purchase souvenirs.
What do I need to bring?
Once you book your tour you will receive a detailed guest handbook which includes a comprehensive packing list.
How much kayaking experience is required?
Do I need to be in great shape for this trip?
The majority of our adventures are not considered to be overly strenuous or physically demanding and therefore do not require a high level of fitness. Each tour is slightly different in its demands so if you are concerned, please do contact us. As a general rule, you need to be capable of a few hours of moderate exercise each day and be comfortable with the uneven ground of a wilderness environment. The Whales and Wilderness Glamping tour can be suited to folks with mildly limited mobility or those who wish to be in the wilderness, but not do any kayaking (you can always choose to stay at camp on our base-camping style tours). Please keep in mind that good general health will go a long way towards the enjoyment of your tour. Most important though is an adventurous spirit.
How much paddling do we do each day?
Paddling time will vary depending on the trip, our destination, weather conditions and the group's abilities and desires. Generally, we travel between 3-5 hours a day on our base-camping style tours (the Johnstone Strait Ultimate and Whales and Wilderness Tours) and slightly longer (4-6 hours a day) on all of our other tours, not including breaks and lunch. We set a pace which is manageable and enjoyable for all.
How stable are the kayaks? What is the likelihood of flipping over?
The kayaks we use are stable and designed for comfort. Your guides will give you through instruction on how to safely use and enjoy the kayaks and what to do in case of a capsize. For those concerned about capsizing, the double kayaks are slightly more stable than the singles and we have a variety of both singles and doubles on every trip. The likelihood of a capsize is minimal and if it does happen your well-trained guides will be there before you know it to help.
What happens if my kayak flips over?
In the rare event of a capsize, all of our guides are trained in rescue procedures in order to quickly and efficiently get you back in your boat. At this point, we will take you to the nearest shoreline to change into some warm clothing and carry on with our journey when you are ready. While we are out on the water, it is of the utmost importance that the group stays together for safety.
If the weather turns bad? Will I be comfy and warm?
Our weather in the Pacific Northwest is generally pleasant from May through until September. In the Johnstone Strait area, the weather will generally be cooler than what you may see on the forecast for Campbell River – sometimes by as much as 10 degrees. Fog is very common on summer mornings, however, this nearly always clears at midday. Although it is uncommon, it can rain in the summer. Be prepared for any type of weather and you will stay comfortable. Layering is the key. It allows you to put on or take off layers while on the water if you need to. If you are very concerned about the weather then we recommend our base-camping style tours as these campsites have covered eating and lounge areas as well as dry tents to come home to at the end of every day. On our expedition style tours we carry tarps but we are a little more at the mercy of mother nature in these more rustic style campsites.
What sort of wildlife might we see?
The diversity and abundance of wildlife in the Pacific Northwest is one of our great privileges. From the rich marine life of colourful plants and invertebrates, seabirds, shorebirds, waterfowl, mink, otter, seals, sea lions, dolphins, and whales, to the land animals of deer, raccoons, cougars, wolves, and bears, we are bound to see something.
For those with an eye for eagles take note that they are most prominent in the earlier months before the salmon migration in the late summer/early fall.
For those keen to see humpback whales- you are in luck. The population of humpbacks in our area is doing well and we are fortunate to often see these whales any time of the year.
If Orcas are your main priority then we recommend traveling between mid-July and mid-September. While it is possible to see orcas outside of these times, we see them with the greatest abundance and frequency during this peak period.
Please just remember that wildlife is just that wild and we cannot control sightings. That said the whales are the icing on the cake in this stunning, rich and diverse area.
Where is the best place to see orcas/killer whales?
On our tours to Johnstone Strait and Blackfish Sound, which includes the Whales and Wilderness Glamping Tour, the Johnstone Strait Ultimate, Family Orca Tours and Orca Lite tours, we stand a high chance of seeing whales, especially between mid-July and mid-September.
Understandably we cannot guarantee what nature will dictate, but we can tell you that this area has one of the highest concentrations of Killer Whales on earth and this is where they spend their summer holiday. Some trips view the whales from the kayaks, some while traveling on our water taxi or from our campsites on the shore and some see all of the above.
How close to we paddle to whales & other wildlife?
We do our very best to provide awesome sightings of whales but all the while ensuring that we do not disrupt the natural behaviour of all the wildlife we encounter. We abide by the Canadian whale watching regulations which means we do not approach killer whales (orcas) any closer than 200 meters (656 ft) and all other cetaceans no closer than 100 meters (328 ft).
To learn more about how we do our best to minimize our impacts on whales check out nimmsa.org the North Island Marine Mammal Stewardship Association. Your trip fees help to fund whale research and conservation efforts through the NIMMSA fund which Spirit of the West Contributes too.
What is the camp setup like?
The Orca Family tour while in a wilderness setting, offers some amenities to make your stay quite comfortable. Amenities include a covered dining area, large dome-style tents on wooden tent platforms, beds (no linens provided, bring you own sleeping bag or let us know and we can bring you one), pillows, a wood-fired hot tub and a hot water shower with a view of the ocean.
Where do we wash and are there toilets?
Our Orca Family tour has hot freshwater showers and each tent has a designated composting toilet in a central location.
Where can I leave my vehicle while on tour?
Our tour meeting location on day 1 is Alder Bay on Northern Vancouver Island. There is a parking available at Alder Bay Resort and Marina. We have covered your parking costs. Please pick up a parking pass from our guides on arrival.
If I would like to tip the guides, what is the industry standard?
If you would like to express your appreciation to the guides through a gratuity, such recognition would be enthusiastically received. The industry standard for tipping is approx. 10% per person of the trip cost. All tips received will be collected and disbursed amongst your guides & basecrew by the trip leader.
Reviews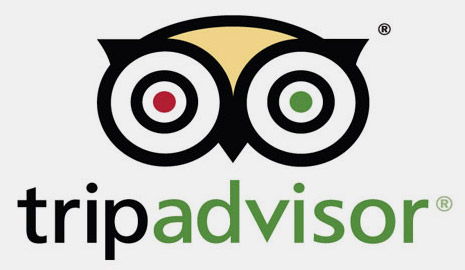 We're proud of our great reviews - but don't just take our word for it, see what people are saying over on Trip Advisor. View Reviews
Kids' reviews
"The best trip ever! Say thanks to the awesome guides!"
Gabriel, 10 years
"We had great guides and they were super nice!"
Skye, 11 years
"Very fun, exciting and so adventurous!"
Julia, 12 years
"Very cool and great food and a fun experience overall!"
Ruby, 13 years
Parents' reviews
"A wonderful experience. Love learning new things and our guides were very knowledge-based."
Misty Rorrer
"Excellent knowledge and skills shown by our guides!"
Pedro Dedesma
Book Now
Our online booking system allows you easy access for booking your tour with Spirit of the West Adventures, any time of day.
Before finalizing your reservation, please carefully read over our Terms & Conditions, as these terms will apply to your booking. We also highly recommend that you look into Travel Insurance options to protect your travels before booking your tour as some types of insurance (such as Cancel for Any Reason insurance) can only be accessed within a limited period of time after paying for any portion of your tour.
If you think that you would like to book a trip, but need time to look into other travel arrangements, please contact our office and we will place a temporary hold on your spaces. We also offer real humans to speak with if that's your preference, so feel free to call our office at 1-800-307-3982 (from within Canada and the U.S) or 1-250-285-2121 (from overseas). We can be reached by email at [email protected] If, for any reason, you are having trouble booking your trip, please do not hesitate to contact us. We are always happy to help!
---
IMPORTANT NOTE
We highly recommend purchasing travel insurance known as Cancel for Any Reason (CFAR). Cancel for Any Reason (CFAR) policy for Canadians travelling within Canada can be purchased from Manulife Canada within 72 hours paying for any portion of your tour by calling 1-888-220-5212 and giving the Spirit of the West agent code of WESTADV and asking for the Manulife Premium Protection Plan. Click here for more details on travel insurance.
If you are booking from outside of Canada, please ensure you check and keep up to date on entry requirements when planning and booking your trip. The ArriveCAN app provides travel information on current entry and exit requirements for Canada. 
---
Searching Availability…