2020 basecamping in the realm of whales
Location:
Blackfish Sound, British Columbia
For Who:
Everyone, focus on whales and diverse paddling
Tour Price:
CAD $SEE BELOW*




* Kayaking trips & tours are priced and charged in Canadian dollars and are subject to 5% GST and optional $20 sustainability fee. Please see our terms and conditions for full payment and fees information.
FULLY BOOKED
We are touched by the interest, engagement, and loyalty of our guests, friends, families, and partners. Our Whales and Wilderness – 2020 Edition tour is fully booked. If you are interested in joining a private group expedition this summer 2020 or a tour with us in 2021/22, please get in touch with our tour experts at [email protected] or give us a call at 250-285-2121 to plan your next adventure on BC's beautiful coast.
---
At this time, we happily welcome guests who are sharing a "bubble". A bubble includes those with whom you share a household and/or have added to your bubble in a thoughtful and intentional manner and no longer maintain physical distancing from. Please see the COVID Trip Planning page for more info.
To accommodate smaller private groups due to COVID – 19, we are unfortunately unable to offer any discounts on the listed prices. Group, return guest, kids/youth discounts and travel agent commissions are not applicable to this tour. Thank you for your understanding.
WIDE OPEN SPACES, FRESH SEA BREEZE, AND ABUNDANT WILDLIFE
Want to get out camping, kayaking, and wildlife watching in the wilds of BC for a well-deserved and relaxing experience, but not sure how to do it in a world with COVID-19? We have you covered, and in style! 
This summer our most popular basecamp, our glamping camp on Swanson Island in the heart of Blackfish Sound, will be available exclusively for private groups who are sharing a 'bubble' (families or individuals sharing a household or who have joined their households). We have changed to this private group model to help minimize risk and maximize your enjoyment of your well-deserved summer vacation.
RELAX, RECHARGE, AND ADVENTURE RESPONSIBLY
Our comfortable outdoor basecamp allows us to have comprehensive systems and infrastructure to help keep you safe while still being able to get to stunning and remote places, exploring by kayak by day and relaxing in comfort every evening.
Our professional guides and full-time camp hygiene manager are all thoroughly trained and supported by solid policies, procedures and infrastructure designed to keep us physically distanced, but still have a wonderful time together.
your safety is our number one Priority
Rick and Breanne, the owner/operators of Spirit of the West and long-time guides themselves, quite literally have written the book on COVID-19 best practices and policies for the kayaking industry in British Columbia. We can confidently say not only will we meet standards set by government but will exceed them. We have been busy implementing changes to infrastructure, policies and practices and are thrilled to welcome guests starting mid-July 2020.
Private group tours only. You travel only with folks who you know and trust (max 8 people).
The only enclosed space is your private tent, which will have been left empty for 3 days prior to your arrival.
Virtual pre-trip meeting before you leave home to discuss your tour and how to stay safe.
Highly skilled and trained guides who will provide an awesome wilderness experience while maintaining physical distance from you (with your cooperation of course).
A full-time camp hygiene manager responsible for increased cleaning and assistance ensuring COVID-safe procedures.
-> Please click on the tab 'COVID Safety' at the top of the page to learn more about our policies and procedures designed to help keep you and our crew safe.
---
YOUR ACCOMMODATION – GLAMPING
We have all the details covered. The only thing you have to do is to arrive, relax, and enjoy every moment.
Imagine beautiful, big white tents set against the backdrop of towering fir trees and the blues and greens of the ocean lapping at your doorstep. The sounds of silence interrupted only by the occasional blow of passing whales or the songs of the birds as they wake with the sun. We will have 4 tents available for each private group. Each comes complete with cozy beds (twin or king-size bed settings) and bedding, a private outdoor toilet and a hand washing station. The camp also has multiple hand washing sinks, 2 hot water showers, a comfortable lounge and a wood-fired hot tub overlooking the ocean.
Tents are large 10×12′ (3×3.6m), bright and spacious cotton canvas tents. The screened windows and front door provide sweeping views of the forest and/or ocean. The tents are perched off the ground on cedar platforms, helping to protect the delicate ecosystem below. The beds each have a 6-inch thick soya foam mattress, 2 pillows, crisp white linens, a warm duvet and fleece blankets for those cooler nights.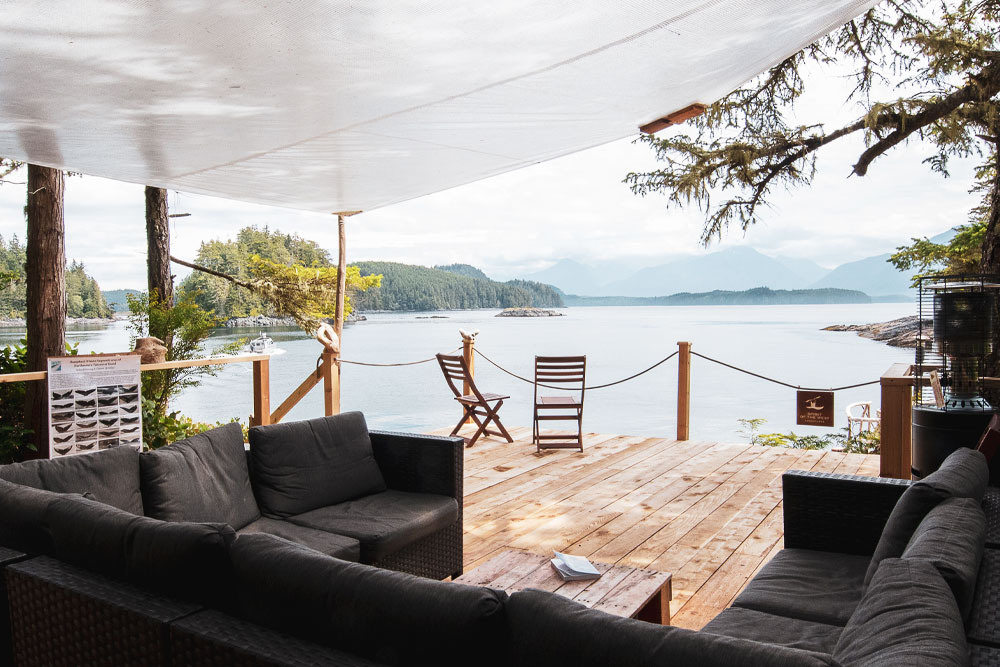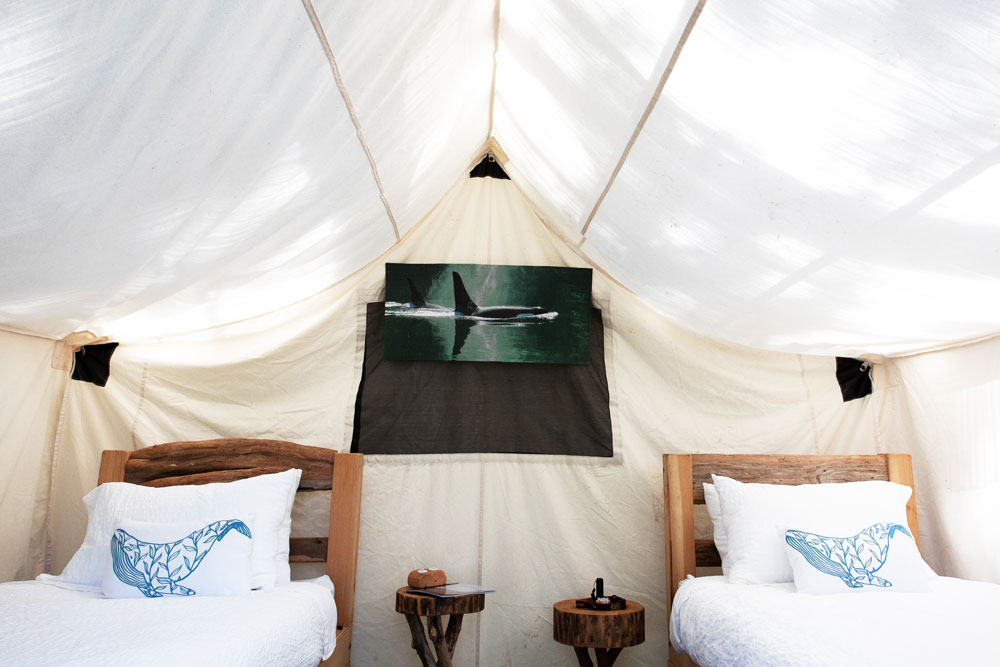 The Setting
A stunning private campsite on remote Swanson Island. We have exclusive rights to the use of this little piece of heaven. The site overlooks Blackfish Sound which is renowned for its biodiversity including being home to many humpback and orca whales. This site offers extraordinary camp-based whale watching, sunrise and sunsets, and diverse kayaking at the edge of the Broughton Archipelago.
The Area
Sandwiched between the mainland mountains and Vancouver Island, tidal currents stir up the water column and create an environment rich with nutrients and oxygen. Abundant marine life of all shapes and sizes make their home here, from the smallest crustacean to the largest whales. From our camp, we have the opportunity to look out into the open waters of the Sound and paddle among the small islands and narrow passages, an ideal combination for the wildlife enthusiast.
What's cooking?
Fresh, hearty, and locally inspired. One of the perks that comes with the basecamp site is a well-established kitchen which allows us to prepare tasty food while easily maintaining food safety. Enjoy locally caught wild fish, fresh garden veggies and so much more. Meals will be enjoyed under a covered but open-air dining area overlooking the ocean or on one of the many beaches. Please call our office to discuss your dietary needs and restrictions.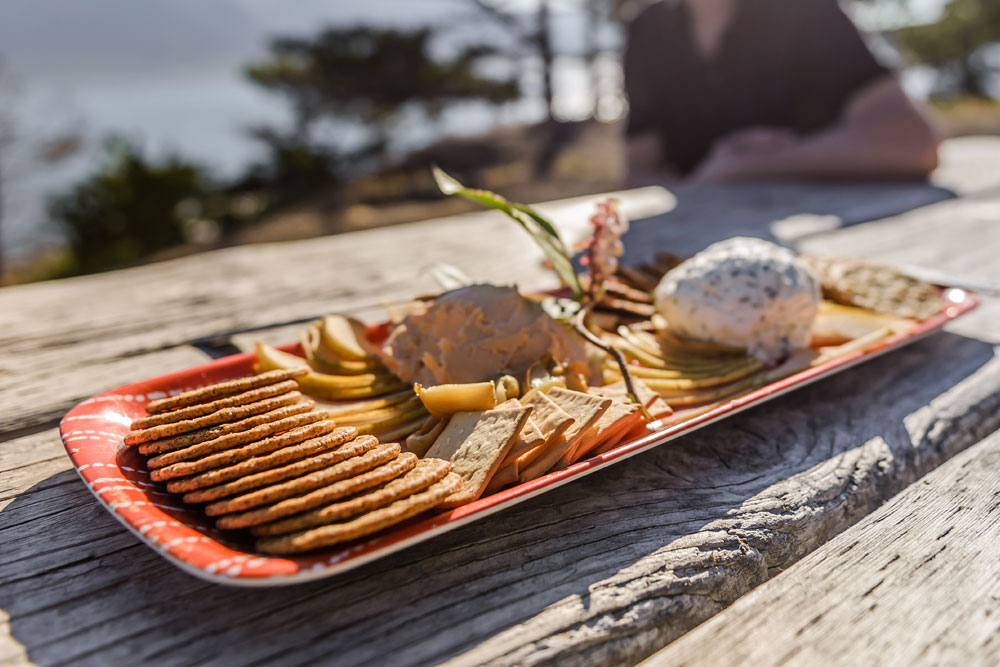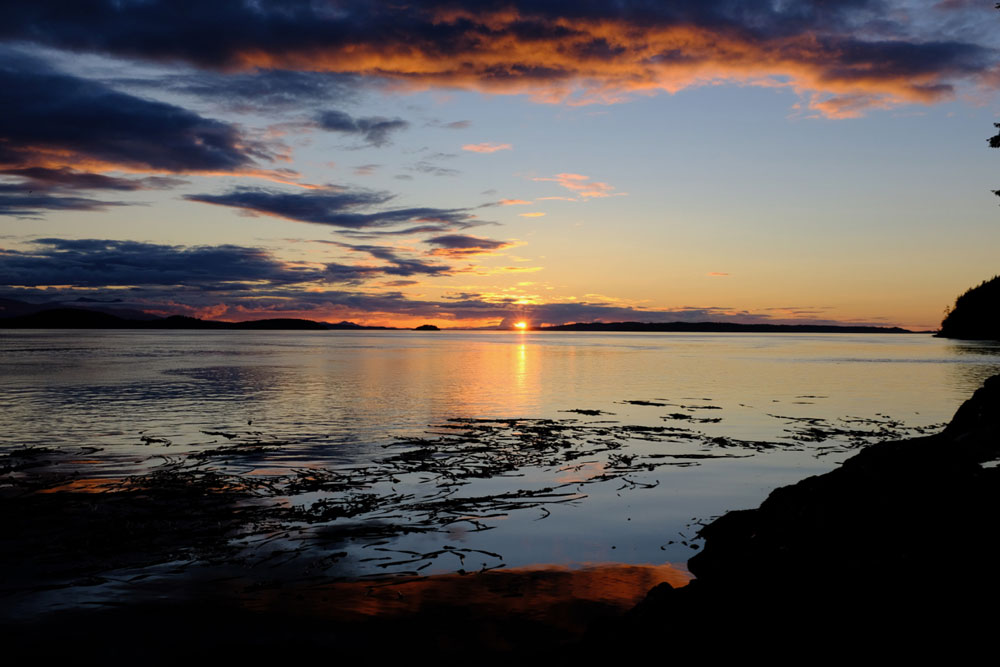 ---
Customized PADDLING based on your group's desires
Kayaks are a great way to get outside together and explore while easily maintaining physical distance from those not in your bubble (your guides). Your guides and camp host/hygiene manager will share their love and passion for the coast and kayaking with you.
The days on the water will be fully tailored to your private group. Longer explorations or shorter excursions, this is up to you and your guides who will always make sure to keep an eye on the weather conditions.
We'll head off in our kayaks to explore the many nooks and crannies of the shoreline. Keep your senses alert for the tell-tale blow of some of the area's more famous residents like orcas and humpback whales.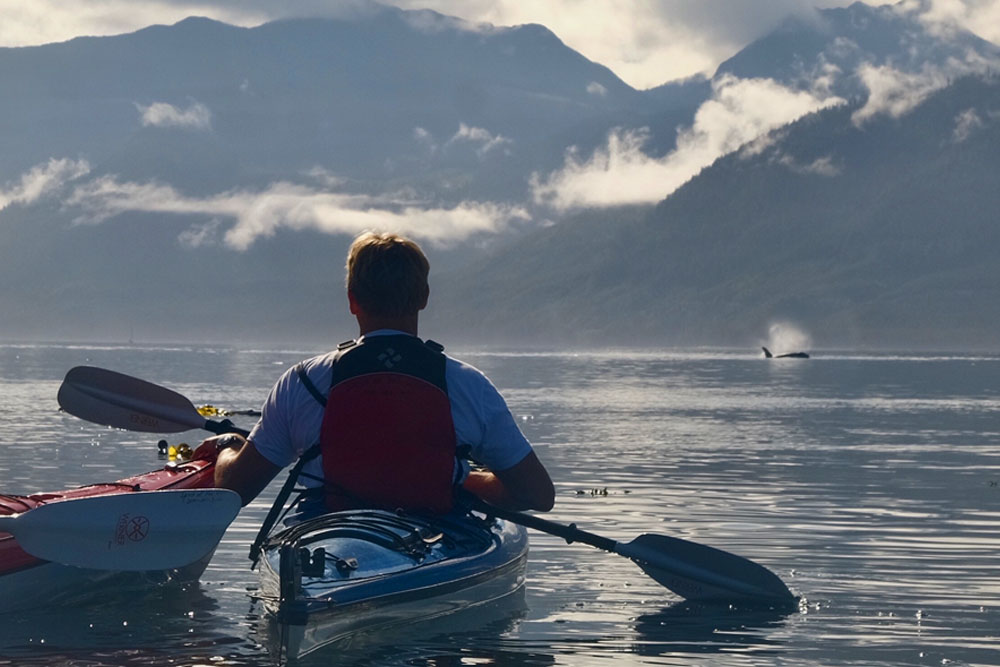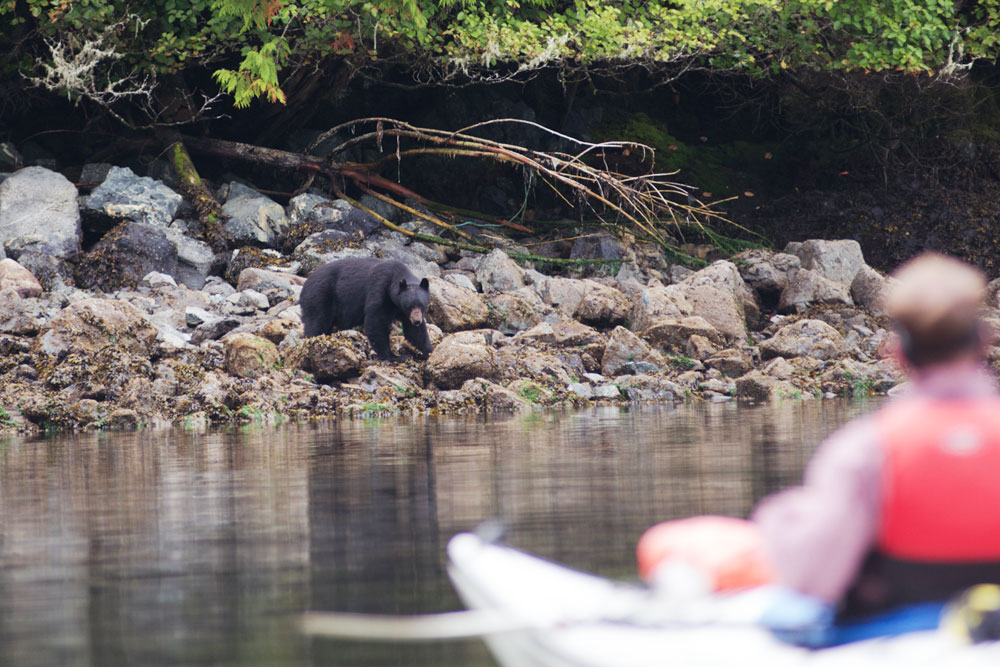 The Best Place for Whale Watching in BC
In addition to orcas, we are lucky to share the ecosystem with humpback whales, bears (it is not uncommon to see black bears foraging along the shores for seafood during low tide), deer, cougars, shore and seabirds, minks, river otters, dolphins and porpoise – to say nothing of the abundant, vibrant and colourful intertidal life one can see below the surface. Witnessing these incredible creatures in their natural habitat is truly breathtaking.
---
What to Expect from the 2020 edition tour
Friendly and helpful team who take care of the details to help keep us all safe and having fun.
We will ask for your group to help each other and participate in activities like carrying your own luggage to your tent, carrying kayaks, putting on your linens and taking them off.
There will be some physical barriers at camp to help keep us all safe, but we will still be smiling and able to interact, just with a safety barrier in place.
Guides and staff will be keeping their distance from you and you from them, sorry no high fives or hugs for them, but you and your bubble do not have to distance from each other.
Hearty and healthy meals, but with an increased focus on COVID safety versus presentation or elaborate meals. All meals will be prepared by the guides.
Great days spent exploring the coast by kayak. Kayak as much or as little as you wish and enjoy the camp amenities when home.
WHAT'S INCLUDED?
Professional guiding service
Customized days with kayaking tailored specifically to the ability and desire of your group!
All kayaking equipment (including kayaks, PFDs, paddles, pumps, ropes, dry bags and sponges)
All meals (lunch day 1 to lunch day 3 or 4)
Everything you need for a wonderful glamping experience: walk-in canvas tents on wooden platforms, real beds (2 twin or 1 king size, thick soy foam mattresses, warm blankets, pillows, linens), bath towel, flashlight/headlamp, library of natural history books, camp binoculars
Return water taxi service from Port McNeill
Park and land use permits
WHAT'S NOT INCLUDED?
Not included in the tour cost are accommodation before or after the kayaking portion of your trip;
Flights, airport transfers, ferries, or any transport required to get to our meeting spot
Accommodation before and after your tour
Alcoholic or carbonated beverages
Rain gear (may be rented if you prefer; laundered between every guest)
Personal items (toiletries, clothing, etc.)
Gratuities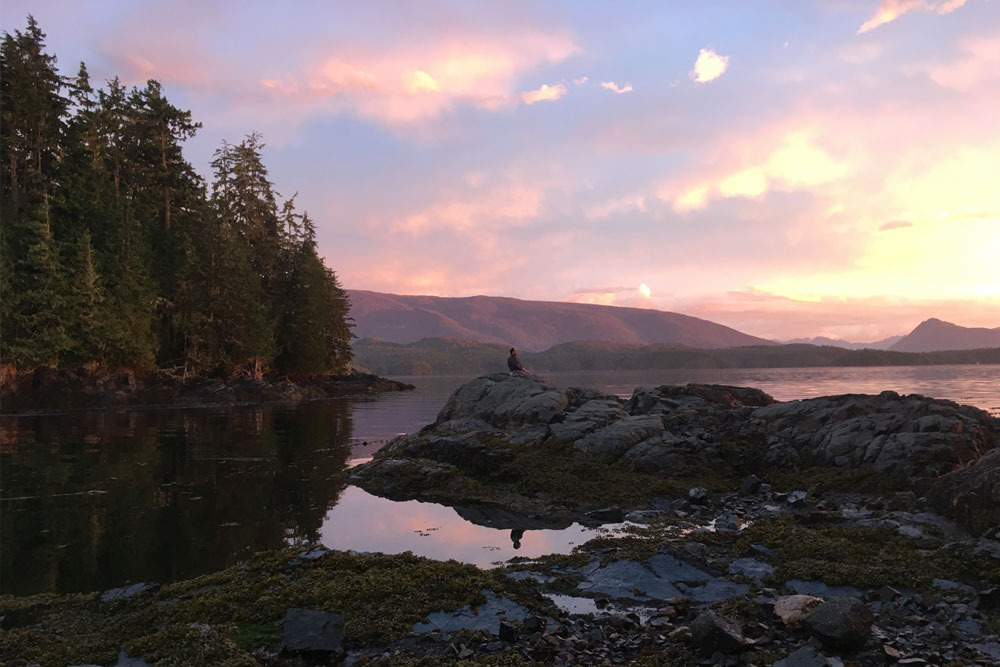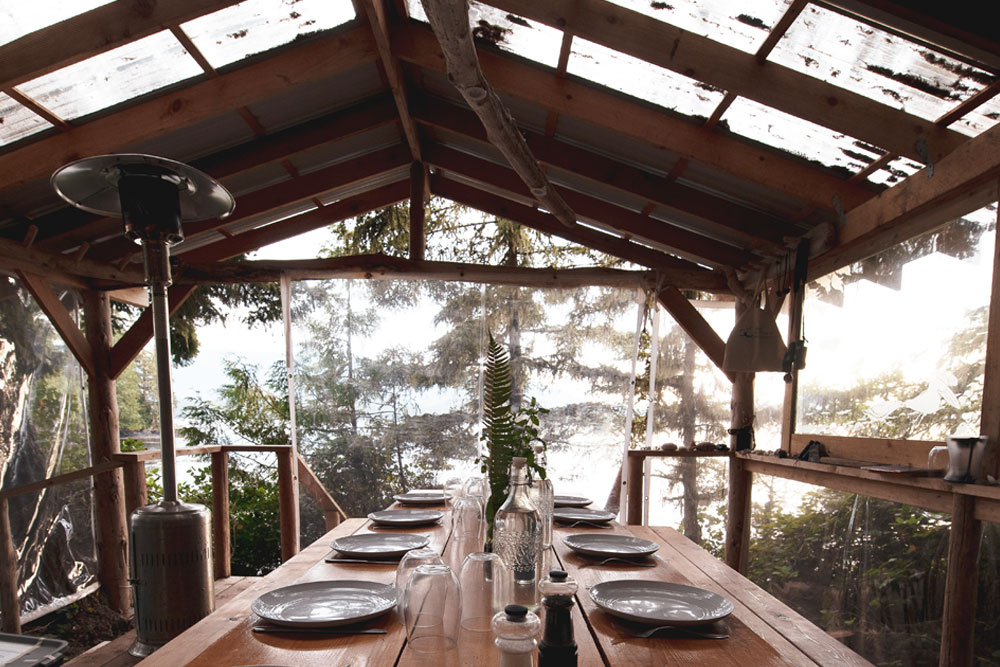 Spirit of the West operates in the unceded traditional territory of the Mamalilikulla-Qwe'Qwa'Sot'Em, 'Namgis, Tlowitsis, Nuu-chah-nulth, We Wai Kai, Homalco, Klahoose and Heiltsuk First Nations.
COVID Safety on your Tour
We are taking the risks associated with COVID-19 very seriously and have been busy preparing to be able to offer tours while minimizing risk. In addition to the measures outlined below, you may wish to visit our Trip Planning during Summer of 2020 and Beyond page for more information.
As a result of the public health authority restrictions, at this time we will not be accepting reservations from groups who are from outside of British Columbia, Alberta, and the Yukon or groups who are not sharing a bubble. Please DO contact us to let us know you are keen and as soon as public health allows it we will be touch to get you out on the water! Thank you for your patience and understanding.
OUR EFFORTS TO MAKE THIS A SAFE and ENJOYABLE TOUR
Below is a list of the primary, and most visible, measures we're implementing for our special Whales and Wilderness | 2020 Edition. In addition, Spirit of the West Adventures has taken the lead on developing best practices for the sea kayaking sector in British Columbia. Along with several other operators we've written an extensive plan to minimize the risk of COVID-19 on our trips that's been reviewed by WorkSafe BC.
Private groups only: you travel with your bubble and only your bubble.
A shorter water taxi transfer with more time spent exploring by kayak or enjoying the comforts of camp.
Thorough training of all staff on COVID-safe health and safety procedures, rescues and first aid.
Staff and guides will maintain a 2-meter distance from you and your group at all times.
Personal protective equipment (non-medical face masks and latex gloves) available and used when appropriate.
Masks will be worn in any occasion in which a 2-meter distance cannot be maintained from your staff and guide team (this should be minimal if any).
Proper hand hygiene, gloves and masks will be worn for all food preparation.
Thorough cleaning of all camp common areas and high touch areas multiple times per day.
A redesigned camp layout which includes multiple new hand washing stations, in and out uni-directional trails, private toilets and hand washing facilities for each tent, and plexiglass barriers in food prep areas (don't worry we can still smile at each other and have a conversation, just with a safety layer between us).
We have left a night between groups to give our staff time to deep clean all facilities before you arrive.
We are operating at reduced capacity which allows for your tent to be left unoccupied for at least 3 days in advance of your arrival, after a thorough cleaning of course.
All meals will be prepared in our controlled camp kitchen and served plated or boxed up for you to enjoy on the beach while out kayaking
Hot tub available for use only by your group (no staff use) and is drained and thoroughly cleaned between groups.
Short 40-minute transfer to camp via water taxi which has an open-air back deck if you would like to avoid any enclosed spaces. Masks will be worn by all during the transfer.
A personalized snack bag for you to carry for the duration of your tour (bonus: you get to take any remaining contents home with you when you are done!)
This is only the tip of the iceberg in terms of all the procedures and policies in place designed to minimize risk for us all. If you have any questions or concerns, or would like to know more, please don't hesitate to contact us.
Our commitment to each other
As a measure of our commitment to safety and each other, we are introducing two documents that we will kindly ask you to read and sign before joining the trip. The pre-trip screening questionnaire is completed by both guests and staff and attests that you're not sick when joining the trip and the statement of understanding is your acknowledgment of the expectations we have around our requirements and guidelines while on the trip. Please take your time to review them and contact us anytime if you have questions.
Itinerary
Our adventure begins the moment we step off the docks onto our water taxi. Relax in comfort as we whisk you up the scenic waterways of Johnstone Strait to our remote wilderness camp in Blackfish Sound.
VIRTUAL PRE-Tour MEETING
WHERE & WHEN: VIA YOUR COMPUTER BEFORE YOU LEAVE HOME
Our team will be in contact with you to set up a Zoom (virtual video) pre-tour meeting. This meeting gives us a chance to answer any questions you may have, for you to meet our team, go over the logistics of the tour and to discuss what to expect. We plan this for 7pm, 3 days before your trip starts, but alternate times may be arranged to suit your schedule.
---
Tour MEETING LOCATION
WHERE & WHEN: Port McNeill Municipal Dock (Harbour Park) AT 9:30 AM
On day 1 of your trip you will meet the water taxi driver, James Wilson from Silver King Ventures, in Port McNeill at 9:30am on Vancouver Island. (An approx. 5.5-hour drive by car north of Victoria or a 4 hours north of Nanaimo.) The Municipal Dock is located at 1600 Beach Drive in downtown Port McNeill, between the visitor information centre and the ferry dock. There is a parking and unloading area conveniently located at the top of the dock. You'll find the Silver King boat ("Rainbow Chaser") on the first finger on the right at the bottom of the ramp. Please arrive 15 minutes early to allow time to unload, carry your luggage down to the dock and arrange parking (if necessary).
Your water taxi journey will be approx. 40 minutes and will give us the remainder of the day for camp orientation, paddling and enjoying this beautiful setting.
The previous group at the camp will have checked out the day before, so your guides will have had lots of time to go over the camp and sanitize tents and common areas thoroughly.
---
ITINERARY
Below you will find our recommended or typical trip itinerary. Please remember that being a private group, we can customize and tailor each day of the trip and paddling times and distances can be modified depending on your group desire and abilities. Your guides have extensive training and will let you know what is possible in terms of safety, weather and sea conditions. You will be able to discuss your daily schedule with your guides or share any trip ideas with us before booking or at the virtual pre-trip meeting.
DAY 1
Rise and shine ready for adventure! After meeting your water taxi and a safety briefing, our captain James takes us across Johnstone Strait into Blackfish Sound. En route, sightings of marine life such as porpoises, dolphins, sea lions and whales are common. After arriving our team will provide a thorough safety briefing and orientation. We will then settle into the camp and have lunch followed by a kayak orientation and set off on an afternoon paddle. We will return in time for a fresh locally caught fish dinner (alternatives of course for those who do not eat fish). Enjoy the sunset from the hot tub before retiring to rest for more explorations in the morning.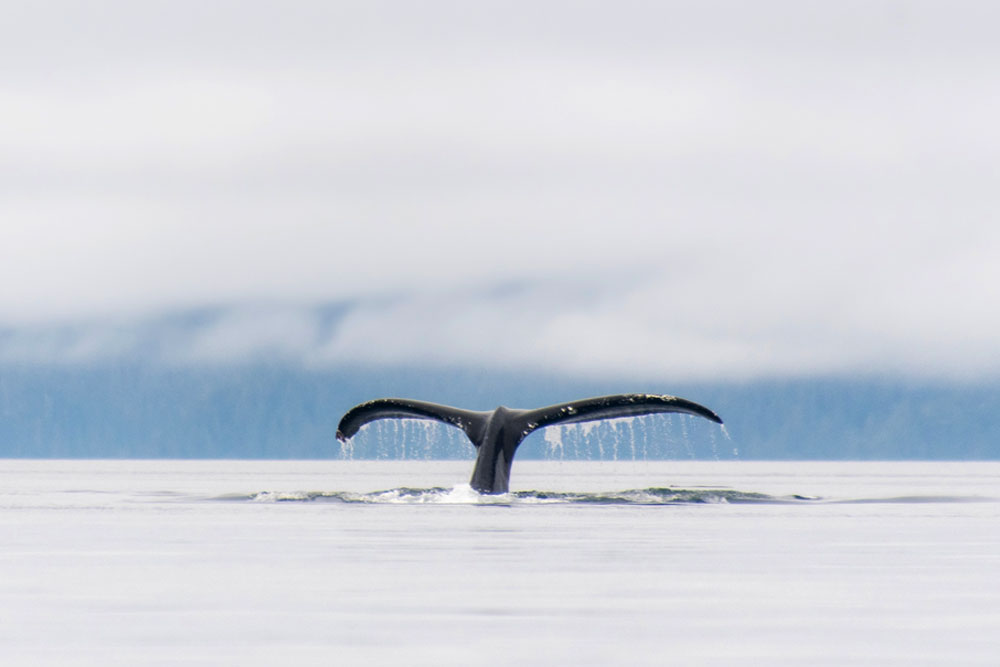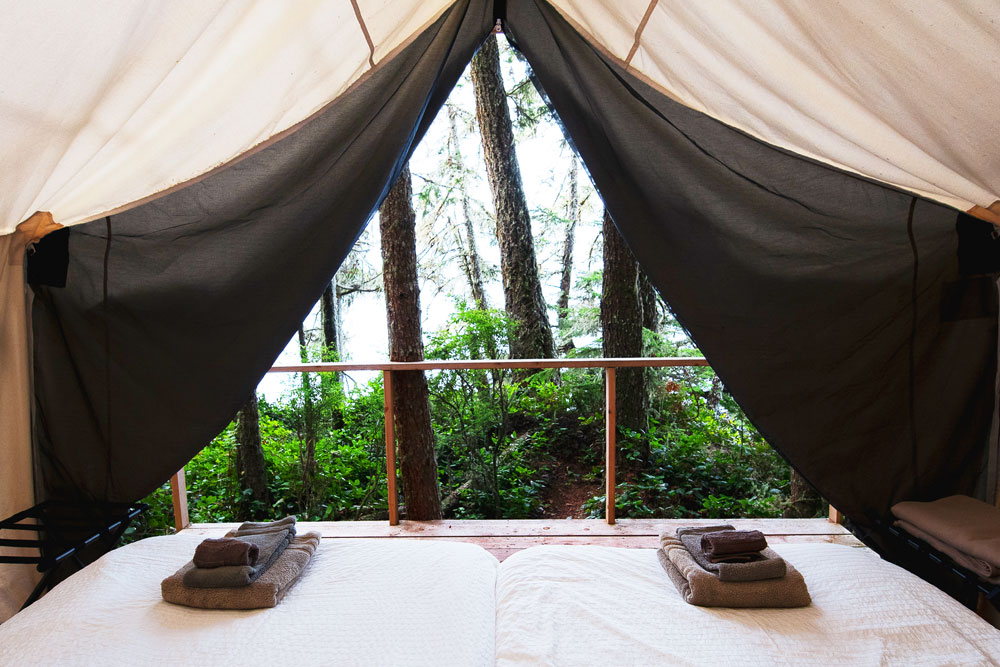 DAY 2 (and 3 on the 4-day tour)
After a hearty camp breakfast, we will meet to discuss our plans for the day. Our route and schedule will depend on weather conditions, wildlife viewing opportunities and group preferences. Generally, we set out in our kayaks after breakfast and paddle to one of the area's many pocket beaches for a picnic lunch before paddling 'home' again in time for some relaxation time before dinner. There is always something to see and learn around the camp. On our way, we'll take breaks for stretching and snacks, and we always take lots of time to explore the intricate shoreline, rich intertidal world, and marine and land-based wildlife. For the very brave there is always the option of a dip into the chilly waters of Blackfish Sound before a restorative soak in the hot tub!
DAY 3 (OR DAY 4 ON THE 4-DAY TOUR)
This is our last day of exploration. After a last breakfast we will have a morning paddle returning to camp for lunch and to pack up our things and soak up the last bit of tranquility before the water taxi arrives about 3pm to transport you back to the starting point.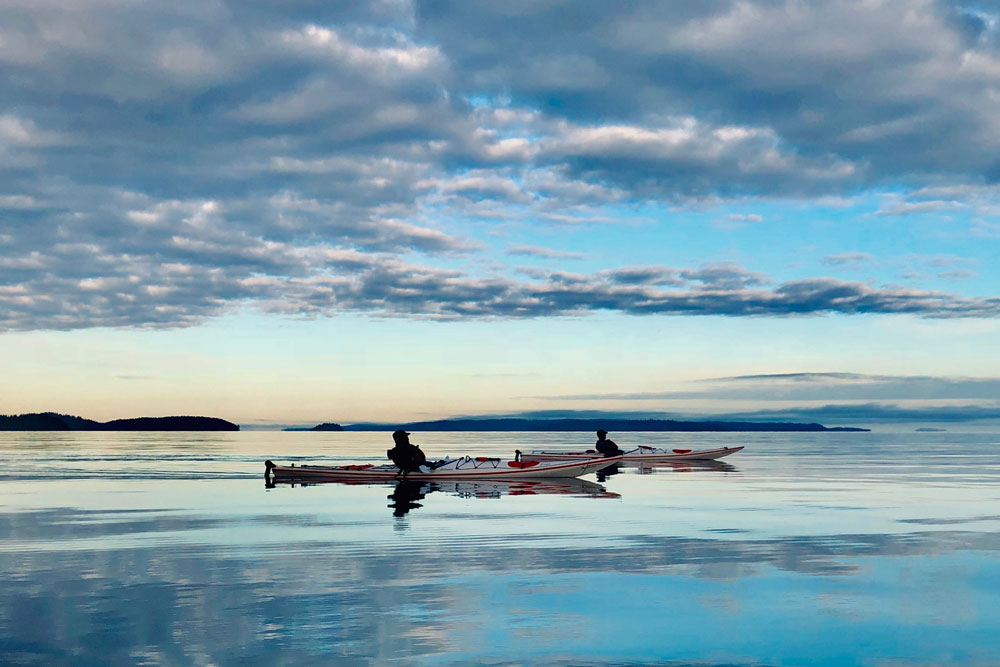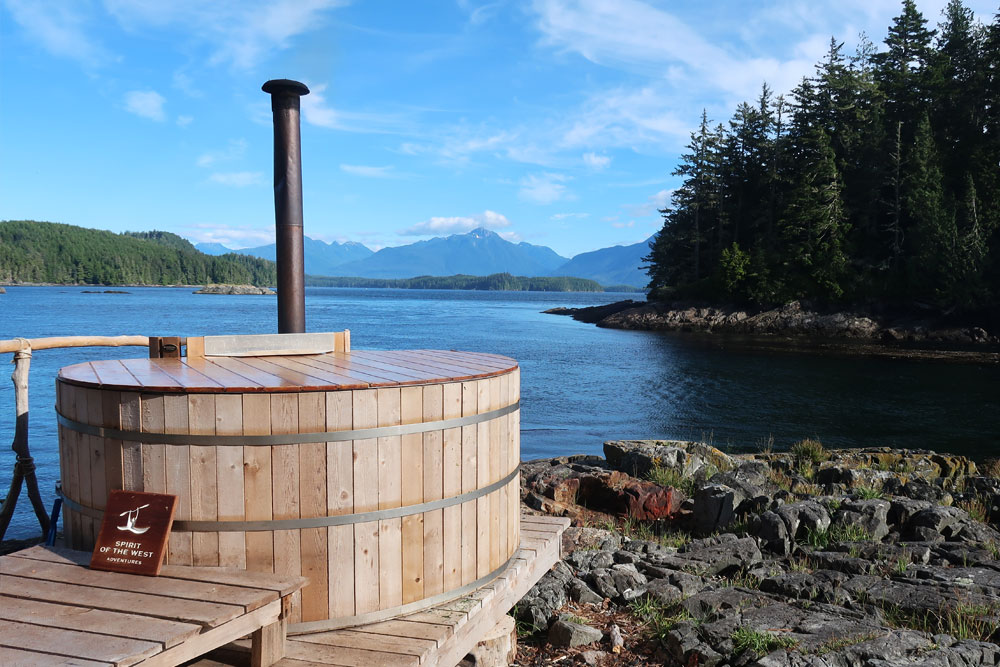 2020 EDITION HIGHLIGHTS – DETAILED & THOUGHTFUL
Exceeding safety standards in all areas, both on and off the water. To view our comprehensive policies and procedures handbook please click here. We have thought through all the finer points of keeping us all safe in a world with COVID-19, so that you can focus on resting, relaxing and recharging (of course you have a role to play but we make it easy for you).
This camp location and timing of these tours provides for a great chance of viewing orcas, humpbacks and bears in their natural habitat.
Explore the coastal environment responsibly by kayak with our wonderful, highly trained guide
Hot tub overlooking the ocean (for use by your bubble group only)
Paddling distances and speeds tailored to the needs and wishes of your group; paddle as much or as little as you wish
Hot showers with ocean views
Delicious and locally-inspired meals prepared for you using strict hygiene protocols
Attention given to the smallest details to make for the perfect trip
Large bright spacious tents, comfortable beds, warm duvets
Responsible ecotourism, sustainably run operation that gives back to research and conservation in the area
So much open space to breath, relax, recharge and savour. The supernatural beauty of BC is (literally) all yours!
FAQ
Where can I find updates on CORONAVIRUS from Spirit of the West?
Read our most updated Trip Planning in the Summer of 2020 guide. You will learn about our adaptions to COVID-19 and paddling safely in British Columbia.
For the 2020 season we are offering the Whales & Wilderness – 2020 Edition Kayaking Tour.
To read our Terms and Conditions, please click here.
We also published a Travel Insurance 101 which will help you answer basic travel insurance questions, such as 'What is travel insurance?' and 'Why do I need it?'
Please don't hesitate to contact our office if you have any further questions. We are here to assist you every day from 9am onwards.
What is the minimum age required to join our tours?
As a private bubble group, you are welcome to bring your younger kids starting at age 6. The tour can be tailored to you and our family. Depending on your desire and abilities we can custom design the daily schedule and kayaking.
Can you accommodate food allergies/special diets?
Our food preparation crew are masters at accommodating dietary restrictions. We are able to offer gluten-free, vegetarian, pescatarian, dairy light and vegan menus with prior notice. Other dietary requests may involve additional charges and need to be discussed in advance with our food crew. We are NOT a nut-free facility.
Will I comfortably fit in the kayaks?
If you are over 6ft (182cms) tall, if you are on the more petite side of things, have larger hips or weigh over 250lbs (115 kg) we have certain kayaks that may work best for you. Please give us a call and we can ensure we have the appropriate kayak available for you.
What is included in the tour costs?
We supply everything that you will need for kayaking and camping except for a few personal items such as your own face mask and hand sanitizer for travelling and for the water taxi ride to camp, clothing, toiletries, and rain gear (rain gear can be rented if needed). Please note that bedding is provided on the Whales and Wilderness – 2020 Edition tour.
We provide all meals from lunch on day one to lunch on the last day. Non-alcoholic beverages including a variety of teas, coffee, juices, hot chocolate are provided. Alcohol is not provided and you are welcome to bring your favourite wine, beer or pop to enjoy responsibly.
What do I need to bring?
For this tour starting mid July, we ask you to bring your own face mask and hand sanitizer for travelling and for the water taxi ride to camp. Please find all details in the packing list.
Once you book your Whales & Wilderness – 2020 Edition you will receive a detailed tour reservation package which includes a comprehensive packing list. If you would like to see what type of clothing and items we recommend before that, please click on the 'packing' tab above.
How much kayaking experience is required?
This tour is designed to cater to all levels of experience and abilities from first-timer to expert paddler. 
Remember that this can be a customized and tailored trip for your private group. Paddling days on the water can be adapted to shorter or longer excursions depending on your group desire and abilities. Your guides have extensive training in keeping all sea kayaking excursions safe and joyful and will always consult the group in terms of the weather and wind forecasts. You will be able to discuss your daily schedule with your guides or share any trip ideas with us before booking or at the virtual pre-trip meeting.
Starting in 2021 again, we have several different styles and lengths of tours so that everyone can find the perfect trip. If you are new to kayaking and camping, our basecamp tours could be the perfect fit for you: Whales and Wilderness Glamping and Johnstone Strait Ultimate.
If you are looking for more rustic camping and more paddling check out our expedition style tours; the Johnstone Strait Expedition, Orca Lite, Nuchatlitz, Desolation Sound or Great Bear Rainforest Tours.
Do I need to be in great shape for this trip?
The majority of our adventures are not considered to be overly strenuous or physically demanding and therefore do not require a high level of fitness. Each tour is slightly different in its demands so if you are concerned, please do contact us. As a general rule, you need to be capable of a few hours of moderate exercise each day and be comfortable with the uneven ground of a wilderness environment. The Whales and Wilderness – 2020 Edition can be suited to folks with mildly limited mobility or those who wish to be in the wilderness, but not do any kayaking (you can always choose to stay at camp on our base-camping style tours). Please keep in mind that good general health will go a long way towards the enjoyment of your tour. Most important though is an adventurous spirit.
How much paddling do we do each day?
This can be designed as a fully tailored trip and the paddling depends on your desires and weather conditions.
Generally, we travel between 3-5 hours a day on our basecamping style tours. We set a pace which is manageable and enjoyable for all.

Is there electricity at the camp?
We have plenty of electricity supplied by solar panels and a battery bank. When the weather is nice, we have more power; when it's not, we have a little less. Each of the tents have LED lighting to see at night. Everyone should be able to charge a camera battery or phone during the trip, but we are not able to power high-demand appliances like hair dryers.
How many people sleep in each tent?
For the 2020 Edition, 4 glamping tents will be available to your private bubble group. You can decide amongst yourselves how the tent arrangement works for group. The tents are designed for two adults, or two adults and up to two children. Each tent contains two twin beds that can be pushed together to make a king size bed if you prefer. We are able to put 1-2 cots in a tent too.
How stable are the kayaks? What is the likelihood of flipping over?
The kayaks we use are stable and designed for comfort. Your guides will give you thorough instruction on how to safely use and enjoy the kayaks and what to do in case of a capsize. For 2020 we will primarily be using double kayaks as they are more stable than the singles. This will minimize the risk of capsize and the need for you and your guide to get closer than 2m. Nonetheless, if it does happen your well-trained guides will be there before you know it to help.
What happens if my kayak flips over?
In the rare event of a capsize, all of our guides are trained in rescue procedures in order to quickly and efficiently get you back in your boat, with appropriate modifications to maintain physical distancing. At this point, we will take you to the nearest shoreline to change into some warm clothing and carry on with our journey when you are ready. While we are out on the water, it is of the utmost importance that the group stays together for safety.
If the weather turns bad? Will I be comfy and warm?
Our weather in the Pacific Northwest is generally pleasant from May through until September. For a reference please check the Port McNeill, BC weather forecast.
Fog is very common on summer mornings, however, this nearly always clears at midday. Although it is uncommon, it can rain in the summer. Be prepared for any type of weather and you will stay comfortable. Layering is the key. It allows you to put on or take off layers while on the water if you need to. This camp offers two hot showers and a wood-fired hot tub to keep you fresh and warm end of the paddling day.
What sort of wildlife might we see?
The diversity and abundance of wildlife in the Pacific Northwest and in particular in the Blackfish Sound region where our glamping camp is located are one of our great privileges. From the rich marine life of colourful plants and invertebrates, seabirds, shorebirds, waterfowl, mink, otter, seals, sea lions, dolphins, and whales, to the land animals of deer, raccoons, cougars, wolves, and bears, we are bound to see something.
For those keen to see humpback whales, you are in luck. The population of humpbacks in our area is doing well and we are fortunate to often see these whales any time of the year. If orcas are your main priority then we recommend traveling between mid-July and mid-September.
Please just remember that wildlife is just that wild and we cannot control sightings. That said, the whales are the icing on the cake in this stunning, rich and diverse area.
How close to we paddle to whales & other wildlife?
We do our very best to provide awesome sightings of whales but all the while ensuring that we do not disrupt the natural behaviour of all the wildlife we encounter. We abide by the Canadian whale watching regulations which means we do not approach killer whales (orcas) any closer than 200 meters (656 ft) and all other cetaceans no closer than 100 meters (328 ft).
To learn more about how we do our best to minimize our impacts on whales, check out nimmsa.org the North Island Marine Mammal Stewardship Association. Your trip fees help to fund whale research and conservation efforts through the NIMMSA fund which Spirit of the West contributes to.
What is the camp setup like?
If you are looking for the most comfortable camping experience, this tour is your best choice! The Whales and Wilderness – 2020 Edition provides large walk-in canvas wall style tents, real beds with organic soy foam mattresses, pillows of various levels of firmness, warm bedding, two hot showers, wood-fired hot tub, a large deck with a comfortable lounge and our Blackfish Sound Bistro to enjoy your meals.
Our new 2020 addition includes a private outdoor toilet for each tent as well as a hand wash station!
Where do we wash and are there toilets?
You are offered two hot freshwater showers and established pit style outhouses. We provide soap but if you want to bring your own, we kindly ask you to bring biodegradable, environmentally friendly brands.
Our new 2020 addition included a private outdoor toilet for each tent as well as a hand wash station!
Where can I leave my vehicle while on tour?
Most hotels in Port McNeill will allow you to leave your vehicle while on tour. Parking is also available in the lot at the top of the Municipal Dock where you will meet the water taxi to the camp.
Where do I have to get to to start this trip and how long does the boat ride take into camp?
Port McNeill Municipal Dock (Harbour Park) at 9am
Port McNeill based on Vancouver Island (approx. 5.5-hour drive from Victoria and 4-hour drive from Nanaimo) is our meeting location for the Whales and Wilderness – 2020 Edition tour. A short 40-minute water taxi ride across Johnstone Strait brings us to our camp. You can comfortably stay on the open-air back deck for the duration.
What about kayak preferences? Do you provide double and single kayaks?
We use a mix of single and double kayaks on every trip. Double kayaks offer great advantages for carrying cargo, matching paddler abilities, or sharing the load if someone is feeling a little tired one day. If there are a lot of people on one trip that prefer singles then we take turns in the double(s), so we ask that everyone have a bit of flexibility with regard to what they paddle.
If I would like to tip the guides, what is the industry standard?
If you would like to express your appreciation to the guides through a gratuity, such recognition would be enthusiastically received. The industry standard for tipping is approx. 10% per person of the trip cost. All tips received will be collected and disbursed amongst your guides & basecrew by the trip leader.
Reviews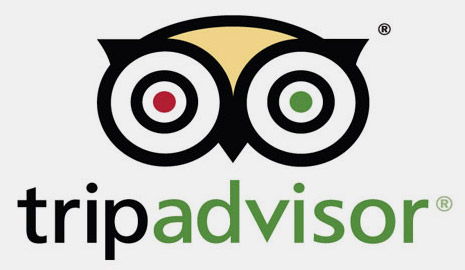 We're proud of our great reviews - but don't just take our word for it, see what people are saying over on Trip Advisor. View Reviews
THE EXPERIENCE
"Exceeded Expectations! Highly Recommend!"
It was the trip of a lifetime! Everything was perfect. I'm from the West Coast and have seen lots of whales in my lifetime... or so I thought. We saw many humpacks, pacific white sided dolphins, orcas, porpoises, eagles, and sea lions.
We fell asleep to the sounds of whales and sea lions at night. We soaked in the hot tub after long days of kayaking and played with the bio luminescence at night. Dolphins interacted with humpbacks and killer whales and multiple pods of dolphins road our wake and swam all around us. It was like heaven for a whale enthusiast like myself!
Ash and Rowan were fantastic guides with incredible knowledge and positive vibes. The kayaking everyday was easy and enjoyable for everyone. Neil is an incredible chef.
I have done a lot of travel throughout Canada and I think this tops it all - a big thank-you!"
Sarah
September 2019
"The Best of BC: Wild nature, wonderful people. It doesn't get better than this!"
Alastair
July 2018
"Whales and Glamping! Who could ask for more? This was an amazing experience. We hadn't even got in our kayaks when our guide (Kevin) had to rush onto the water to rescue a drowning juvenile bald eagle. Scooped onto the deck of his kayak via a paddle under his butt, he dried out for several hours on the shore and recovered. Hard to top that, but we did. So many humpback whale viewings, sea lions, convocations of eagles and orcas. The campsite is located in a truly outstanding location, hot showers, gourmet food and fabulous staff rounded out our trip. If you are looking for an outdoors trip, this is it."
Anna-Loise
June 2018
"If ever you want to kayak and get up close and personal to whales and orcas and dolphins and... Followed by perhaps a cold swim and or a hot tub and comfortable beds and great food, this is the trip for you. Oh, and fabulous guides as well!"
Jan
August 2018
"My husband purchased this trip for us both as last year's Christmas present - it turned-out to be the best Christmas present ever! I'd never been to coastal British Columbia before, and the scenery is beyond amazing. And the wildlife is unbelievable - I can't believe how much we saw in just four days. This company is very organized, the trips are well-run, and the guides are great. Also, the food is amazing. We got lucky with great weather and nice people on the trip, but the rest is definitely due to the great team at Spirt of the West. It's also worth sticking around the area a few days after the trip - there's so much to see and do!"
Alison
August 2019
"From the moment you start communicating with the SOTW team, you understand immediately why they have an excellent rating. They were informative when I was researching, helpful when I had complex travel needs, incredibly FUN and safety minded. We had all gear and full delicious meals and lots of adventures. I had such an amazing time getting to know the guides (truly incredible) and the fellow guests (a fun bunch for sure!). We had lots of hours on the water and such unbelievable sightings of wildlife. I was quite sad and emotional to end the week - saying good-bye knowing that this moment would not likely be repeated. This is truly an incredible way to take a vacation, get off the grid and reconnect in many ways."
Sue
July 2016
"Beautiful scenery, expert guides, great equipment and DELICIOUS food. I can't rate Spirit of the West highly enough - and what a beautiful are of the world to explore in a kayak!
We saw lots of wildlife (including humpbacks and eagles), our guides were exceptional - thank you!
I've done broadly similar trips in Finland and Ontario in the past - as good as they were, they don't even compare to Spirit of the West. Not sure how my future vacations will ever live up to this amazing experience!"
Soph
September 2016
"The water taxi ride to and from the base camp was so much fun, especially on the way home. The White-sided dolphins played in the water beside us for 15 minutes, jumping and chasing us. A highlight of the trip."
Kath
September 2016
"Without a doubt the best trip I have ever taken! I'm still in Awe and Wonder."
Henry
August 2016
"It was incredible to see orcas, humpback whales, minkes, eagles... the wildlife was superb. Our guides were awesome: very friendly, helpful, hard working but also relaxed. They created a great group atmosphere. I would highly recommend this trip... a once in a lifetime experience."
Christina
August 2016
"Awesome! I love you guys! Want to bring my daughter. Thank you so much for a trip I will never forget! Thank you all!"
Yvonne Piazza
"A Whale of a Time... again!"
Nic
July 2016
"Outstanding outfitter for sea kayak expeditions! Everything was organized top notch starting with getting us there, keeping us safe, well fed and teaching us all about the sea, marine life and environment.
Our guides were fantastic!
Highly recommended!"
Kyle
June 2016
"Over the top! I hate writing reviews but Spirit if the West certainly deserves an EXCELLENT PLUS. This was my 4th trip with Spirit of the West and as usual nothing on the coast can compare with the experience!"
Ray
September 2015
THE GUIDES
"Everyone very helpful and patient. Food, kayaking, accommodations all great. People before trip on phone very helpful. A trip we will always remember. Thank you!"
Ruth Gilmour
"We both really enjoyed the trip. The guides, area and wildlife were amazing. Great balance between organized time and "own time" Guides were very accommodating, relaxed, made all feel welcome!"
Heather and Mark Elliott
"Experience of a life time. I will be back with my family. Your dedication to your company 'shined' through your staff."
Lynun Rtley
"The trip was all around awesome.
This guides and organization was phenomenal."
Charles Berdemann
"So impressed with the guides depth of knowledge and how the trip is run so smoothly. Base camp is a wonderful place. Would be happy to wake up every morning there."
Helen McDonnoll
THE CAMP & FOOD
"Friendly guides, fun, great food, and group was super too! Hot tub and shower unreal! "
Carol
"With my dietary limitations, everyone at Spirit of the West went out of their way to make delicious food. I have never gotten service like that before."
Carmen Petrick
"Great trip, great camp, never seen a beautiful hot tub in such a beautiful scenery."
Andreas
"Awesome! Most luxurious camping trip ever with fun and knowledgeable staff!"
Ryan
The food… ahhh yum. The hot tub and tent amenities were luxurious! Overall I feel very satisfied and unwilling to leave! Thank you to the great staff for a wonderful experience!"
Jenny Berger
"Fantastic overall. Wonderful food and accommodations top notch (hot tub!) Amazing guides, great pace. Essentially a perfect trip. Bascamp, food, guides are all amazing. Keep it up! Thank you for being awesome!"
Peter
THE WILDLIFE
"Beyond expectations - deluxe guiding, food and hot tub! The kayaking was amazing, The wildlife just incredible!"
Ben Smith
"A truly wonderful and inspiring trip. I slept under the stars last night to hear the orcas and was lucky enough to see an incredible asteroid shower. A once in a lifetime experience. (Although I hope to repeat it soon!)"
(John) Brian Weir
"OMG!! Saw everything, whales, humpback, bear, eagle, seals. The guides were amazing, knowledgeable, funny and friendly! The guests were great everyone got along. Felt like we were all old friends."
Pam Vandumeu
Packing
On our Whales and Wilderness 2020 tour we are transported to our wilderness base camp by boat which is equipped to carry all of our passengers in a comfortable, safe and COVID-19-responsible way. With this style of tour we are not restricted in the amount of luggage and gear we can bring as our gear does not have to fit in the kayaks. Although your gear will be stored in the cabin of the boat, you may want to waterproof some items, in the unlikely event that it may get wet while being transferring to and from the boat.
At our glamping paradise on Swanson Island we have dry bags (waterproof bags) that will be given to you for use while kayaking. The small dry bags are great for cameras, sunscreen, and other small personal items that you would like to have near you. The larger ones will be for your spare clothing for the day.
TEMPERATURES
Please note that our summer temperatures from July until September are generally quite comfortable with temperatures from 18-30 degrees Celsius / 70-85 degrees Fahrenheit. It's not uncommon to find mid day summers hot enough to want to cool off in the ocean! June and later September will have cooler temperatures, and at ANY TIME OF YEAR we can have rain & wind, with temperatures occasionally as low as 13 C / 55 F. So, we say it is best to come prepared for any type of weather.
PLEASE NOTE WHAT WE PROVIDE:
All safety & kayaking gear
Everything you need for the perfect glamping experience:
– WALK-IN CANVAS TENTS ON WOODEN PLATFORMS
– REAL BEDS (2 TWIN SIZE OR 1 KING SIZE)
– THICK SOY FOAM MATTRESSES
– WARM BLANKETS, 2 PILLOWS, LINENS
– BATH TOWELS
– FLASHLIGHT/HEADLAMP
– HOT WATER BOTTLE
– MOSQUITO REPELLENT (Insects are generally not a significant concern for us on the coast)
– TEA/COFFEE MUG
– DRY BAGS
– LIBRARY OF NATURAL HISTORY BOOKS
– CAMP BINOCULARS (you may wish to bring your own pair for paddling)
The following is a list of suggested items to bring along. If you have any concerns or questions about the list, please don't hesitate to contact us.
Face mask & hand sanitizer – You will be asked to bring your own face mask(s) and hand sanitizer for travelling and for the water taxi ride to camp. We will also provide them at the camp for use in certain circumstances where physical distancing cannot be maintained and or as identified by your guides.
Wetshoes

– A pair that can get wet such as sturdy full strapped sandals (such as Keens, Tevas or Chacos), neoprene booties, crocs, or rubber boots. Please avoid flip-flops/thongs. Spirit of the West has a wide range of rubber boot sizes (youth – men's size 13) available to borrow free of charge if you don't have your own wet shoes or have limited space in your luggage. 

Camp footwear

– An additional pair of footwear that you plan to keep dry. Runners, trainers or light hikers are great.

Hat

– A sun hat such as a baseball hat or full-brimmed hat as well as a wool or fleece warm hat for evenings or cooler days.

Sunglasses & sunscreen

– A must for protection from sun and glare off of the water. Safety cords on your glasses are highly recommended.

Camera

– In a waterproof bag or case, or you may use our dry bags.

Medication

– If you are bringing medication please ensure that… 1) The name and expiry date of drug is on the container; 2) You have the detailed instructions of your dosage and frequency; 3) It is packed in a water and sunproof container; 4) You bring a full extra dosage of your medication in a separate container to leave with your guide, in case you misplace or lose yours, or are weathered in. If you are flying, please pack all necessary medication in your carry-on luggage. This will help eliminate some stress should your checked bags be misplaced in transit.
Ziploc bags or other large plastic bag – We will provide you with dry bags, but these come in handy for transporting laundry and/or wet clothing.
Gloves (optional) – Biking gloves work well to protect your hands from blisters. If you are really concerned abut cold hands, and are paddling in the spring or fall seasons, you may want to invest in neoprene gloves or pogies.
Beverages – We supply a wide range of teas and coffee as well as juices. You are welcome to bring along soda pops or alcoholic beverages if you choose to. Please note however that we do expect our guests to consume alcoholic beverages responsibly and strictly enforce a no alcohol on the water policy.

Personal items

– Toothbrush, toothpaste, biodegradable soap/shampoo, washcloth, feminine hygiene products, hairbrush, etc.
Book or journal
Fishing gear (optional) – Make sure you have a valid B.C. fishing license. These can be purchased on-line at http://www.pac.dfo-mpo.gc.ca/fm-gp/rec/licence-permis/index-eng.htm
Gratuity for your guides – at your own discretion.
CLOTHING
Clothing should be suitable for the time of year, bearing in mind that it could become cold and wet at any time of year. Layering is the best way to regulate body temperature and maintain warmth. We suggest avoiding cotton (except for those hot days). Cotton has no insulation value when wet. An inner material that wicks moisture from the body and gives a comfortable dry feeling even while wet is the best first layer (Polypropylene, Lycra, Nylon, Polyester). A synthetic material such as fleece or pile makes the best second layer to provide warmth. Wool is also suitable.
Rain jacket & rain pants – For the unexpected nasty weather. To test your waterproofness – jump in the shower and see if you stay dry! (we're serious!). If you would like to rent/hire rain gear from us, please reserve in advance of the tour. Tops and bottoms can be rented for $25 plus tax for the set.
Light windproof jacket (optional)
Long-sleeved non-cotton shirt (synthetic/wool) – 2
Long pants – 1 pair of fleece or warm comfortable pants. 2 lighter pairs made of a quick drying, synthetic fabric. Athletic style pants (running or yoga) are generally appropriate. Jeans are NOT recommended for paddling.
Shorts – 1-2 quick dry nylon
T-shirts – 2 or 3
Lightweight long underwear – 2 pairs, helps to keep you warm at night or as a base layer during the day. We recommend one set for kayaking and one set which is reserved for sleeping and always stays dry.
Sweaters – 2 warm wool or fleece sweaters (one may be all you need, but it is nice to have a spare in case one gets wet)

Bathing suit

–  For the hot tub, or brave ocean swimmers!
Warm socks – 3 to 5 pair (1 warmer pair for around camp)
Undergarments
An extra set of clothes that you may want to reserve for the end of the trip.
Book Now
Our online booking system allows you easy access to booking your tour with Spirit of the West Adventures, any time of day. If you think that you would like to book a trip, but need time to look into other travel arrangements, please contact our office and we will place a temporary hold on your spaces. We also offer real humans to speak with if that's your preference, so feel free to call our office at 1-800-307-3982 (from within Canada and the U.S) or 1-250-285-2121 (from overseas). We can be reached by email at [email protected] If, for any reason, you are having trouble booking your trip, please do not hesitate to contact us. We are always happy to help!
Searching Availability…