project overview
As part of the BC Government's Clean Coasts, Clean Waters program, Spirit of the West Adventures has been selected to lead a Marine Debris Removal project in the Discovery Islands.
Local residents have already done so much work over the last few years in cleaning up the beaches. This project and the funding provided will build upon those efforts and will allow for the collection of debris in hard-to-reach places, areas that require boat access or large crews and/or machines to help. The funding also provides an opportunity to recycle and divert as much as possible from landfill which is otherwise expensive to do.
Taking place from late September to – end of October 2021, we will be working with other local businesses, volunteers and paid staff members to collect as much debris as we can from our beautiful beaches and shorelines. We're hoping to collect literally tons of waste, and we're aiming to have as little as possible going to landfill.
So whether you're keen to spend a few days cleaning up some beaches, or whether you can volunteer an hour of your time to help us sort material in Heriot Bay, we would love all the help and support you can give. See below for how you can get involved.
We gratefully acknowledge the financial support of the Province of British Columbia through the Ministry of Environment and Climate Change Strategy.
Where are we going to be cOLLECTING?
Our efforts are going to be focused on the Northern Discovery Islands, notably: Quadra, Read, Maurelle, Cortes and Marina. Plus some of the smaller islands in between.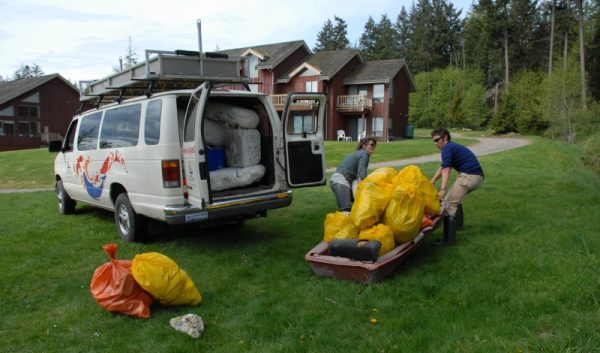 get involved
JOIN THE TEAM
Want to be part of the clean-up crew? We are actively looking for volunteers to help us with beach clean-up and sorting. If you have some free time and want to help make the Discovery Islands a cleaner place, send us your details via the link below.
In addition to volunteers, we are looking for a couple of folks to join us full-time for the duration of the project (mid-September to early November) in a paid capacity.
GIVE US INTEL
Are you a kayaker? A beachcomber? An avid boater? Know where some debris is that needs to be collected?
If you've got some insider knowledge, please fill out the form below – try to include as much information as you can. The size/amount of debris is helpful, as is a specific location. We'll do our best to include it in our collection plans and grab as much as we can.
IN THE MEDIA
BC Gov News – Another 1000km of shoreline slated for clean up – August 9th 2021