project overview
Spirit of the West Adventures was proud to lead and complete a Marine Debris Removal project in the Discovery Islands in the fall of 2021 that saw epic amounts of debris removed from the coast.
This project built upon the many efforts of the local community over the years and allowed for the collection of debris in hard-to-reach places, areas that required boat access or needed large crews and/or machines to help get some epic items off the shoreline. The funding provided an opportunity to not only clean the beaches but also to recycle and divert as much as possible from landfill which is otherwise prohibitively expensive.
Our clean-up took place between early October and mid-December 2021 and was a resounding success! We worked with other local businesses, volunteers and paid staff members to collect as much debris as we could from our beautiful beaches and shorelines. We literally collected tons of waste, 45 tons in fact!
We gratefully acknowledge the financial support of the Province of British Columbia through the Ministry of Environment and Climate Change Strategy.
Where we Cleaned Up
Click the map to zoom in and see all 357km of shoreline cleaned by our dedicated teams.
Our efforts were focused on the Northern Discovery Islands, notably: Quadra, Read, Maurelle, Cortes and Marina. Plus some of the smaller islands in between including Grant Island and Middlenatch Islands. Read on below the gallery of images to see totals of the different kinds of materials that we collected.
What We Collected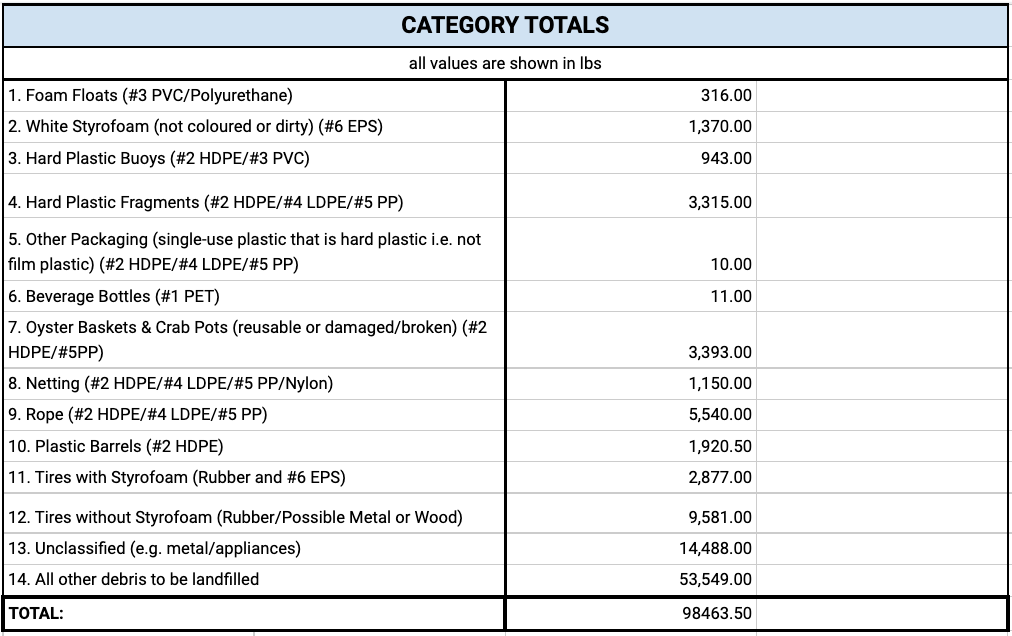 Read about The Experience
Blog post by the multi-talented Bex Dawkes about her experience with the project – Where Garbage Meets the Sea
IN THE MEDIA
Campbell River Mirror – Quadra Kayak Company Cleans Coastline – Jan 28, 2022
Times Colonist – West Bank Cleanup Pulls 50 Tonnes of Abyssal Bits off Island Shores – Jan 2, 2022
CTV News – West Coast Cleanup Pulls 50 Tonnes of Marine Debris Off Island Shores– Dec 31, 2021
The Star – West Coast Cleanup Pulls 50 Tonnes of Marine Debris Off Island Shores – Dec 30, 2021
The National Observer – Coastal Cleanup Bags 50 Tonnes of Marine Debris – Dec 30, 2021
CanadaInfo.ca – 45 Tons of Marine Debris Collected in BC's Southern Discovery Islands – Dec 29, 2021
Cortes Currents – Southern Discovery Islands Beach Clean Up Completed – Dec 22, 2021
CBC Radio – Beach cleanups in Northern Discovery Islands net more than 30 tonnes of trash – November 19, 2021
Cortes Currents – Beach clean-up in Southern Discovery Islands – October 18, 2021
BC Gov News – Another 1000km of shoreline slated for clean up – August 9, 2021
Vancouver Island Free Daily – Coastal Cleanup Stages Sequel of Bid to Rid BC Coast of Garbage – June 29, 2021
GreenStep Sustainable Tourism – Tires, wires, and a whole lot of plastic – August 2022