Accommodations, Dining & Activities
Quadra Island is our home. We live and work here year round. Breanne and Rick first set foot on the island in 2002, drawn by the mountain views, the beautiful ocean, wonderful people, and abundance of recreational opportunities. Now we could never think of living anywhere else! We invite you to Quadra Island and enjoy a little bit of our paradise. Most people who come here to start their sea kayaking adventure often wish they had more time before and after their kayak trip to stay on the Island. If you have the time, stay for a while, you won't regret it.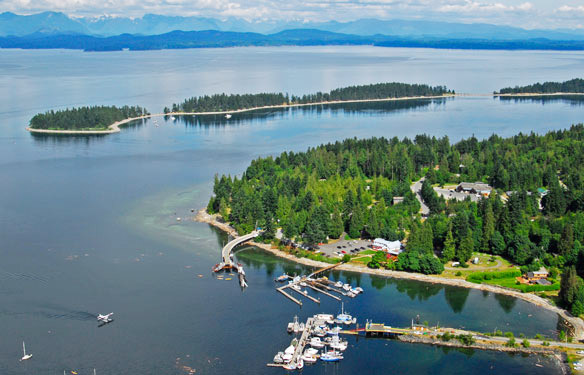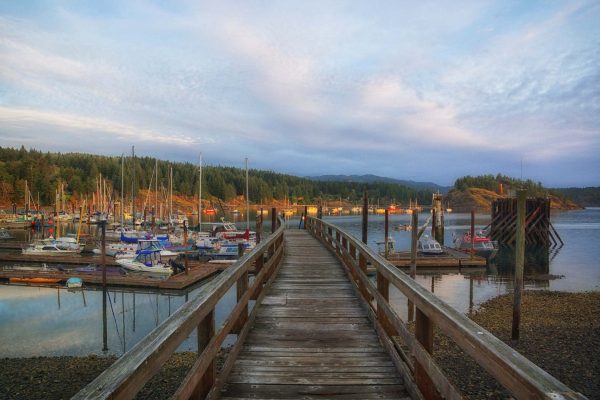 QUADRA ISLAND ACCOMMODATIONS
If you do stay, check out a few of our favourite accommodations. Our page lists some great choices. The east side of the Island is where our office is based and it is the more scenic side with great mountain views, quiet beaches and famous Rebecca Spit Provincial Park. We recommend the B&B of Robin and Michael, The Chipperfield Hollow, which is a wonderful place to relax in a forest setting. Our pre-trip meetings are held at the Heriot Bay Inn, a historic oceanfront hotel with a few rooms and cabins. Another favourite is Taku Resort, a private ocean-front location near our office. If you want peace and quiet and probably the best rooms on the Island, then this is a great pick for you. Another place with incomparable ambiance is Tsa-Kwa-Luten Lodge. This lodge is a fine resort with a First Nations flavour, great dining and a calming atmosphere. If you are looking for a simpler place to stay, Dale's rustic and welcoming Quadra Island Lodge on the west side and only a one-minute drive from the Campbell River ferry dock, is your best choice. Airbnb also offers many charming cottages along the Quadra shoreline or in the woods or individual rooms closer by amenities.
Quadra Island Activities
While here on Quadra Island there are lots of wonderful ways to spend your time. (Check out our things to do on Quadra Island list below for more details). Feel free to call us for more information. Quadra Island is full of awesome hikes, a must being the Chinese Mountains hike. Chinese Mountain will take you along a moderate to challenging trail (depending which route you take) to one of the best view points on all of Quadra Island. A great place to look down at the Discovery Islands and the Coast Mountains. Another favourite is the Kay Dubois trail, a scenic walk along the oceans edge. A trip around Morte Lake is a great way to spend a good part of the day, especially if you feel like a freshwater swim. This can be done by both walking or mountain biking. The mountain biking is tough so you do need a strong bike and a fair amount of skill (bikes can be rented from Jack at Island Cycle in Heriot Bay). There is a good map on the mountain biking page.
Quadra Island Dining
Dining on Quadra Island is always good. The summer comes to life with some of the finest eating places on the coast. At our end of the island, Heron's at the Heriot Bay Inn has a diverse menu and deck seating near the water. Tsa-Kwa-Luten-Lodge on the south end of Quadra Island has become a favourite for seafood and the First Nations architecture and the views are outstanding. Equally as good is April Point Lodge. The style is classy but you somehow can still feel comfortable in a t-shirt and jeans. For something a little more local, try the two pubs on either end of Quadra Island. The Landing Pub next to the Campbell River Ferry, and the Heriot Bay Inn (separate from Heron's Restaurant) next to the Cortez Ferry. The Heriot Bay Inn has great evening dining, good pub grub and live music on many nights – it's a real island hot spot! Be prepared to dance to some of the best shows on the North Island.
Quadra Island Arts
It is always worth mentioning the arts scene on Quadra Island. It is big. For a complete list of all art studios, have a look at the Quadra Island Arts page.
If you have any questions about Quadra Island, please call any time. We would be happy to give you our personal advice on where to stay and what to do.
Quadra Island Dining Guide
Heriot Bay Inn aka the HBI
Awesome location. Recently purchased by a community cooperative, this historical hub has gotten a new injection of energy and fresh life. Regular events happen throughout the week and new music plays on Fridays in the pub. The food is generally good in the pub and a bit more upscale in the restaurant. Everyone has their favourite! With an expanded dining room (restaurant), lounge and pub, this place is quite the score for us here on Quadra.
www.heriotbayinn.com  | 1-250-285-3322
April Point Resort Restaurant
At a sweet location overlooking Discovery Passage, the restaurant has top-notch food. It's posh restaurant, Quadra-style, with occasional live music and great ambience.
www.aprilpoint.com | 1-250-285-2222
Café Aroma
This café has a great location and a great vibe in Quathiaski Cove on the route from Campbell River ferry to the Cortez ferry. There's wireless access to the internet or you can use their computer. The shop has popular Eggs Benny on Sundays and Peter and Helene's Quadra-roasted coffee beans.
1-250-285-2404
THe Clove
The latest and greatest incarnation of the independent boutique pizzeria. Bakery-level pizza crusts with both staples and some unique toppings. It will change pizzas for you forever.
1-250-285-2262
The Landing Pub
You can walk there in about 2 minutes and 34 seconds from the Campbell River ferry landing (on the Quadra side, obviously). Lots of classic pub fare with some surprises. The Q-Cove spicy chicken pizza is quite delish.
1-250-285-3713
Tsa-Kwa-Luten Lodge
Tsa-Kwa-Luten has one of the more spectacular views on the island and an ambience to match. With a First Nations heritage, the salmon is a recommended choice here. Open and in full swing through the spring and summer, it's closed in the winter except for private functions.
www.capemudgeresort.bc.ca | 1-250-285-2042
Things To Do on Quadra Island
Quadra Island Kayaks
Quadra Island Kayaks is the sister company to Spirit of the West Adventures. Quadra Island Kayaks offers 4 tours a day, from a full day on the water to the lovely sunset tour. The east coast of Quadra Island has some of the best sea kayaking on the east coast of Vancouver Island and this is a trip not to be missed while visiting Quadra Island.
www.quadraislandkayaks.com | 1-877-475-TOUR (8687)
Aboriginal Journeys
First Nations owned wildlife viewing and adventure tour company located in Campbell River. Enjoy whale watching, grizzly bear viewing on Aboriginal lands, breathtaking nature and marine wildlife viewing tours throughout Discovery Passage, Johnstone Strait and the mainland inlet areas. Locally born, Transport Canada certified guides with a minimum 30 years experience working and traveling within our waters.
www.aboriginaljourneys.com | 1-888-455-8101
Destiny River Adventures
Destiny River Adventures is based in Campbell River. They offer professionally guided river rafting tours ranging from the thrills of whitewater rafting to serene scenic river floats and snorkelling with thousands of returning salmon. Suitable for almost the whole family – seniors welcome!
www.destinyriver.com | 1-877-923-7238
The Heriot Bay Inn
So far the HBI has been mentioned in every category! Besides great music in an intimate venue, the HBI Adventure Centre can organize trips and tours of all kinds around Quadra and the Discovery Islands. Very friendly folks and community-owned to boot.
www.heriotbayinn.com |1-250-285-3322
Nuyumbalees Cultural Centre
At Cape Mudge on the south end of the island and home to the Cape Mudge First Nation. The museum is a well-designed showcase and interpretive centre for the Kwa'Kwa'Ka'Wa'Kw culture. The museum has a potlatch collection, displays on the Hamat'sa ceremony and there's a Carving and Artists Centre. Go south from Quathiaski Cove to the village and follow the signs.
www.nuyumbalees.com
Museum & Cultural Centre: 1- 250-285-3733
Band Council office: 1-250-285-3316
The Community Centre and Blenkin Park
This place often has something going on, like a festival, a workshop or movie night. There's also a skatepark for those that like to board, and tennis courts for those who like to hit a ball around.
www.quadrarec.bc.ca | 1-250-285-3243
Hiking and Biking
We recommend picking up a Quadra Trails Committee map, for $2, to carry around with you. You can buy this at Quadra Island Tours and at random places such as Quadra Foods in the summer.
Kay Dubois Trail
This is a great little hike, particularly for vacationers trying to fit many activities into one day. It's along the water and mellow but still gives you that good hike feeling. It's a clear and easy trail, but a little short and challenging for mountain biking.
Haskin Farm Trail
Starting at Smith Rd., this is a nice descent to a quiet and fairly secluded area of the beach. Again, it's a clearly marked trail that'll take you about an hour return. Note the no horses sign once the descent starts.
Community Centre Trails
Quite a system of trails in here, but wherever you end up it'll be easy to make it back to where you started, especially since the trails go from West Rd., to Heriot Bay Rd. and back. If you have a vehicle parked on one side you could hike back or take the scenic route around and hitch back.
Rebecca Spit
Another one of Quadra's staple hikes, you have to stop in at the spit. To sound like you know what's going on you can refer to Rebecca Spit as 'the Spit', making the 'Rebecca' silent. This place is definitely appropriate for the whole family, it's not challenging and because it's a peninsula you can always march out to the ocean for a little intertidal zone playtime. There are signs saying no biking on the trail part of the spit. It's also an amazing place for picnics, views, and storm watching.
Heriot Ridge Trail
This trail is a moist, green, very BC coast trail where you hike through the bush, along a rock face and then out onto a ridge. It's very mellow with some moderate hills and is more of a few-hour afternoon hike than a big day hike.
Morte Lake Trail
If you're into single-track mountain biking this is the trail where you should end up. If you don't have much experience you're going to be getting off your bike, but it's a trail well worth exploring. It's also a fabulous hike that'll bring you out to none other than Morte Lake, with a couple choice swimming spots. From the Morte Lake parking, you can hike to Chinese Mountains if you want. To hike around Morte Lake takes about 2 to 3 hours, but there is a spur that heads out to a view over Seymour Narrows that makes this a full day.
Chinese Mountains Trail
This is the trail that brings you up to a stellar view of the Rockies on the mainland and the Coast Mountain Range on Vancouver Island. The South peak is a short hike, but steep, and the North peak is longer, but not so steep. Depends what you're into that day but the south peak takes less than an hour to get to the top and then there's a beautiful rocky open area to sit and have a picnic or do tai chi.
Nugedzi Lake/Mt Seymour
This trail takes you to some very beautiful terrain and then – poof – you're at Nugedzi Lake. A good climb with a great reward.
Newton Lake Trail
From Granite Bay, this trail begins on a logging road and finishes winding into the spectacular emerald lake at the top. If you're feeling ambitious you can continue on, switchbacking down to Small Inlet and Waiatt Bay, but it's a one-way trip so be prepared to cover all that ground again on the way back.
Shopping
Saturday Farmer's Market
We call it a farmer's market, but really it's an everything and anything market, from crafts to massage to bike repairs. Saturdays from 10am to about 2pm throughout the summer. Beside the Credit Union in Quathiaski Cove.
Works of H'art
Cindy's shop is full of the good stuff. She's got pottery by local artisans and a great book and card selection, the kind you find in fancy Vancouver shops. Cindy has clothes, second-hand deals, jewellery, and locals soaps and creams. Located beside the Heriot Bay Store in (where else) Heriot Bay.
1-250-285-3721
inspirations Office & Art Supply
The folks in here are super helpful. You can make photocopies, pick up journals, and grab art supplies for scrapbooking your summertime fun times. In Quathiaski Cove.
1-250-285-3334
Quadra Island Building Supply
If you need supplies to fix something, then you can probably find it here. Chat with the guys at the desk at the back if you've got any questions. The garden centre is attached.
1-250-285-3221
Island Cycle
Jack's shop will help you out in any way to get you out biking. Jack is a man of many talents and can fix or tune up any bike. You can rent bikes (including electric bikes!), buy new or used bikes and bike parts and accessories. In Heriot Bay.
www.quadraislandcycle.com | 1-250-285-3627
Yellow Dog Trading Company
This shop carries well-priced and good quality bulk food items. So if you're doing some baking, or just want dried fruit for your granola, pop in. In Quathiaski Cove.
1-250-285-2867
Amped on Nutrition
A real jackpot here. Barbara Mindell is a wealth of knowledge about natural health foods and she does food planning and cooking workshops for specific eating habits. She dries her own bananas and it really allows for banana chips to actually be a healthy snack and not just another fried chip. In Quathiaski Cove.
1-250-285-3142
Quadra Island Services
Below is a listing of some of our essential services.
Quadra Island Medical Clinic
Located in the Quathiaski Cove, in the plaza with the pharmacy.
1-250-285-3540
Isletech Auto Service
Located across from Aroma Coffee Shop, so you can have a latte while you wait for Mitch to fix your car (you could pick one up for Mitch, too).
1-250-285-3100
Melary Towing
BCAA certified these guys do a really good job towing.
1- 250-830-7998
People's Drug Mart
Colleen and Clay are the friendliest pharmacists around. Located in Quathiaski Cove.
1-250-285-2275
Quadra Children's Centre
This is a very good daycare, with kind-hearted folk creating healthy snacks and fun games for local and visiting kids.
1-250-285-3511
Quadra Credit Union
Has an ATM machine open 24 hours and is in the same parking lot as the visitor's centre and the weekly Saturday farmer's market.
1-250-285-3327
Quadra Island Library
Located in Quathiaski Cove, this is a great facility with internet access and friendly librarians. Also located right near the bookstore!
1-250-285-2216
Quadra GAS Station
The gas station on Quadra is located across from the elementary school, in the same plaza as Aroma Coffee Shop. You can buy propane and rent movies here (mental note, you can't buy diesel on Quadra, unless it's for your boat).
1-250-285-3222
Quadra Taxi
DJ and Ian can take you anywhere you need to go, especially if that is home from the pub, safely.
1-250-205-0505
Heriot Bay Inn LAUNDRY
This is the only laundromat in Heriot Bay, and provides the option to have a pint between your light and dark loads.
1-250-285-3322