November 5th, 2020
Both the Johnstone Strait Ultimate and Whales & Wilderness Glamping tours are excellent choices for sea kayakers of all ability levels. These are our basecamp-style trips, so we carry minimal gear in the kayaks and return to the same comfortable, established camp each night. If you're new to camping, this is a great way to get a relaxed introduction to living outdoors and is a real treat for experienced campers alike.
camp Facilities
Both tours offer very comfortable camping and amenities, including wood-fired hot tubs, hot-water showers, covered dining and lounge areas and great views. Both tours also have large cotton canvas tents that allow you to stand up a move around with ease. On the Whales and Wilderness Glamping tour we have real beds complete with comfortable mattresses, pillows, linens and cozy duvets help to ensure a good night's sleep. We also provide beds and pillows at the Johnstone Strait Ultimate tour, with a slightly more modest set-up. Instead of linens, we ask guests to bring their sleeping bags (rentals available upon advance request).
Each of the tents at the Whales and Wilderness Glamping tour has a private bathroom with sink and composting toilet. Each tent also has their own bathroom at the Johnstone Strait Ultimate tour. These bathrooms are in one central area as opposed to being beside the tent.
We keep both camps very well maintained and renovate anytime updates are required! Both come with a unique taste of charm and character.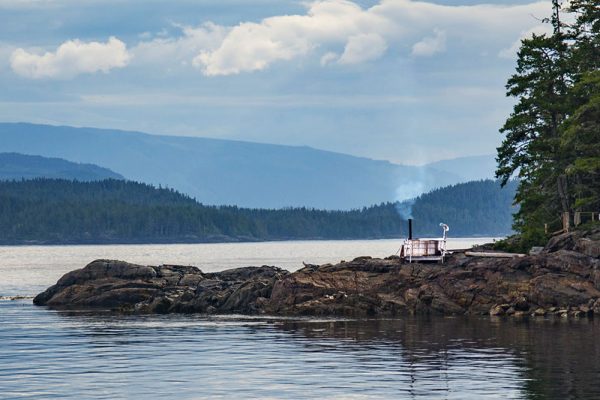 Our Whales & Wilderness Glamping hot tub right by a narrow channel that is used by humpback whales to feed or simply cruise through.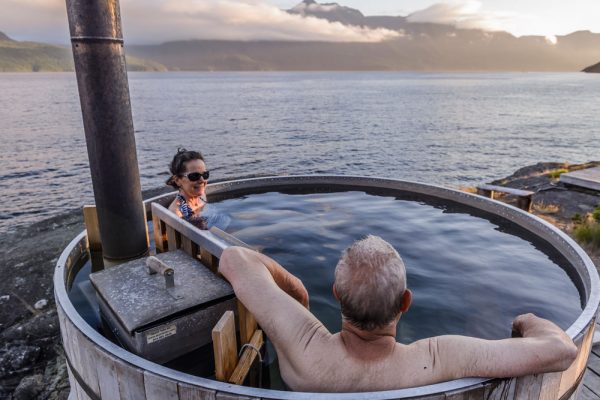 Our tub at the Johnstone Strait Ultimate camp is high up on a rock overlooking the Strait. Wildlife and sunset watching par excellence!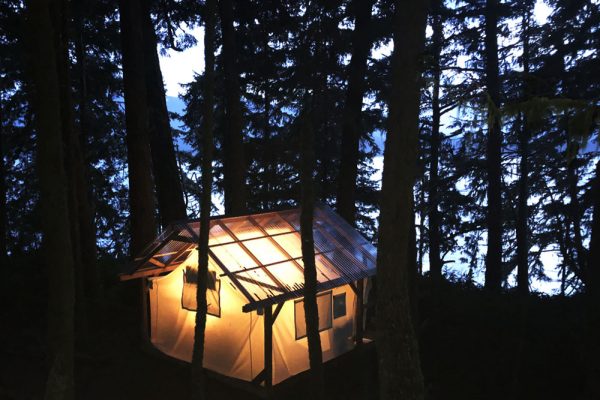 Large walk-in cotton canvas tents at Whales & Wilderness Glamping.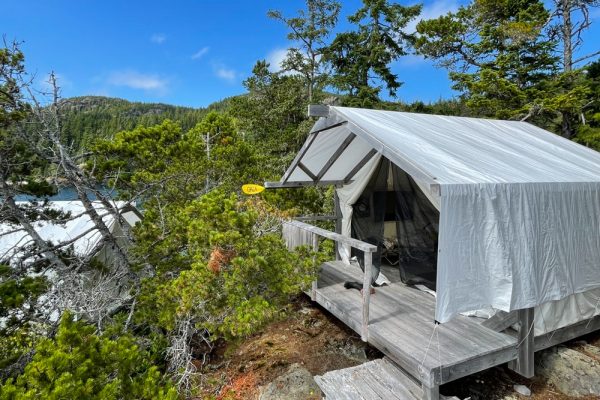 Spacious basecamp tents on platforms at the Johnstone Strait Ultimate camp.
---
Camp Locations
The Johnstone Strait Ultimate camp is situated in Johnstone Strait on West Cracroft Island and is a 40-minute water taxi ride from Telegraph Cove on northern Vancouver Island.
The Whales & Wilderness Glamping campsite is located on Swanson Island, a private island in the heart of Blackfish. We reach our camp by a 30-minute water taxi ride from Telegraph Cove.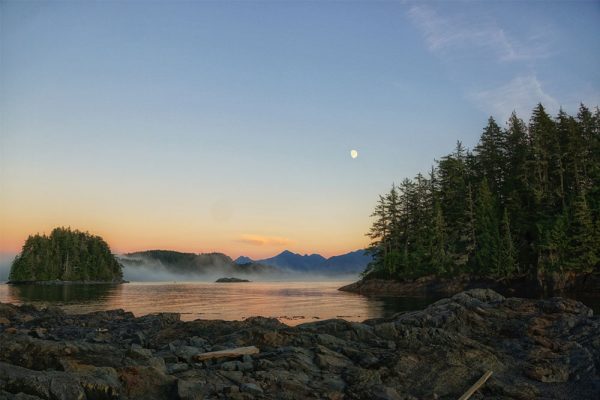 Looking straight into Blackfish Sound from our Glamping site. We are at the tip of a small island where we can enjoy whale watching, sunrise and sunset views.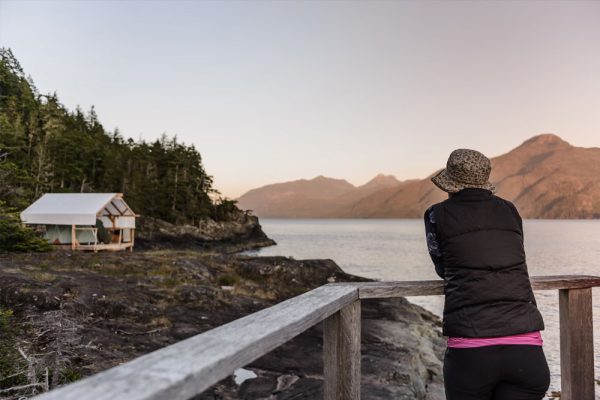 Viewing the Johnstone Strait from high up is a unique opportunity. Many marine mammals swim by, the water is always changing and the fog rises from the mountains.
---
KAYAKING FROM CAMP
These tours all place us in the heart of the area frequented by the Northern Resident population of Orca whales as well as the rapidly growing population of humpback whales.
The areas where we kayak on both tours are sheltered by Vancouver Island and seldom present much difficulty for paddling. On these trips, your guides will give you a good introduction to paddling techniques and safety prior to embarking your first day, and if you like, give feedback in the days following.
Both tours are flexible in terms of distances paddled each day, allowing us to meet the needs and desires of everyone in the group. If someone feels like paddling further than most of the group, we are often able to split up and continue paddling. The opposite is also true. If someone would prefer to stay at camp and read a book, rather than paddle, they are more than welcome to do this. We generally paddle an average of between 4-6 nautical miles per day.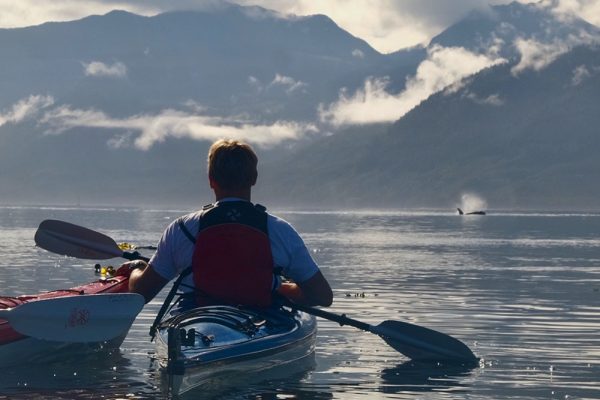 Kayaking and whale watching – often possible in Blackfish Sound.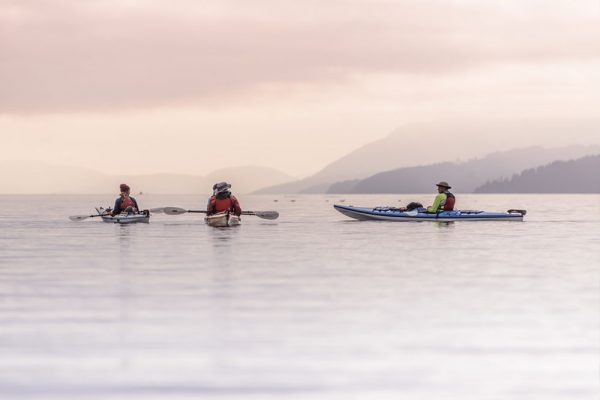 To kayak the famous Johnstone Strait is on every passionate paddler's bucket list.
---
Whales & wildlife
The Johnstone Strait Ultimate camp is located directly across Johnstone Strait from the Robson Bight / Michael Bigg Ecological Reserve. This area has been protected because it is frequented by the orca whales as a favourite fishing spot as well as an important socialization area. The whales have been found to partake in some behaviours here that they do in very few other places in the world. This unique belly-rubbing behaviour takes place underwater and therefore is not something we can view from our kayaks – but incredible, nonetheless. The reserve area is also off-limits to all boat traffic, including kayaks, because it has been described as critical habitat for the orca, however, our camp is located in a great spot to view the whales as they travel through and around this area frequently. Some trips we see them from the water-taxi, some trips from the bluff at camp, sometimes from our kayaks and sometimes all of the above. We like to enjoy the tour in a beautiful area and think of the wildlife as the icing on the cake, so to speak. Beside whales we often see sea lions, seal, white-sided dolphins, Dall's porpoises, river otters, black bears, and eagles.
The Whales and Wilderness Glamping campsite is located on Swanson Island, a private island in the heart of Blackfish Sound. This area is named for the orcas and humpback whales that spend a significant amount of time in this area. We have been very fortunate to see many whales right from shore at this campsite.
Beverley Marshall, long-time guide with Spirit of the West shares, "it's the absolute prime location for a wilderness camp. We often witness orcas and humpback whales breaching, feeding and playing from the beach, the tents, and the dining area. You can hear vocalizations and tail slaps through the night and we often wake up to their majestic blows. This is unique at Swanson Island."
Sandwiched between the mainland mountains and Vancouver Island, tidal currents stir up the water column and create an environment rich with nutrients and oxygen. Abundant marine life of all shapes and sizes make their home here, from the smallest crustacean to the largest whales.
"The forest seems to be that much lusher and the water that much richer. In the past four years since our camp was built, we have noticed that the wildlife in Blackfish Sound seems more concentrated than in other regions. From the tiniest intertidal life to the giants of the water world, we are in awe of this area's variety of wildlife," says company co-owner Rick Snowdon.
There are also the of opportunities for wildlife viewing on the water taxi ride to and from camp and of course, we designate a large portion of our kayaking days to view marine and land wildlife.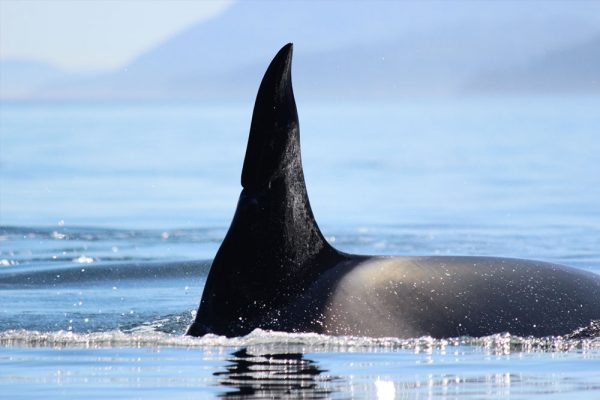 Orcas & humbpack whales are often seen from our Glamping camp.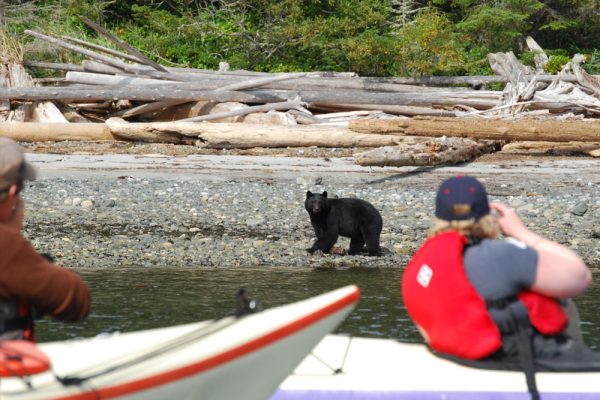 Black bear spotting close by the Johnstone Strait campsite.
Sign up for our Email Newsletter