December 18th, 2018
The story behind the production…
Over the past 4 years, a few of our crew members and our friend and videographer David Hartman from Hayfire Media have been working on filming and documenting most of our popular kayaking tours (check out our videos page for some of the results!). The first trip, in August 2015, brought us to Johnstone Strait & the Broughton Archipelago where we followed two of our expedition trips and also visited our Johnstone Strait campsite.
The mission was super successful! The marine wildlife activity was high and enriched us with amazing footage of the paddling environments of the region. Seals, sea lions, dolphins, Dall's porpoises, humpback and orca whales travelling, playing, feeding in front of our lenses. Another highlight was to record multiple 'singing' communications between orcas.
For the second shooting trip in July 2016, we sent a filming crew just across Quadra Island into Desolation Sound as well as up north to join a tour paddling through the Great Bear Rainforest for 8 days.
David Hartman possesses the great (and for us extremely valuable) talent to work with the unique demands of filming on paddling trips. He didn't shy away from filming and recording out of his own kayak to truly show the kayaker's view and perspective. We are also very grateful to have found a partner that respects distance and sensitivity for his "models" of any kind. Whether it is the wildlife, the fauna, our hardworking guides in action or our guests which we never want to distract in their search of peace, relaxation and adventure. David skilfully moved around all of it with his suite of equipment.
In 2017 when we were ready for the next video project, it was time to head to Blackfish Sound where our Whales & Wilderness Glamping camp is located. Early mornings and late nights were our daily motivation to capture the bliss of a paddler and glamper's time out in the rich wilderness.
David and the supportive crew captured an incredible amount of special events, moments and images. It was the sum of all those filming trips that provided the perfect foundation for our latest project, and the idea for 'A Postcard from the West Coast' was born. It shows a paddler, Alex, who enjoys the magic about her kayaking journey through the BC waters. It can't be shared in a better way than by writing her good friend Liza about her adventure. The feeling and sense of her experience truly come through and we can't thank David and his team enough for this beautiful film that includes the highlights of what we shot on the coastal wonderland of BC.
An Interview with THE videographer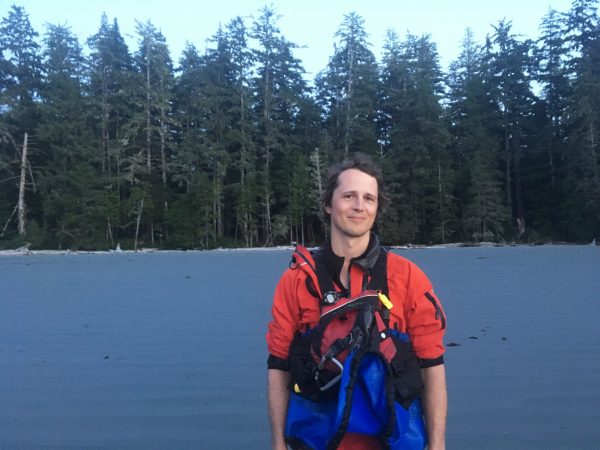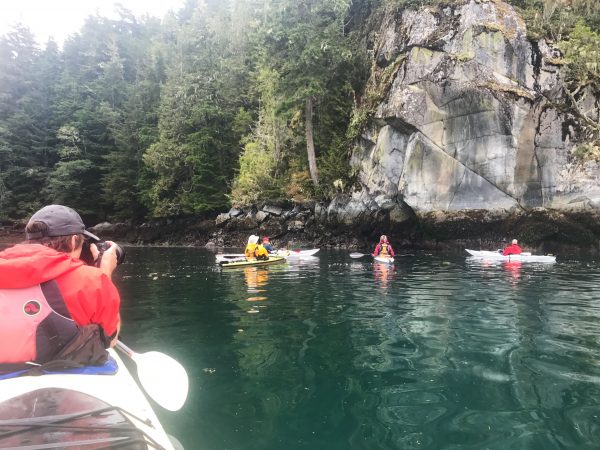 We know you love to film along the BC coast. 😉 what other reasons bring you OUT here?
I'm always inspired by new places and experiences but the coast of British Columbia is an area that I keep coming back to time and time again. I feel that in the rush for newness we sometimes forget to sit still and really start to get to know a place more intimately. Fortunately filming in the wilderness forces me to do just that, often waiting hours for the right moment. I first came to the Johnstone Strait and Broughton Archipelago four years ago to film promotional material with Spirit of the West and have taken every opportunity to get back there as this is an area that seems to become more exciting every time I visit.
That sounds interesting! Tell us more.
It was almost a bit overwhelming the first time I visited because there aren't really that many similarly dramatic landscapes that are so teeming with life and activity. The water is in constant flux and it has the feel of a place that is constantly moving. It really is an exciting place to be and I tend to completely forget about the rest of the world when I'm there.
A few words about your wildlife encounters?
I've been lucky over the years to experience some rather amazing encounters with Orca and Humpback whales, but have also been really impressed with all the smaller forms of life and how the whole ecosystem works as a whole. I think that the sheer abundance of species in the area – from the sea stars to the birds and the dolphins and the little jumping salmon – far outweighs the excitement of any one animal.
YOur highlight on the coast?
It was also really amazing to do a trip further north in the Great Bear Rainforest. We paddled along this really beautiful and rugged coastline and it was really memorable for me to feel that exposure to these coastal elements. I've always been a big fan of wolves so it was exciting to be in an area that is known for its sea wolf population.
Over the years I've had a lot of help from SOW staff members Rick Snowdon, Melissa Wickihalder and Ashley Hamilton in producing promotional material about their trips. In creating this new film I looked back at my time on the coast and really leaned on all that they have taught me through their admiration and knowledge for the place. I think this company goes far beyond delivering experiences with kayaks and wildlife and people leave their trips with new perspectives.
Thanks, David.
Sign up for our Email Newsletter