December 14th, 2021
The end of an awesome season…
Once the gear has been stacked, the documents filed and the boats have been put to bed, the last task for the Spirit of the West team to complete after a long summer season, is to review the annual submissions to our photo & video contest.
This year, even though life felt strange and travel was limited, the natural world looked no different. Incredible wildlife sightings, amazing sunsets and memorable days on the water were still out there. For many of us, this season felt all the more special, as we recognized even more what a privilege it is to live and work in the amazing place that we do.
Thank you so much to everyone who entered the 2021 contest. We thoroughly enjoyed looking through all the fantastic moments which you captured, and reading your lovely and joyful captions which accompanied them.
The winning photos are listed below and will be announced on our social media channels too.
Follow us on Facebook and Instagram
overall winner

ron scott
Wins a credit of $1000 towards a FUTURE
tour with us
Ron's image really resonated with the staff and guides at Spirit of the West. On a northbound Johnstone Strait Expedition, Ron managed to capture this awesome moment from where he was sat at camp.
"An Orca blows as it passes Flower Island. Night two was camping on Swanson Island in Freshwater Bay. We heard a pod of Orcas going along Blackfish Sound. Another group of kayakers were camping on Flower Island and one of them came out to see the Orcas pass. I captured this blow as it passed Flower Island."
We loved this shot and Ron's message, as it really encompasses what our expeditions are all about – slowing down, taking in the scenery and watching nature's magic unfold in front of your very eyes.
Congratulations Ron! We look forward to hosting you on another trip in the future.
and in second place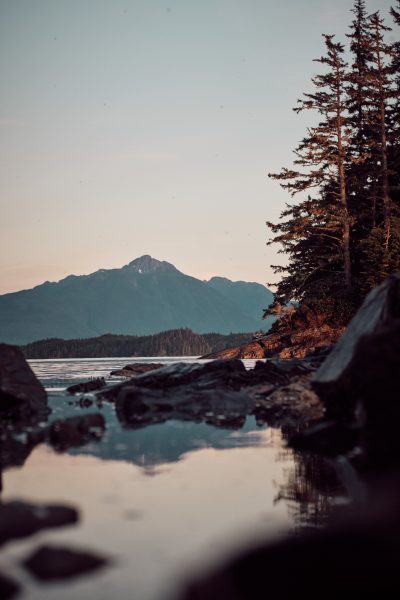 david fitzgerald
Wins a credit of $500 towards a future tour with us
David joined one of our Whales & Wilderness Glamping tours this summer. We loved the framing of this beautiful shot, and how he managed to capture the essence of the BC coast: the ocean, the forests, the mountains and the incredible sunsets, all in one amazing moment.
HONOURABLE MENTIONS
all Win one of our plastic-free travel kitS
The range of images that were submitted were incredible, but these additional few really stood out for the team. A beautiful sunset, an awesome fossil, a calm day of paddling, and a mother seal with her pup. What fantastic moments to have captured: all are worthy winners of a plastic free travel kit.
Congratulations all, and we look forward to seeing your photos in 2022!
Sign up for our Email Newsletter