October 15th, 2016
We want to say thank you to all of our this year's photo and video contest participants. We received an amazing selection of shots and videos and it wasn't easy to choose the winners. Our guests captured many special moments, highlights of their tours and a big variety of the beauty of British Columbia's coastal regions where we operate our tours each year.
There are 4 prizes for photos and 3 prizes for videos. Our jury, a panel of Spirit of the West Adventures team members, has chosen the winners:
PHOTOS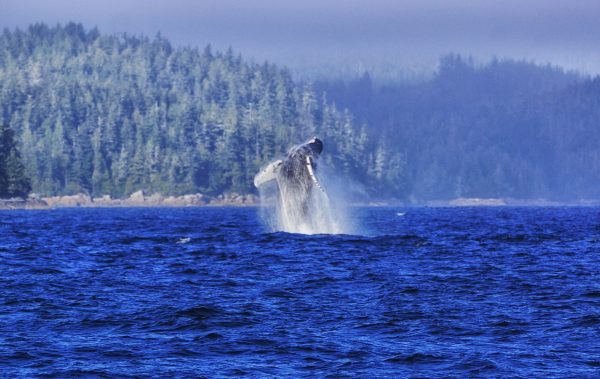 grand prize Winner Marco Gamper (CH)
A breaching humpback whale near White Cliffs – an isolated outcrop of rocky islands just offshore of the Broughton Archipelago and one of our favourite spots to visit during our 6-day Johnstone Strait Expedition. A true right-place-at-the-right-time shot as the window of time to capture a breaching whale is short, and we know how challenging it is to stay composed with all the excitement that's going on through your viewfinder. Well done Marco and congratulations again.
*Wins credit of $1000 towards a next tour with us*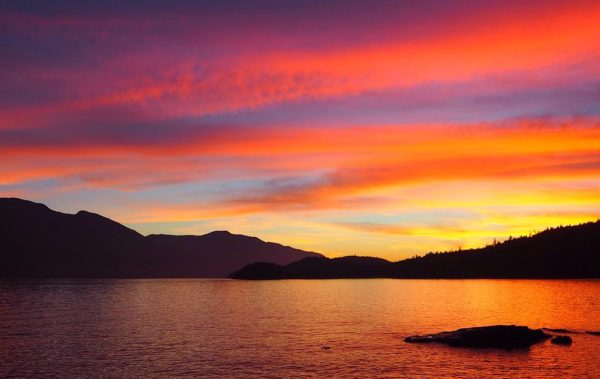 WINNER #2 Delphi Chevalier (Fr)
The sunsets we watched from our basecamp were magically unreal this season. Delphi, you caught one of the best ones. An amazing image of a purple & deep blue sky, clouds on fire and the sun slowly going down turning the ocean into a sea of molten lava. Johnstone Strait is for sure a very special place to watch all that beauty, and pictures like that one will remind us of the quiet summer nights we all love up there.
*Wins 1 night accommodation & dinner for 2 at the Heriot Bay Inn on Quadra Island*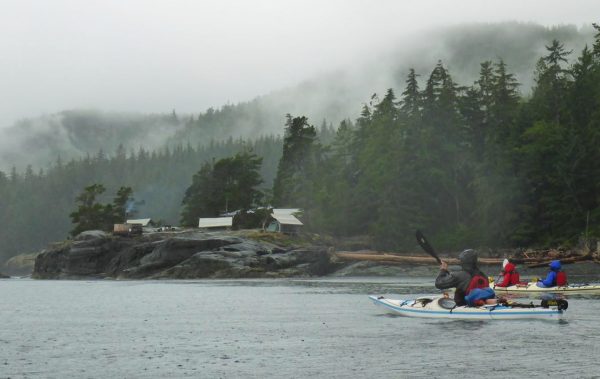 WINNER #3 Paul Brooks (UK)
We started with quite a wet season and Paul's picture from early July impresses how mystic and beautiful a paddling trip in the typical west coast weather can be. The fog hanging in the trees, the raindrops on the surface of the water, all the different shades of green on the shore and the allure of the smoke from the hot tub beckoning us home. Thank you Paul for seeing and capturing this magical scenery in Johnstone Strait. We hope you had a wonderful soak in the hot tub to warm up. 🙂
*Wins 1 night accommodation for 2 on Quadra Island*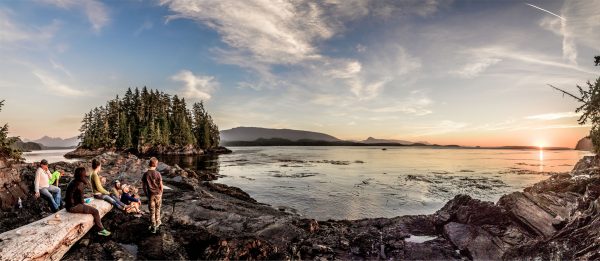 WINNER #4 ROBERT MCDERMID (CA)
A wonderful panorama shot from our new campsite on Swanson Island. A family and their guides enjoying an expansive view over Blackfish Sound with a beautiful sunset in the west and little Flower Island to the east after a day full of exploring on the sea and land. Thank you to the McDermid & Csanyi-Fritz Family that enjoyed 4 days with us out there.
*Wins 1 night accommodation for 2 on Quadra Island*
VIDEOS
WINNER #1 MEREDITH HILL (US)
Thanks Meredith for your effort to create this sweet and creative video of all the adventures and highlights of our Johnstone Strait Ultimate tour. Paying attention to the little things is a great way to appreciate everything in mother nature's beauty. Ends of the Earth from Lord Huron is the song you have chosen for the video – just another perfect fit as our basecamp seems to be far away from everything, and that is what we love about it.
*Wins credit of $1000 towards a next tour with us*
WinneR #2 Kathryn Owens (UK)
A truly exciting encounter with orcas on a beautiful day on the water. Kathryn Owens brought her family to our Orca Family camp on Hanson Island, and the family was lucky enough to watch the killer whales from their boats. We can hear and see the excitement that must have gone through everyone's minds when the orcas chose to travel closely by the kayakers.
*Wins 1 night accommodation & dinner for 2 at the Heriot Bay Inn on Quadra Island*
WINNER #3 Nicola Grice (CA)
There are always lots of great things to do while having a break or spending a night on a rocky beach. One of our Orca Lite groups was amazingly creative and started a rock cairn building session. Nicola created this fun time-lapse video of the rocks going up and shared it with us. Thank you!
*Wins 1 night accommodation for 2 on Quadra Island*
Sign up for our Email Newsletter