A diversity of landscapes and abundance of wildlife
Length:
4 Nights or 6 Nights
Location:
Broughton Archipelago, BC
For Who:
Everyone, focus on orcas and comfort




* Kayaking trips & tours are priced and charged in Canadian dollars; prices in other currencies can be estimated by clicking here. Prices are subject to 5% GST and optional $20 sustainability fee. Please see our terms and conditions for full payment and fees information.
Is your preferred date sold out? spaces are still available to explore the broughtons on our expedition trips.
Set in the home of British Columbia resident orca population, this trip provides the ideal combination of pristine coastal wilderness kayaking and spectacular wildlife viewing.
Mothership kayaking with wildlife
With the Columbia III onboard accommodation, we can easily travel to the untouched corners of the Broughton Archipelago (usually inaccessible by expedition kayakers) and position ourselves in the right place at the right time for the most unforgettable wildlife encounters.
"Long anticipated, very much enjoyed, and to be savoured for a long time."
Margaret Oliver, Calgary, Alberta
We spend our first night on the Columbia III at the historic coastal village of Alert Bay. Here we get a chance to view the famous graveyard totems and visit the renowned U'Mista Cultural Center – which, for many guests, sets the tone for what we are about to experience as we venture into the wild beauty of the Broughton Archipelago.
Each day thereafter we continue our journey through the maze of islands steeped in First Nations history and back-dropped by the snow capped peaks of the Coast Mountains. Scheduling our day around a sea kayak paddle, usually beginning shortly after breakfast, we silently glide through the glacier-fed waters keeping a watchful eye for both marine and terrestrial life.
Often the majestic bald eagle soars overhead while curious harbour seals swim close to check us out. If we are lucky we may spot a black bear foraging on the beach or a group of pacific white-sided dolphins playing in the waves. And of course we are always on the lookout for the mighty orca. We do our best to find them and we are rarely stumped. A stop for lunch in an interesting spot, such as an abandoned First Nations village site or a grassy islet, precedes the afternoon paddle, after which we rejoin the mothership, Columbia III.
"We have all concluded that this was the best vacation we have ever been on."
John Wagner, Linda, Chad, Mindy, Laura, and Rich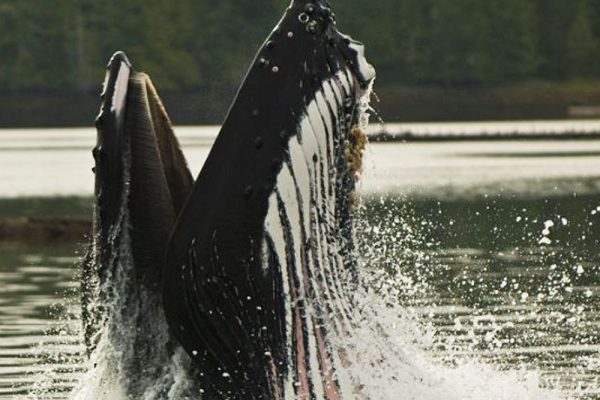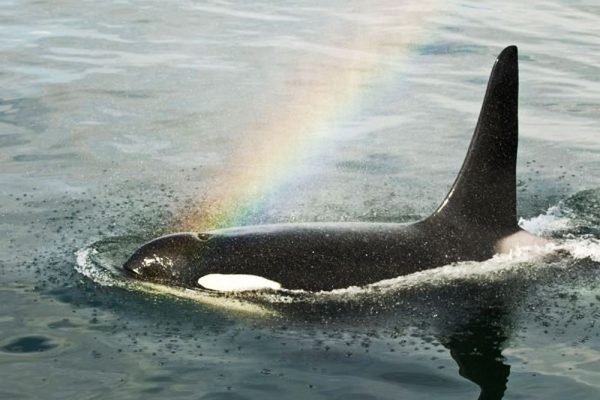 Back on board we refresh ourselves with a hot shower and get comfortable for an evening of gourmet food, laughter and relaxation. In this manner we move through this beautiful strait and archipelago creating each day around the needs and desires of our guests and anchoring each night in a new cozy cove each with its own stunning view. Walking in the rainforest, whale watching, visiting the local whale research station and simply relaxing on the deck of the Columbia III are all possibilities on this trip. And if the conditions are right, a night paddle may be an option where the truly magical phenomenon of bioluminescence can be experienced first hand. After an event-filled week, the Columbia III returns to Port McNeill early Saturday afternoon.
Itinerary
The Mothership Adventure in Johnstone Strait and the Broughton Archipelago starts and ends in Port McNeill. This journey takes us through a variety of fascinating and stunning locations among the beautiful islands and Killer Whale waters of Johnstone Strait.
Day 1
The Columbia III will be awaiting your arrival in the sea-side town of Port McNeill. Here you will be greeted with a warm welcome from the Columbia's captain and crew as we prepare to cast off. Departure time aboard the Columbia III is 6 pm. The first night we will moor at the First Nations' village of Alert Bay, home to the renowned U'Mista Cultural Center.
Day 2
At 9am sharp we will visit the U'Mista Cultural Center giving us an appreciation for the culture and history of the local Native people. Back onboard the Columbia III we will have a delicious lunch as we cruise towards the Broughton Archipelago keeping our eyes out for wildlife. When we reach our destination, we will review kayak orientation and safety procedures before setting off for an afternoon paddle.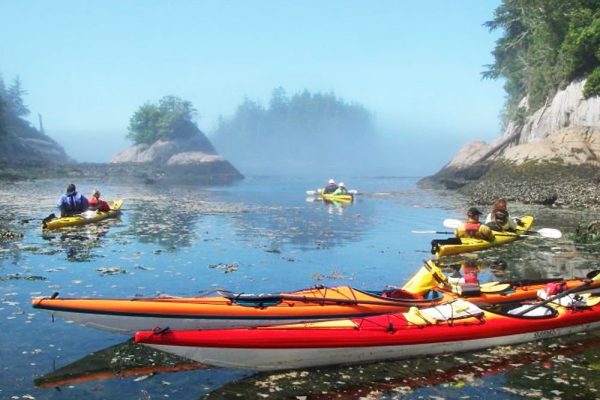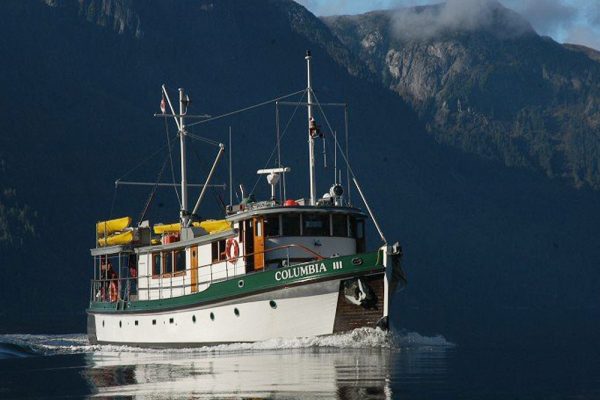 Day 3 to 6
Each morning, after a hearty breakfast, we will launch our brightly coloured kayak flotilla and begin our day of exploring the beauty of the Broughton Archipelago. Every day will bring a new array of stunning sights and surprises.
Wildlife that we are likely to see include orca, pacific white-sided dolphins, Dall's porpoises, humpback whales, harbour seals, sea lions, black bears foraging on the beach and the majestic bald eagle perched in a tree. Lunches will be savoured on one of the many beaches throughout the archipelago, each with a spectacular view and often on an ancient First Nations village site.
Afternoons will be spent paddling, snoozing on a sunny beach or relaxing aboard the cozy Columbia III. Walking in the rainforest, visiting a salmon river estuary, whale watching from the Columbia III or visiting a whale research station are all options on this tour.
Day 7
This is our last morning to enjoy the peaceful environment of the Broughton Archipelago. We will choose between a last paddle, or if the orca are in the area, we may spend some time whale watching from the Columbia III as we make our way back to Port McNeill. We will serve a last lunch along the way.
Our approximate return time is between 1pm and 3pm, but please note that this cannot always be guaranteed as the weather and wildlife will play a role in determining when we get back.
FAQ
Below is a list of commonly asked questions If you have any further questions or concerns please don't hesitate to call us.
How much kayaking experience is required to join one of the trips?
No experience is required for our kayak tours! Our adventures are for everyone. Our trips are designed to cater to all levels of experience and abilities. The majority of people who join our tours are first time kayakers. All that we ask is that you welcome adventure with an open mind and are able to laugh and have fun when encountering the unexpected.
Do I need to be in great shape to join one of the trips?
No. Our adventures are not considered to be strenuous or physically demanding, and we do not require a high level of fitness. We just ask that you are capable of a few hours of moderate exercise each day. Keep in mind that good general health will go a long way if we happen to encounter some strong winds or time restrictions. Most important is an adventurous spirit.
Are there any age requirements?
Spirit of the West caters to all ages of adventurers, and the mothership is an especially comfortable environment to base our explorations from. Although we do not have any age restrictions on our day tours we do prefer minimum of 12 years for our multiday tours. For those concerned with being in 'their older years', feel free to contact us to discuss your physical abilities.
How much paddling is generally done in a day?
Paddling time will vary depending on our destination, the groups abilities, and desires. Generally expect to be on the water between 3-5 hours a day. In our days activities we also like to incorporate some hiking, swimming, beach combing and of course leisure/lounging time.
How stable are the kayaks? What is the likelihood of flipping over?
The kayaks we use on our tours are stable and designed for comfort. Most of the time we travel in double kayaks, which are slightly more stable than the singles. The likelihood of a capsize is minimal, and generally only occurs in an uncommon situation.
What happens if my kayak flips over?
If for some reason your kayak flips over, all of our guides have ample practice time on the water with rescue procedures, in order to quickly and efficiently get you back in your boat. At this point we will take you to the nearest shore to change into some warm cozy clothing and carry on with our journey. While we are out on the water, it is of the utmost importance that the group sticks together in the event of a capsize or change of route plan.
What if the weather turns bad? Will I be comfortable and warm?
Our weather in the Pacific Northwest is generally pleasant from May through until the end of September, and the mothership as always cozy and warm at the end of a day. The temperature will vary slightly depending on which area you visit, but as Johnstone Strait and the Great Bear Rainforest is a little further north and more exposed to weather, these areas tend to have cooler temperatures. Although it is uncommon, it can rain in the summer. The rule of thumb is to be prepared for any type of weather and you will stay comfortable. Layering is the key, for at any time if you need to warm up or cool off while on the water, you simply adjust a layer.
What sort of wildlife might we see on the tour?
The diversity and abundance of wildlife in the Pacific Northwest is one of our privileges. With river run off from the mountains, ocean currents, tide rips, eddies and upwellings these waters are among the most productive on earth. From the rich marine life of colorful plants and invertebrae, seabirds, shorebirds, waterfowl, mink, otter, seals, sea lions, dolphins, and whales, to the land animals of deer, raccoons, cougars, wolves and bears, we are bound to see something. For those with an eye for eagles take note that they are most prominent in the earlier months before the salmon migration in the late summer/early fall. Depending on which tour you take, some areas offer more wildlife opportunities than others. Inquire if you would like to know what sort of wildlife you might see on your tour.
What do I need to bring on a mothership tour?
Our tours are all inclusive. We supply the kayaks and related gear (paddles, spray skirts, lifejackets etc.), gourmet food, bedding and shower towels, plus wine with the evening meal. Please see our packing list for more details.
Can I charge my camera batteries aboard the Columbia III?
We have both 110 VAC North American-style plug outlets and 12 VDC cigarette-lighter style systems aboard with ample power for charging camera batteries and related equipment.
Is alcohol provided or do we bring our own?
We provide a couple of bottles of wine with dinner, but you may wish to bring a selection of your favourite beverages to enjoy (in moderation) in the evenings.
What are the sleeping arrangements aboard the Columbia III?
There are five private cabins which accommodate two guests each. Three of the staterooms have double beds for couples and two of them have single bunks for single passengers. There are three toilets and two showers shared between the five staterooms.
Do I have to worry about getting sea sick?
In general it is never a problem. On the Great Bear/Goose Islands tour we make one forty-five minute crossing (aboard the Columbia III) out to the Goose Islands where it can be a bit rolly, although we have never had anyone find it a problem.
Is there the option to try a single kayak if I want?
We carry one spare single kayak for just that purpose. Usually we start everyone out in the doubles, but as the week goes on, we can swap around so everyone gets to try what they want.
Reviews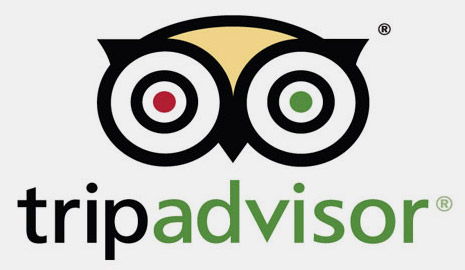 We're proud of our great reviews - but don't just take our word for it, see what people are saying over on Trip Advisor. View Reviews
"It was great to be back on the Columbia III. This trip was beyond words. I hope to see you all very soon!!!"
Niamh, Ireland
"It was a trip of a lifetime. I will always remember it."
Richard, Pentiction
"Spectacular! Paddling was delightful, food out-of-this-world, ship perfect size, class, etc., and awesome guides. You have a great team."
Jim and Kay Cain, Montana
"Thank you for a rich, rich adventure! A splendid vessel, magnificent scenery, wildlife, paddling, food, and a warm, wonderful family."
Honour Griffith, Saltspring Island
"We have never seen a boat so well cared for and restored. A true pleasure.
We have never been guided so competently and patiently through verdant virginal terrain.
We have never parked next to a fog bank at the seeming edge of the universe and had the glassy sea burst forth with the cacophony of porpoise pods on the hunt for breakfast!
We have only been honoured once before by the majesty of the Orca and the Humpbacks.
We will treasure all the seals, sea-lions, eagles, birdlife and they will renew our resolve for the caring for the planet.
We have never had such nourishing lunches, dinners ad breakfasts, Surely we have never had a scone fashioned by Farlyn burst forth with flavour.
Lastly, a true pleasure to be with you as a family being nourished, educated, pampered in such a companionable way. For all of this and much more we are grateful and in awe with affection and respect."
Bob and Verna, Maryland
"My appreciation of this experience is indescribable. Every tingle in my toes to the tip of my head are thankful, so very thankful for all your hard work and this wonderful genuine gift of your gorgeous west coast."
Diane, Vancouver, BC
"Unique and amazing experience. Thank you for sharing the Columbia III with us. The kayaking, waterways and natural life was beyond expectations."
Heather Wildes, Austria
"A memorable week for sure on the venerable Columbia III with it's genial captain and crew and all the delicious meals either on board or picnic style on the beaches. Great to share with such a congenial group of fellow guests the daily outings in the kayaks with our ever patient guides, as we paddle the serene waters and absorbed all the delights of this very special part of beautiful BC. Thank you again for this wonderful experience."
Muriel Simister, Surrey
"What an amazing combination of 5 star paddling, food and new friends. I never thought biology/ecology could be such great fun. We'll look forward to doing it again."
Rick and Sandi, Texas
"A marvelous experience cruising and kayaking the secluding waters of this beautiful part of our country. A capable and professional crew and your friendliness and humor made us feel part of the family."
Jean Gregory, Winnipeg
"Long anticipated, very much enjoyed, and to be savored for a long time."
Margaret Oliver, Calgary
"How can I possibly describe this trip to others? Impossible. They will have to come and see for themselves."
Cathy, Ontario
"Many, many thanks for a fabulous week. Great weather, lovely paddling, exciting wildlife, etc, but especially for being so warm and welcoming, patient, and fun. We couldn't have had a better week and we will treasure the memories forever."
Susan and Victor Gustavison, Toronto
"Thanks for an outstanding trip. The captain and crew were "above and beyond" to ensure everyone was happy. Great boat, great kayaks, great food, in the best place in the world. First class people running a first class operation. Highlight of the summer. Keep it coming."
Kevin Begley, Vancouver
"You guys are fantastic! Each of you has been so generous and done so much to make this the trip of a lifetime."
Pat, British Columbia
"I came here with high expectations and you did not let me down. Everything including orcas, bears, humpbacks, weather, food, accommodations, guides, paddling etc. was perfect. When the fog lifted, the sun came up, and the orcas appeared on the last day, I came to believe that you had it all beautifully staged."
Thomas Maler, Toronto
"Many, many thanks for yet another extraordinary ten days in Paradise. As a 'three-peater'."
Pat, Pender Island
Packing
What to pack for a perfect Columbia III adventure.
THE weather
Although coastal weather is generally mild it can quickly change from very hot to cool and damp. For maximum comfort, preparation is key. A layering system of clothing works best, and waterproof raingear is essential. Avoid cotton which can stay wet for a very long time and therefore may not be comfortable. The new quick-dry clothing available at outdoor stores is ideal for kayaking along with fleece garments for warmth.
on the mothership
When aboard the mothership, comfortable casual clothing of your choice is appropriate and often nice to change into after a day outdoors. When getting in and out of a kayak at a beach your feet will get wet. We suggest a sturdy pair of Teva type sandals or water shoes. Sports gloves for paddling may add to your comfort and help prevent blisters. Proper protection from the sun is absolutely essential. The sun's reflection off the water can be very intense. Sun glasses, a sun hat and sun block (including lip screen) are all important. Bring a water bottle. Staying hydrated in the outdoors is very important.
Consider bringing the items listed on the packing list that we provide. Because of the isolated nature of this adventure we will not be near towns or stores. A 10 ltr. dry bag found at most outdoor stores is perfect for carying your camera in the kayak.
Please bring your things in soft, duffel-type bags… not hard suitcases or frame packs, as boats are not designed for such shapes which are awkward to stow.
Suggested Packing List
Pile or fleece jacket
Sun hat / warm hat
Windbreaker or shell
Lightweight rain gear
T-shirts, shorts, swimsuit
Warm layered clothing
Shore shoes (for walking or hiking)
Kayaking shoes (sandals or water shoes)
Toiletries
Medications, prescription and non-prescription
Beach towel / face cloth
Day pack
Sunglasses, spare pair of eyeglasses
Sun-block, lip screen
Insect repellent
Water bottle
Sports gloves (for use while paddling)
Binoculars, journal, sketchbook
Waterproof bag
Sun hat / warm hat
A good book
Book Now
To book your trip aboard our mothership the Columbia III, please email or call our office and we would be happy to assist.