Why kayak the amazing Land & Sea Park?
For Who:
Everyone, focus on beaches and tropics




* Kayaking trips & tours to destinations outside of Canada are priced and charged in US dollars; prices in other currencies can be estimated by clicking here. There is no additional tax on tours to international destinations. Please see our terms and conditions for full payment and fees information.
Due to the ongoing global pandemic, Spirit of the West will not be running International tours in 2021/2022.
We have high hopes that our Bahamas Tours will resume in 2022/2023.
Interested in joining us? Click here to join our waitlist and get priority booking.
---
Sun, Sand & fun – kayak the bahamas!
Spirit of the West Adventures is excited to be offering our 6th season of kayaking tours in the beautiful Bahamas! These tours have been designed to provide the perfect balance between kayaking and time spent lounging under a palm tree, snorkelling and generally just enjoying all that the Bahamas has to offer.
The Land and Sea Park Expedition has us exploring the heart of the famous Land and Sea Marine Park. This was the first marine park of its kind and has enjoyed protected status for over 50 years, meaning a wealth of sea life to enjoy while kayaking and snorkelling in the crystal clear Caribbean waters. We also visit the swimming pigs, swim with nurse sharks, paddle by Johnny Depp's private island, keep our eye out for the hutia (Bahamas native land mammal), snorkel at the renowned Sea Aquarium and of course explore picture perfect beaches. This is a beginner to intermediate level expedition style tour that starts and ends in Staniel Cay, accessed by regional flight from Nassau or through direct flight from Fort Lauderdale.
This information is meant to give you some basic details and insight into this tour. Once you reserve your tour, we will also send you a more detailed information package including a list of what to bring, itinerary, transportation and accommodation options etc.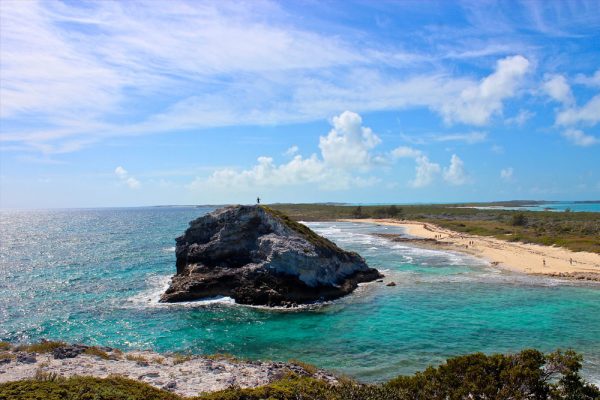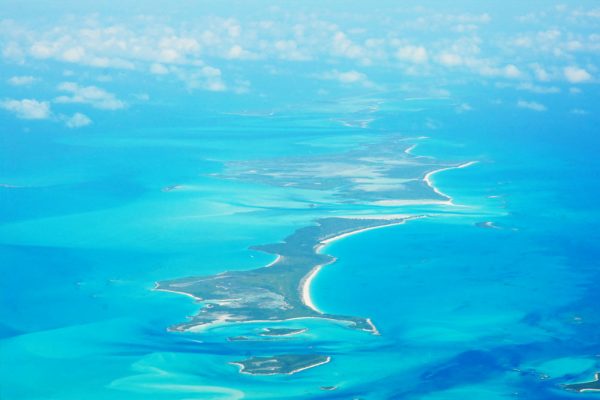 What's Included?
Professional guiding service, all kayaking equipment (including kayaks, PFDs, paddles, pumps, ropes and sponges), prepared gourmet meals (lunch day 1 to lunch day 7), camping equipment including tents, sleeping pads and sleep sac, park and land use permits. If you are planning on bringing any of your own equipment please double-check the packing list to ensure you have the appropriate gear and please let our office know in advance of the tour to avoid us bringing duplicates.
What's Not Included?
Not included in the tour cost are accommodation before or after the kayaking portion of your trip, flights, airport transfers, taxis, travel/medical insurance, alcoholic or carbonated beverages. personal items (toiletries, clothing, etc.) or gratuities.
EASY TRAVELING TO THE BAHAMAS
Travel to the Bahamas is fairly simple, quick and straightforward. At Spirit of the West Adventures we aim to make your travel experience as relaxed and comfortable as possible. Please don't hesitate to get in contact with us and we will love to share our tips and tricks we've learned over the years as well as the basic information to help you plan your journey and get the most out of your time in The Bahamas. To get you started here are a few details.
Tour Start and End Location
Staniel Cay, Bahamas
Arrival Airport Staniel Cay (TYM)
Accessed by short regional flight from Nassau (NAS) with Flamingo Air or from Fort Lauderdale with Watermakers Air.
Getting from the Airport
An easy 5-minute walk to most accommodation options on the island.
Where to Stay
Options are limited and fill quickly so please reserve early. Our favourites include:
We also provide you with a more detailed list of options in our reservation package after you booked the tour.
Itinerary
Highlights of the Land and Sea Park route include snorkeling at the rich and diverse Sea Aquarium, kayaking past the beautiful cays of folks like Jonny Depp, having long sandy beaches to yourself and kayaking with the swimming pigs of Staniel Cay - yep swimming pigs, seriously unique wildlife. This is the proposed itinerary for our trip, but it is flexible and may be adapted to suit the interests of those who join the trip as well as the weather conditions.
PRE-TRIP MEETING
WHEN: DAY PRIOR AT 6PM | WHERE: at a local bar and restaurant in Staniel Cay
Depart from your home for the Bahamas. Once you arrive in Staniel Cay settle into the accommodation of your choice and enjoy the sunshine. We will meet you for a 6pm pre-tour welcome orientation to meet your fellow kayakers and go over the plan for our upcoming adventure.
THE TOUR
Day 1
Time to start kayaking! We will start our kayaking tour from the beach in Staniel Cay. We will pack up and have an orientation to the kayaks and paddling including a safety talk to make sure everyone is comfortable before setting out. On this day we will cruise by the swimming pigs and onwards towards Pipe Cay where we will set up our first camp (apx 9 nautical miles).
Day 2
From Pipe Cay we will continue north exploring the many beautiful cays as we go. This area really is a paddler's paradise and has no shortage of breathtaking scenery and water. We will camp under the stars again, this time likely on O'Brian's Cay (apx 8 nautical miles). O'Brian's Cay is a great location for accessing snorkelling at a place known locally as the "Sea Aquarium", which is home to many interesting corals, fish and, if we are lucky, sea turtles. You can also wander out to the exposed side of the island and watch the power of ocean from this location.
Day 3
Today we will head towards Sandy Cay also known as Osprey Cay due to the osprey nests on the cliffs of this island. This breathtaking cay features beautiful sand dunes, and a shoal that dries up on a low tide and becomes covered with conch, perfect for a short walk and lunch stop. Then it is onwards to Warderick Wells Cay which will be our home for the night (apx 6 nautical miles). Our campsite here will make for a great base for exploring the Land and Sea Park trails the next day.
Day 4
Today we explore the heart of the Land and Sea Park. We will paddle north to visit the park headquarters on Warderick Wells Cay and search for the endangered native Bahamas hutia, a large nocturnal rodent and the Bahamas' only native land mammal. From the Park Headquarters there are several walking trails which are a great way to explore the island and get to some higher points for a commanding view out over the cays. There is of course also some good snorkelling to be had for those wishing to spend more time in the water. Tonight we will camp at the same site on Warderick Wells.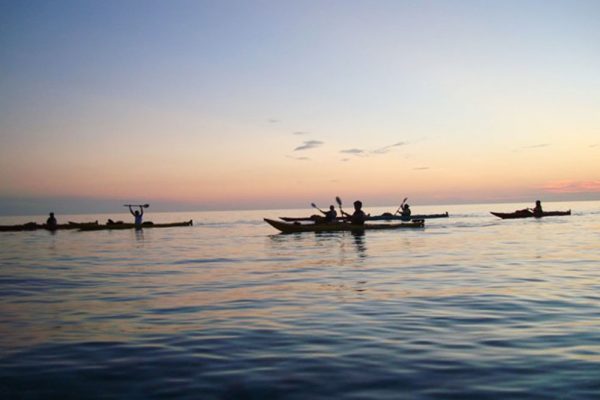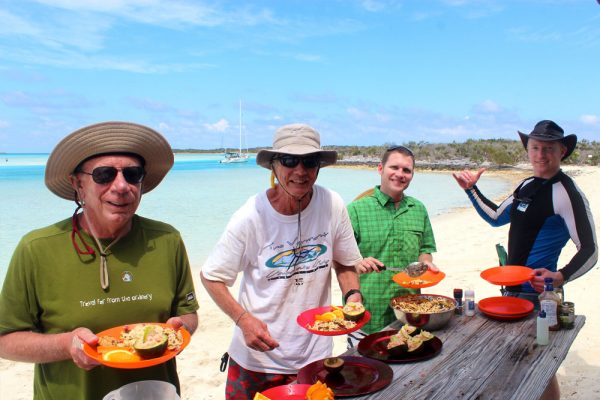 Day 5
Today we will start heading back SE, heading towards Cambridge Cay which will be our home for the night (apx 7 miles). If we missed it on the way up, we'll also pass by Johnny Depp's own little island in paradise and see if we run in to any pirates. We will also stop and see if we can spot any of the friendly iguanas on Pasture Cay. On Cambridge Cay we will take a short hike across the island to a beach that feels the full power of the exposed ocean. Here we can beachcomb for interesting corals and things that the sea brings ashore.
Day 6
Today we will pack up our kayaks and head further down Cambridge Cay where there is a short walk to another beautiful snorkling spot with coral heads that are 4-5 feet tall! After this optional snorkle, we will continue kayaking down towards Compass Cay where we can relax, read a book, swim, and set up our last camp.
Day 7
On our last morning, we will pack up our kayaks one last time and paddle to the Compass Cay Marina where we will enjoy a burger lunch and get an opportunity to swim with docile nurse sharks that live around the marina (don't worry, they are harmless bottom dwellers and it is seriously cool to get a chance to snorkel with them!). After lunch we will meet our boat transportation that will take us and our gear back to Staniel Cay. Once back on Staniel Cay, it is down to business: a refreshing shower and a cold drink back at your accommodation. This concludes your kayaking adventure, however groups often choose to gather one last time together at the Staniel Cay Yacht Club to celebrate a trip well done! (Please note that tonight's dinner and hotel costs are not included in the tour).
Please note
The itinerary is weather and group dependent. As with travel to any destination, logistics are vulnerable to weather and delays, so please plan your onward travel and post-trip obligations accordingly. We require all guests to purchase trip cancellation and interruption insurance to help deal with the unexpected.
FAQ
HOW MUCH KAYAKING EXPERIENCE IS REQUIRED TO JOIN THE TOURS IN THE BAHAMAS?
No experience is required for our kayak tours! Our adventures are for everyone. Our trips are designed to cater to all levels of experience and abilities. While some camping or outdoor experience is helpful, many of the people who join our tours are first time kayakers. All that we ask is that you welcome adventure with an open mind and are able to laugh and have fun when encountering the unexpected.
DO I NEED TO BE IN GREAT SHAPE TO JOIN ONE OF THE TRIPS?
No. Our adventures are not considered to be strenuous or physically demanding, and we do not require a high level of fitness. We just ask that you are capable of a few hours of moderate exercise each day. Keep in mind that good general health will go a long way if we happen to encounter some strong winds or time restrictions. Most important is an adventurous spirit.
IS IT DIFFICULT TO GET TO THE BAHAMAS? DO I NEED ANY SPECIAL VISA OR PAPERWORK TO ENTER?
The Bahamas are well worth the effort to get to and is only a short trip from many locations in North America. There are direct flights to Nassau (the capital city of The Bahamas) from many cities around the world. Direct flights also depart from Toronto, Miami and Fort Lauderdale to George Town on Great Exuma Island almost daily. There are many flight options for getting to The Bahamas and we would be happy to help you determine which route is best for you.
Tourists from most countries do not need a visa for stays of up to 90 days, however they do need valid passports. You will also need to hold an onward/return plane ticket or a credit card and/or sufficient funds to cover the intended period of stay.
DO I NEED ANY SPECIAL INOCULATIONS OR MEDICATIONS FOR SAFE TRAVEL TO THE BAHAMAS?
No, there are no required inoculations for entry into The Bahamas. We do however recommend a current tetanus shot, as well as protecting yourself further by receiving hepatitis A & B and typhoid fever shots. These inoculations are also not a bad idea for travelling to most countries around the world. If you plan on spending time travelling outside of the tour dates, it is also handy to carry a course of a broad-spectrum antibiotic such as Cipro-floxicin which can help deal with mild infections such as travellers diarrhoea.
WHAT LANGUAGE DO THEY SPEAK IN THE BAHAMAS?
English! The Bahamas is a fantastic place to explore and having English as their main language keeps it easy. While their accent and dialect differs somewhat (especially when speaking to each other) they adjust accordingly when speaking with us tourists.
ARE THERE ANY AGE REQUIREMENTS?
Spirit of the West Adventures caters to all ages of adventurers. Please contact the office to discuss options for children under 12 years of age. For those concerned with being in 'their older years' we would be happy to discuss your physical abilities and ensure this is the right trip for you.
HOW MUCH PADDLING IS GENERALLY DONE IN A DAY?
Paddling time will vary depending on our destination, the group's abilities, and desires, but is generally between 3-5 hours a day. Not including breaks and lunch stops.
HOW STABLE ARE THE KAYAKS? WHAT IS THE LIKELIHOOD OF FLIPPING OVER?
The kayaks we use on our tours are stable and designed for comfort. For those a little concerned, the double kayaks are slightly more stable than the singles. The likelihood of a capsize is minimal, and generally only occurs in an uncommon situation.
WHAT HAPPENS IF MY KAYAK FLIPS OVER?
If for some reason your kayak flips over, all of our guides have ample practice time on the water with rescue procedures in order to quickly and efficiently get you back in your boat. At this point we will take you to the nearest shore to change into some warm cozy clothing and then carry on with our journey. While we are out on the water, it is of the utmost importance that the group sticks together in the event of capsize or change of route plan.
WHAT IF THE WEATHER TURNS BAD? WILL I BE COMFORTABLE AND WARM?
The weather in the Bahamas is generally exactly what you would expect, sunny and warm. Occasionally weather systems can pass through producing rain and strong winds but this is usually short lived. A good rule of thumb is to be prepared for any type of weather and you will stay comfortable. Sun protection is most important, especially on the water, so having clothing and a hat to cover up will help keep you comfortable out there.
WHAT SORT OF WILDLIFE MIGHT WE SEE ON THE TOUR?
The diversity and abundance of wildlife in The Bahamas is incredible and the visibility through this crystal clear blue water is unparalleled. We bring snorkelling gear with us on all our tours so we can see what swims beneath. From the multi-colored coral of all different shapes and sizes to the hundreds of tropical fish species, stingrays and friendly nurse sharks, there is much to see. Above water, water fowl, heron, kingfishers and egrets fly overhead in search of their next meal.
WHAT IS CAMP SET UP LIKE?
On these expedition-style trips all of our campsites are in wilderness beach settings and shelter is provided by the tents and tarps we carry with us. We seek out sites with beautiful surroundings and those that offer solitude; these are all undeveloped spaces on the beach. Campsite choice will be based on weather conditions, route choice and group size and preference.
WHAT ABOUT WASHING AND TOILETS?
There is very little fresh water to be found on the small islands through which we travel. Therefore, seawater is your best bet for washing up. Please use biodegradable, environmentally friendly soap brands. Toilet facilities are not common in most wilderness settings so we carry a portable toilet system. Your guide will generally designate an area or system that works for ensuring your privacy. We are very accustomed to making sure all of our guests feel as comfortable and informed as possible in this regard – please feel free to ask us any questions you might have, before or during your tour.
Please be sure to contact us with any questions at all, before or during your trip – your comfort is important to us.
WHAT IS INCLUDED IN THE COST OF THE TOUR?
Professional guiding service, all kayaking equipment (including kayaks, PFDs, paddles, pumps, ropes and sponges), gourmet prepared meals (lunch day 1 to lunch day 6), camping equipment including tents, sleeping pads and fleece sleep sacs, park and land use permits. If you are planning on bringing any of your own equipment please double-check the packing list to ensure you have the appropriate gear and please let our office know in advance of the tour to avoid us bringing duplicates.
Not included in the tour costs are accommodation before or after the kayaking portion of your trip, flights, airport transfers, taxis, travel/medical insurance, alcoholic or carbonated beverages, personal items (toiletries, clothing, etc.) or gratuities.
IF I WOULD LIKE TO TIP THE GUIDES, WHAT IS THE INDUSTRY STANDARD?
If you would like to express your appreciation to the guides through a gratuity, such recognition would be enthusiastically received. The industry standard for tipping is approximately 10% per person of the trip cost. All tips received will be collected and disbursed amongst your guides.
I WOULD LIKE TO STAY AND EXPLORE SOUTH AMERICA AFTER THE TOUR. WHERE SHOULD I GO AND WHAT SHOULD I DO?
The options are endless and we would be happy to share some of our own experiences and experiences of pasts guest that may suit you. Just let us know if you have some additional time and we will hep wherever we can.
Reviews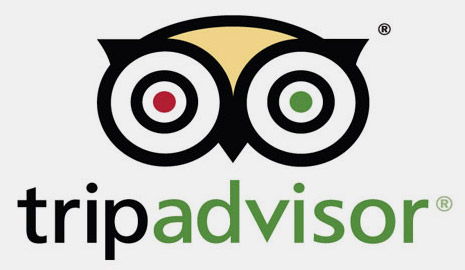 We're proud of our great reviews - but don't just take our word for it, see what people are saying over on Trip Advisor. View Reviews
"As a complete novice (I sat in a kayak in a swimming pool before going...) was not sure what to expect when I signed up to 6 days kayaking around the islands in the Bahamas. But can honestly say it was one of the best experiences I've had. Hard work at times especially given my lack of experience but an amazing sense of achievement after a testing day in the kayak and felt totally safe with our two guides so knew I would always get there in the end (couple of tows on particularly difficult crossings helped!). Highlights: the different blues of the ocean have to be seen, so beautiful; loved swimming in the bay with wild pigs on day one; idyllic remote beaches to camp on; great food especially considering we were away for 6 days just in our kayaks and interesting chats with the other kayakers from Canada, US and UK who were a lovely group. Guiding and general organisation by Spirit of the West were impeccable. Definitely recommend."
Scott
March, 2016
"We've done a number of these trips with other outfitters over the years and I can enthusiastically say that Spirit of the West was right at the top."
Jennifer
"Thanks for giving us an opportunity to visit a beautiful region and experience warm water kayaking. We felt comfortable with your knowledge and expertise from the beginning of the booking process and that continued throughout the whole trip. We only hope that we get the opportunity to travel with you again."
Jackie & Tim
"The weather was superb and the organization outstanding. We would particularly like to credit the guides for their professional, compassionate and fun leadership. We knew we were in excellent hands, they certainly work hard."
Lorne and Gail
 "Couldn't have been any better! The knowledge of the marine life, the history of the Bahamas, the time taken to improve our kayaking skills, the quality of the food preparation were all exceptional!!"
Kaylin & Josh
"It was, as always a wonderful trip! I don't think that I could wipe the smile off my face, and I'm sure that everyone here at home is getting sick of my "wonderful Spirit of the West" stories. Thanks so much!"
Sheila
Packing
The following is a list of suggested items recommended for your safety and comfort while on your kayak tour. Jeans and nice tops are acceptable for the places we plan on staying and eating. If you have any concerns or questions about this list, please don't hesitate to contact us.
TEMPERATURES
During an average March day in the Bahamas the temperature will reach somewhere around 24 degrees Celsius (76F) by early afternoon. Evening temperatures are generally in the vicinity of 21 degrees Celsius (70F). Overall, temperatures in the Bahamas during February  and March average around 21 degrees Celsius (70F).
Rainfall during this time is rare, but also possible, with an average monthly accumulation of 4.8 cm (1.9 inches). Ocean temperatures are between 22-24 degrees Celsius (72-75F). However we always find it best to come prepared for any type of weather. Remember there is no such thing as bad weather, just bad gear!
PLEASE NOTE WHAT WE PROVIDE
•  Expert guides
•  Tents, Therma-Rest sleeping pads, small pillow
•  Camping chairs,
•  All cooking materials and meals
•  Dry bags – 2-3 per person
•  All kayaking equipment – including kayak, PFD, spray skirt, paddle, spare paddle, charts, pump, rope etc.
•  Paddling jacket
•  A natural history library including books for learning about local flora, fauna, landscape and history.
•  Fleece sleep sac and cotton sleep sheet –  Temperatures are generally quite warm so these will be lightweight in nature.
•  Non-alcoholic beverages – water, juice, coffee & tea
•  Mask, fins and snorkel
If you have some of your own gear and would prefer to use it on your tour, please call our office in advance of the tour to let us know, to ensure it is appropriate and to avoid us bringing duplicates.
GENERAL ITEMS
Passport & money belt – Ensure your passport is valid for at least 6 months after your return flight. A money belt helps to keep your important documents and money close to your body and takes away the worry of travel.
Copies of all your important documents – A simple photocopy of your passport and travel insurance details can save you a lot of hassle if you ever lose the originals.
Wet shoes – A pair that can get wet such as crocs or similar footwear. Remember something easy to rinse sand out of may make you a happy camper! We highly recommend Crocs or Hooley Soles as you can wear socks in them at night, they dry quickly and they have a heel strap which helps to protect your heal from chaffing against sand on the bottom of your kayak.
Hat – A wide brimmed sun hat and/or baseball cap or visor is essential in the sun of the Bahamas.
High SPF sunscreen & lip balm with sunscreen – A must for protection from sun and glare off of the water.
Sunglasses – A safety cord on your glasses is a good idea.
Bathing suit – For snorkelling and enjoying the warm water!
Bath towel – Quick drying towels and or a sarong are handy and less bulky to pack.
Medication – If you are bringing medication please ensure that… 1) The name and expiry date of drug is on container; 2) You have a copy of your original prescription in case they question your drugs at the border; 3) You have the detailed instructions of your dosage and frequency; 4) It is packed in a water- and sun-proof container; and 5) You bring a full extra dosage of your medication in a separate container and leave with your guides, in case you misplace or lose yours. PLEASE CARRY MEDICATIONS IN YOUR CARRY ON LUGGAGE IN CASE OF LOST OR DELAYED BAGGAGE.
Personal items – Toothbrush, toothpaste, biodegradable and saltwater friendly soap, washcloth, feminine hygiene products, hairbrush, etc.
Wet wipes and hand sanitizer – Good for sanitizing or a quick wash.
Ziploc bags – These and a large garbage bag are always handy when traveling- especially for taking home dirty laundry at the end of the trip.
Small flashlight or headlamp – Don't forget spare batteries (we will have about 11 hours of daylight in February/March). Headlamps are preferable as they allow for hands free use.
Camera & film/memory cards – Waterproof is best (great for snorkelling) or packed in waterproof bag or case. Be sure to bring lots of memory cards and spare batteries, you won't want to miss these photo opportunities. Voltage and plugs are the same as in North America (120 volt, 3 prong wall outlets).
Book and/or journal – For enjoying on the beach under a palm tree
Cash for souvenirs, drinks, gratuities (tips) – US dollars are accepted on par with local currency.
Water bottle with a clip such as a carabineer– this will help with securing your water bottle to the deck of your kayak. We recommend a bottle of at least 1 litre in size as we tend to drink lots in the heat.
CLOTHING FOR PADDLING
Lightweight pants – Quick-drying, non-cotton- light colours are nice in the sun.
Lightweight long sleeved shirt – Quick drying, non-cotton.
T-shirts and or tank tops (2) – Can be a combination of cotton and non-cotton. Synthetic material dries quickly so you can wash in the evening and wear it the next day.
Undergarments – As you see fit. A couple pairs of synthetic underwear for paddling can be comfortable even when wet. Cotton underwear is good for evenings.
Shorts – One quick dry nylon pair.
Fleece or similar socks– one pair you don't mind getting wet, as you may want to wear these in your sandals to help protect your feet from sand chafing/blisters.
Raincoat– something lightweight and breathable will make you a happy camper on cooler days or if we see some rain or wind. It is unlikely that you will need this coat but better safe then sorry!
OPTIONAL ITEMS
Bug repellent – For the occasional mosquitoes and noseeums (usually just around dusk, unless it is a very still night then there are a few bugs)
Ear plugs – Just in case your friends snore!
Binoculars
Personal snacks – Snacks will be provided, but if you have a favourite that you just can't live without please feel free to bring it (remember entry restrictions into the Bahamas)
Shorty wetsuit – For snorkelling. We found the water plenty warm for shorter snorkelling trips, but you are welcome to bring it if you have one.
Bandana – To cover your neck from the sun. Doubles well as a face cloth.
Gloves – For kayaking. Biking gloves or light neoprene gloves work well to protect your hands from blisters and sunburn.
Fishing gear – We will have a spear fishing set up with us, but if you would like to bring a line with you, you are welcome too.
Alcohol, beer, wine etc. – No alcohol is provided with the tour, but you are welcome to bring your own. You can purchase upon arrival in the Bahamas in the Nassau airport or in Georgetown as long as you are not arriving on a Sunday.
Book Now
Searching Availability…