What you'll eat on a Kayak Trip with Us
Food is an essential part of any camping trip and wow, camping food has come a long way. Move over hot dogs and canned beans, because the fresh garden-grown green salad with homemade balsamic vinaigrette, baked wild sockeye salmon, and roasted baby new potatoes with dill, green onions and sour cream, all served with warm bread, is ready and waiting to be served. Top it off with homemade baking or chocolate fondue for dessert and you get the picture.
Our full-time dedicated food crew not only packs hearty, healthy and satisfying food, they add a dash of love here and there. Their home baking is the subject of many a "foodies' fantasies and many a shriek of delight from the office staff who get to perform quality control and taste these treats on a regular basis! Think pineapple coconut carrot cake with cream cheese icing, decadent dark chocolate chunk zucchini (from our garden) cupcakes with chocolate ganache icing, or peach, blueberry and white chocolate muffins, all of course homemade fresh for your trip. The food crew work tirelessly to ensure you have everything your heart and taste buds could desire while kayaking!
"We can't control the weather or the wildlife, but we can control the food!"
– Spirit of the West Kitchen
Vegetarian, vegan, not a seafood/fish lover, or wheat/gluten intolerant? Other dietary concern? Don't fret, we have many options and we will work with you in advance of the trip to ensure you too will join the chorus of happy past guests who commonly proclaim, "I don't even eat this well at home!", "I had no idea you could eat like this when camping", and "I'm so full, I can't fit even one more bite of chocolate fondue in my belly!"
And just because you are camping does NOT mean you have to give up fruits and veggies. The kayaks act as portable refrigerators cooled by the ocean water through which we paddle and have plenty of room for bringing an abundance of food.
Our Meals
Our menu reflects the abundance of fresh, sustainable and tasty seafood. We serve only wild sockeye salmon, which of course is caught by friends who fish on a small scale and sustainable manner right in our own backyard.
Breakfasts are warm and hearty. Meals include our famous orca shaped pancakes and French toast (served with real maple syrup of course), scrambled eggs with peppers and onions served on an English muffin, or yogurt and granola and every day we also offer fresh fruit and/or fruit salad if you crave something on the lighter side.
Lunches are simple and delectable. We display all the ingredients you could ever want for making a mile-high sandwich stuffed with goodness. Quadra's bakery, Lovin' Oven II, or the local Steiner's Bakery in Campbell River, keep us spoiled with creative breads. Custom tailor your sandwich on breads including sunflower oat, jalapeño cheddar and many other flavours, then fill with fresh tomato, cucumber, sprouts, deli meats, salmon or tuna, fancy cheeses, homemade hummus and tzatziki and various sauces and spreads. Finish the meal with tasty cookies, and then nap and repeat.
Dinners are always full of flavour, filling and full of variety. We dine on locally-caught fish and seafood, pesto pasta with sautéed veggies, homemade salsas topping off our scrumptious burritos and so much more. We share these tasty meals while savouring some of the most beautiful scenery around.
Snacks and Treats are abundant and always available. Your guides keep you well-fuelled with our custom trail mix, fruit leathers, granola bars, sweet treats and of course lots and lots of chocolate. You are welcome to bring along your favourite treats, but most people find there is more than enough food to keep their bellies and taste buds happy.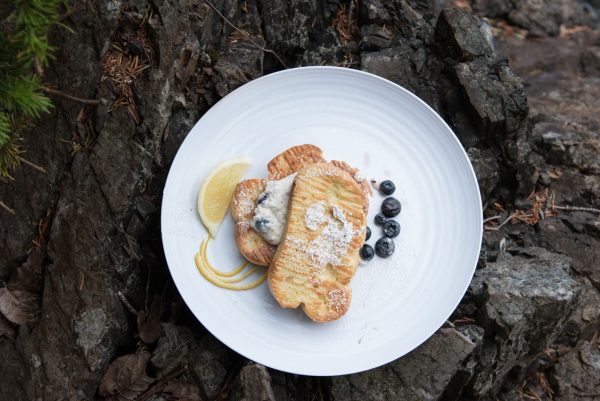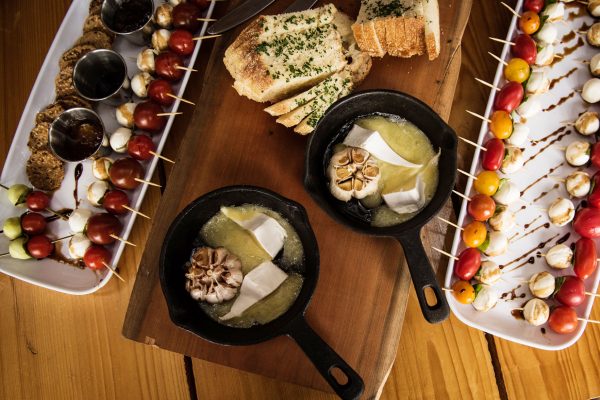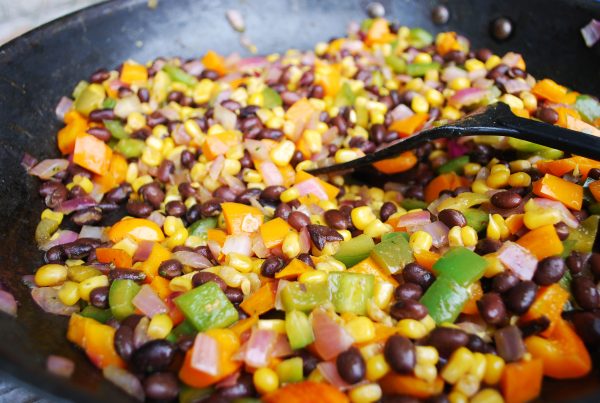 "I have never eaten so well, especially on a kayak trip."
– Robert, USA
Our Coffee, Teas & Other Yummy Drinks
We are very fortunate to have world-class coffee roasters on our little island, directly importing ethically produced and sustainable coffee. Peter and Helene of Aroma Roasters supply us with freshly roasted, fair trade, organic, shade grown beans produced by a women's cooperative in Mexico or Peru. Really, you couldn't find a more ethical and flavourful coffee if you tried. It is truly hot magic.
Fruit juice, black and herbals teas, hot chocolate and coffee, lemonade are all provided for your drinking pleasure. You are welcome to bring wine, beer and spirits for enjoying responsibly with your meals. We even have wine glasses at our basecamp!
We take great pride and pleasure in serving you the best food we can for your adventure. Please let us know what you cannot have, and what you can have, and we'll do our best to find the appropriate sweeteners, grains, proteins or dairy alternatives so you don't have to lose your well-earned sleep being bothered with food-fright or sore bellies.
Happy eating!
"Thanks to your food prep staff for taking care of my complex food requirements. Very impressive!!"
– June, Canada