What you'll eat on a kayak trip with us
Food is an essential part of any camping trip and wow, camping food has come a long way. Move over hot dogs and canned beans, because fresh green salad, local and responsibly sourced lingcod, and roasted baby potatoes are ready and waiting to be served. Top it off with locally baked treats or fresh fruit skewers with chocolate drizzle for dessert and you get the picture! It's a pleasure to share these tasty meals with you while savouring some of the most beautiful scenery around.
Our Meals
We like to say – "We can't control the weather or the wildlife, but we can control the food!" On our tours, you can look forward to hearty, healthy, fresh, and satisfying food. While specific meals vary based on tour, please see a sample of some of our typical options below.
Breakfasts are warm and hearty. Breakfasts served may include:
scrambled eggs, bacon, and fruit
yogurt, granola, and fruit salad
french toast with fresh fruit
hot muesli with dried fruit and toppings
pancakes with peaches and syrup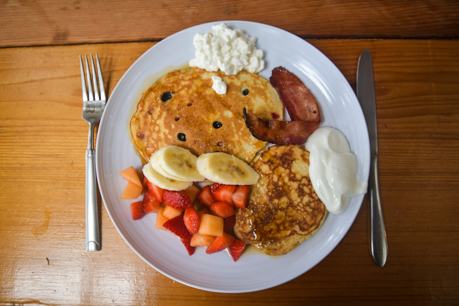 Lunches are simple and delectable, most often eaten on one of the coast's many pocket-beaches after a morning of paddling. Lunches may include:
a sandwich spread with seasonal fruit and cookies (our go-to for lunches on the water, with various options for toppings each day)
pita, hummus, and tzatziki
quinoa salad with fresh veggies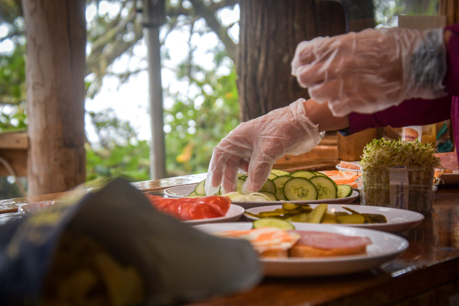 Appetizers are always a welcome treat at the end of a day of paddling. Appetizers may include:
an assortment of artisanal crackers and cheeses
smoked salmon wraps
tortilla chips and fresh salsa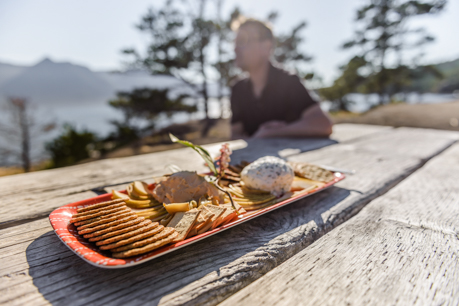 Dinners are always full of flavour, filling and variety. Dinners may include:
pan-seared lingcod fillets (locally and responsibility sourced) with herbed potatoes and green salad
Thai curry with tofu, jasmine rice, and naan bread
pesto pasta with olive bread and salad
black bean fajitas with corn salad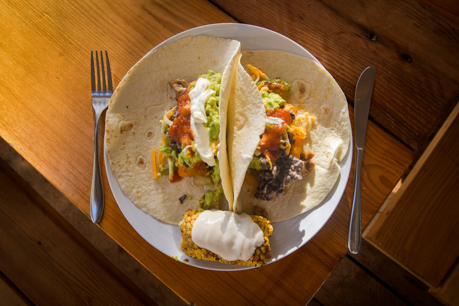 *Sample menu is based on expedition tours, basecamp tour offerings will vary slightly. 
Snacks are also available for quick, on the water nourishment. Your guides will have trail mix, fruit leathers, granola bars, sweet treats and chocolate available for snacking. You are also welcome to bring along your favourite snacks for while you are kayaking.
Our Coffee, Teas & Other Yummy Drinks
We are very fortunate to have world-class coffee roasters on our little island, directly importing ethically produced and sustainable coffee. Peter and Helene of Aroma Roasters supply us with freshly roasted, fair trade, organic, shade grown beans produced by a women's cooperative in Mexico or Peru.
Fruit juice, black and herbal teas, hot chocolate and coffee are also all provided for your drinking pleasure. You are welcome to bring wine, beer and spirits for enjoying responsibly with your meals.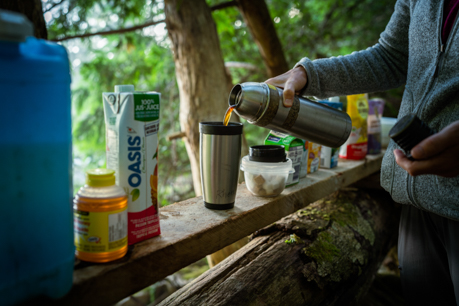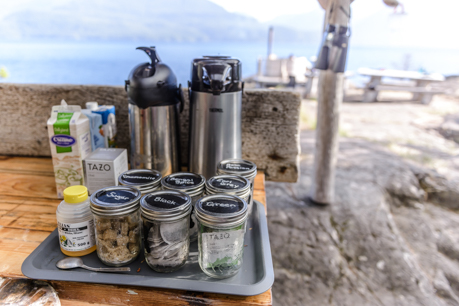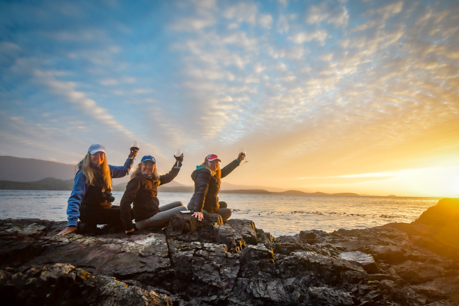 DIETARY RESTRICTIONS
Have dietary needs? We are happy to accommodate many dietary restrictions. However, dietary restrictions add additional complexity and costs to preparing for your tour. Please see below for some of the dietary restrictions we can accommodate and the associated costs for substitutions.
$75 fee: gluten-free, dairy-free, soy-free, and vegan
No additional cost: vegetarian, no red meat, no fish, no seafood
If you have dietary restrictions or allergies not listed above, please contact us at [email protected] to discuss if we are able to accommodate your needs and any additional charges.
We take great pride and pleasure in serving you the best food we can for your adventure!
Happy eating!