Why Choose Us
Without a doubt, coastal BC is one of the most amazing places in the world to kayak, view wildlife of all kinds and escape to the rejuvenating embrace of the natural world. But you want to know what makes us special? Here are some highlights of why you won't be disappointed if you join a tour with Spirit of the West Adventures.
Our Trip Philosophy
We do what we love! We want you to fall in love with kayaking and our coast, and this passion shows in everything we do. We don't cut corners, we always put forth a 110% effort and we are always trying to improve. Vacations should be safe, fun, educational and of course environmentally friendly! We live year-round where we work and play, so we know our area inside and out. We love it here, and it shows in the way we run our trips.
Sustainable, Environmentally Friendly and Green
We aim to be a leader in responsible and sustainable tourism and business practices. There are many ways that we minimize our impact, green our operations and contribute to the communities we live and work in. We maintain strong relationships with our First Nation neighbours by communicating about our trips and creating use agreements for our trips on traditional lands, and hold current land use permits for everywhere we operate. Learn more about our extensive Green Initiatives.
We Love to Eat!
When someone really loves food, it shows. Spirit of the West is famous for going the extra mile when it comes to food. We include home baking, locally caught seafood including sockeye salmon, plentiful organic and when possible local fruits and veggies, fair trade and organic coffee and the list goes on. The only complaint we have ever had about our food was "there is just too much good food and not enough space in my belly!" Learn more about our Food Philosophy.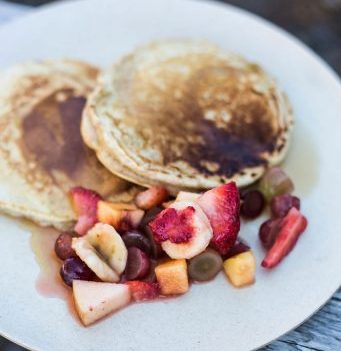 Our Team
Our guides are top-notch, our base crew incredibly talented and dedicated and we all work together to make your experience as superb as possible. Our kayak guides not only hold certifications from the Sea Kayak Guides Alliance of BC, wilderness first aid and a variety of other specialties, but they are full of fun, experience and knowledge. Learn more about our guides.
Keep the Crew Happy!
Happy guides and team members are good for everyone. We work with our staff to ensure that everyone stays happy and healthy. We are one of very few in the outdoor industry to offer health benefits and annual raises. We also have a pretty awesome social network of picnicking, exploring together on days off and generally making sure we have time for fun.
kayak Guide Training
We feel strongly that there is more to providing a kayaking tour than just paddling skills. Our guides all come to Spirit of the West with great and varied experience and we help to broaden their knowledge by providing an intensive guide training.  Each spring we hold a week-long training session that includes natural and cultural history interpretation training with a professional naturalist.
Company Owned and Run by Guides
We all have diverse backgrounds and experiences that we bring to Spirit of the West, but rest assured providing a great guided kayaking experience is something we know how to do. Rick and Breanne have each been guiding for well over 15 years and ensure that no matter how busy things get, they still get out on the water.
Guaranteed Departures
All of our Canadian tour departures are guaranteed – if you book with us, you can be confident that your trip with go ahead as planned.
Our KAYAKING TOURS Are Priced in Canadian Dollars*
It's not about the money… except sometimes it's about the money. With today's exchange rates, visitors to Canada enjoy a significant advantage when converting their home currency to Canadian dollars. And for Canadians, by exploring your own country you avoid the high costs of travelling overseas. It's a win/win! (*Trips to Chile, the Bahamas and Greenland are priced in US dollars.)