Employment with Spirit of the West
Thank you for your interest in working with us at Spirit of the West Adventures.
Each season we welcome a few new members to our team. We try to do our hiring early in the season; we start in January and keep hiring until our positions are filled. We offer a fun and supportive working environment, competitive wages, health benefits for returning staff, annual raises and many perks. We like to think that our staff works with us, not for us.
If you are interested in working with us please see below for details.
For applications to all positions please include:
A cover letter addressed to the owners
Resume
List of certifications (include expiry dates or plans for updating or acquiring certifications)
Minimum of 2 references
Why you think you would be a good fit with Spirit of the West Adventures
It never can hurt to call and introduce yourself!
Kayak Guiding Positions
For this position we generally require applicants to have at minimum:
Assistant Overnight Guide (assistant positions) or Level 2 or Level 3 (lead positions) sea kayak guide certification from the Sea Kayak Guides Alliance of BC (or equivalent).
A minimum of an Advanced Wilderness First Aid Certificate and radio operator's license.
Passion and skill for natural history interpretation, good safety judgment and inspiring and motivating leadership skills are essential "soft" skills.
Of course, you will also need to be legally able to work in Canada prior to being hired.
Kayak guides usually work in teams of two or three and can expect to be in the field for 4-7 days at a time, with our season running at least from mid-June through late September. You are responsible for leading rewarding, safe, educational and fun trips for people of many backgrounds and levels of experience. Certification and training is only the beginning, as we expect guides to be strong leaders, great cooks, knowledgeable in natural and cultural history, good teachers and communicators and handy with the typical equipment used on trip.
Preference is given to those who can commit to a full season of work. Paid staff training is a full week in June covering all the topics and info you'll need to know in order to succeed on trips with us. Attendance is mandatory, and a manual and other resources are provided to all guides prior to beginning work. Pay increases are predictable and based on number of days worked with us. We offer a competitive pay scale based on certifications held, early schedule commitment, completion of contract and other factors, and have a system to provide funds for external training opportunities (eg. further guide certification, interpretive training, or other programs that contribute to your ability to provide excellent experiences in the field).
For full job descriptions, please click on one of the buttons below: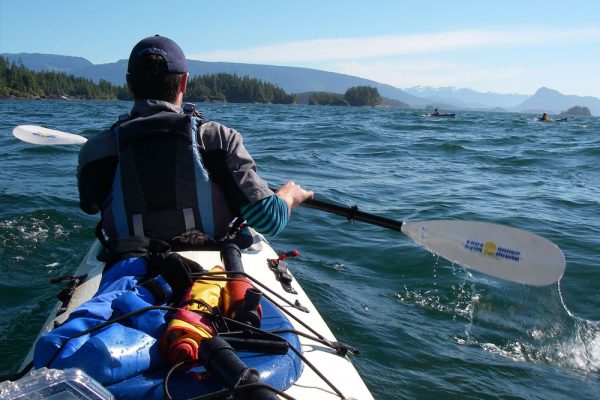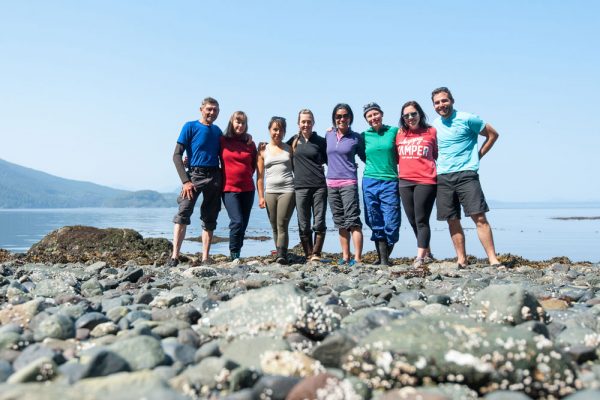 Base Crew
These positions are multi-faceted! The Base Crew are the backbone of the organization and keep everything running smoothly. If you have ever wanted to learn about how a kayaking operation works from the inside, then being a member of our Base Crew is the job for you. Our Base Crew has a wide variety of experience that they bring to our team. Each season we have the following positions:
Kitchen Manager
This dynamic individual needs to be a big picture thinker. After your training is well under way, this individual is responsible planning, ordering, purchasing and packing all the food for our tours. This person needs to be organized, efficient and hardworking. This position has flexible hours as long as the work is getting done. You are also responsible for overseeing the other kitchen crew and ensuring everyone is working co-operatively to get jobs done.
Assistant to Kitchen Manager
This person is another essential member of our team. This position involves being the right hand person for the kitchen manager. This jobs involves lots of food planning, preparation and packing. The assistant also oversees the other kitchen helpers including the clean up crew.
Clean up Crew
These folks are some of the most appreciated people on earth. They are responsible for cleaning all the gear, dishes, vans, kayaks etc that come back from trips. Combined with keeping our working spaces in good, neat, working order these positions are very important to our operations!
Site Manager
This person oversees the entire big picture. Helping wherever they are needed, duties range from answering phones, to packing food. This person helps to keep things moving and working efficiently for the base crew as well as the guides and field staff. This individual also needs to be handy often repairing bits and pieces that need a little TLC.
Apprentice to Office Manager
This position requires a great deal of organizational ability, great people skills and being computer savvy. Our office crew are the first people guests talk to before their adventures and therefore need to be helpful and courteous. These unsung heroes help to make sure that everyone involved in the kayak trip has the right information, is in the right place at the right time with the right gear – no easy feat!
Work-Trade Opportunities
We are very interested in trading trips for specialized skills and experience. Have you ever wanted to kayak in some of the most beautiful areas on earth alongside some great wildlife? Have a specialized skill or service that you think we may benefit from? Then contact us and make a proposal.
Skills we are often interested in:
Public Relations
Media Relations
Organic Gardening and Landscaping
Professional Drywaller
Heavy Vehicle Mechanic
Someone with experience converting diesel vehicles to veggie oil
We are open to discussing other possibilities!
We are looking forward to hearing from you.
Please contact us at 1 250 285 2121 (local & overseas) or 1 800 307 3982 (toll free) and/or send your application to:
[email protected] OR Spirit of the West Adventures, PO Box 569, Heriot Bay, British Columbia, V0P 1H0 Canada.