Our Story and Our People
Spirit of the West Adventures began in 1997 with an amazing passion for kayaking, killer whales and the British Columbia coast, and it has been the catalyst for many people's outdoor activity ever since. Based right here on the coast, we show you around with the pride of knowing it's our home. Take a few moments to meet the team behind the adventures.
Meet the owners
In 2006, longtime kayak guides Breanne Quesnel and Rick Snowdon joined as owners and continued Spirit of the West's commitment to providing fun, safe and ecologically sound kayaking experiences in BC. While they have always been wilderness adventurers, being able to combine playtime with work infuses a client's experience with a special kind of pleasure. After globetrotting for a few months most years, they always come back to their home on Quadra Island, BC, a testament to their love for the BC coast and the amazing opportunity for sea kayaking. As seagoing folk, Breanne and Rick love to live and breathe British Columbia coastal air. In 2014 Breanne and Rick welcomed their son Eamon to the paddling family. On New Year's Eve 2015, Eamon's little brother Rowan arrived.


Breanne, Rick, Eamon & Rowan
Breanne grew up in Ontario in a family who loved the outdoors. Much of her childhood was spent hiking, camping, canoeing, skiing and enjoying the fresh air. In 2002 Breanne completed an Honours Bachelor Outdoor Recreation, Parks and Tourism and a Bachelor of Arts – Geography at Lakehead University in Thunder Bay, Ontario. She also completed her Bachelor of Education in Sydney, Australia. Over the years, Breanne has worn many hats including that of whitewater canoe guide, tree planter, environmental educator, elementary and secondary school teacher, sea kayak guide and most recently as educational program co-ordinator, guide and operations manager with Spirit of the West. The allure of the British Columbia coast drew her west several years ago, and now she spends most of the year on Quadra Island and her winters traveling. Breanne is a perfect candidate to set you up with a complete outdoor kayaking experience.
Rick spent his early years paddling in Ontario before heading to sea in tall ships for much of his high school years. He completed degrees in Outdoor Recreation and Biology at Lakehead University, as well as time studying oceanography in Woods Hole in 2000, interspersed with summers working search and rescue for the Canadian Coast Guard. Having sailed on the Great Lakes, California coast, North Atlantic and South Pacific, Rick took up sea kayaking in 1998. As a freelance writer, guide and photographer Rick has travelled around Canada and around the world, and has volunteered and worked in several countries including Vanuatu, Mexico, Australia, Ecuador, Grenada, Chile and the Bahamas. He is past board member of the Sea Kayak Guides Alliance of BC and current board member of the North Island Marine Mammal Stewardship Association.
And the whole amazing crew
Our staff and kayak guides are simply exceptional and match the culture and spirit of our organization. They all have an amazing passion for kayaking British Columbia and for the killer whales in the BC waters that make it such a great experience.
Terms like self-reliance, adaptability, responsibility, confidence, and sense of humour all come to mind when describing their qualities. Considering that guides must perform in the multiple roles of wilderness guide, gourmet chef, role model and educator, it's no surprise that they come from a wide variety of professions and backgrounds to each bring a unique and valued perspective to the way our business runs.
Our guides are extremely skilled (and certified by the Sea Kayak Guides Alliance of BC) in kayaking, backcountry travel, responsible environmental practices, and high levels of first aid and safety procedures, continually upgrading their training and striving to improve knowledge and skills. And all our staff are adventurers in their own right – traveling and wilderness tripping doesn't pause for us when the season's over! Personal and training trips around the British Columbia coast and around the world keep us on top of our game. At the end of the day, what we ensure is that every trip is as safe and memorable as can be, and that you will not be disappointed kayaking the British Columbia coast.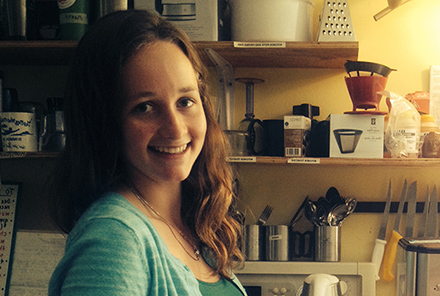 Frieda Humphreys | Food Superstar
Frieda is a true island girl, having spent the first 17 years of her life living on a remote island. There she learned lots of handy life skills, such as running a chainsaw, hunting, fishing, as well as less frightening activities like knitting, canning, gardening, and of course cooking! Frieda began washing dishes at Spirit of the West in 2011, and now works as the kitchen manager, ensuring all things food related are taken care of. When she's not busy with that, you can find her playing soccer, hiking, and most commonly swimming in nearby lakes.
Melissa Wickihalder | Marketing & Creative
Melissa was born and raised in Switzerland and is a real mountain enthusiast. After studying graphic design, marketing and media in Zurich and Berlin she worked in the industry for many years before exploring the world looking for challenging outdoor adventures. Spirit of the West Adventures inspired her to experience and learn all about British Columbia's nature paradise and the kayaker's world. Melissa supports Spirit of the West Adventures in marketing, media and graphics with all her creativity and passion. Meanwhile she loves the BC coast like a local and appreciates having the opportunity to combine her skills with an outdoor life in the mountains and the newly explored deep dark water.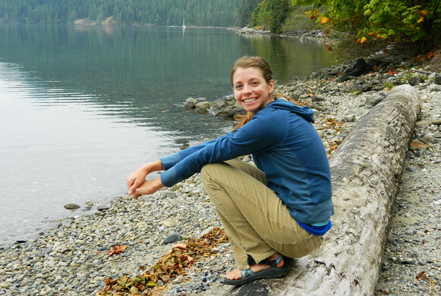 Kristen Nammour | Operations Manager
Kristen is originally from San Antonio, TX but has lived in Canada for almost a decade. The lure of the BC coast has brought Kristen and her kayak guiding husband, Daniel, out to the islands to stay. Kristen is new to the Spirit of the West Adventures team this year and is working behind the scenes to help ensure the smooth running of the office. With a BBA in Marketing from Texas A&M University, Kristen has worked in various roles in marketing and administration for a number of small businesses. She is passionate about sustainable communities and resilient, localized food systems. In the winter, Kristen works with Young Agrarians, an organization dedicated to growing the next generation of farmers in Canada.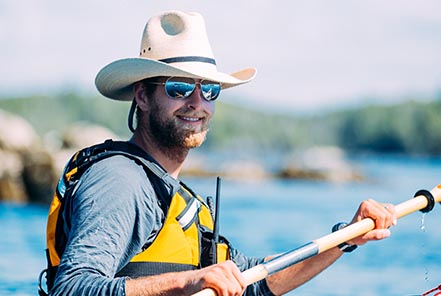 Daniel Nammour | Head Guide
Daniel started guiding on the Rio Grande on the border of Texas and Mexico, spent some time wrangling horses in Kananaskis country in Alberta, and worked the Colorado, San Juan and Green Rivers of Utah's canyon country before he finally reached the BC coast. Here he has found more wilderness than he could explore in a lifetime. When not doing so, he enjoys growing good food and eating well cooked meals with good company, preferably by the water and under the stars.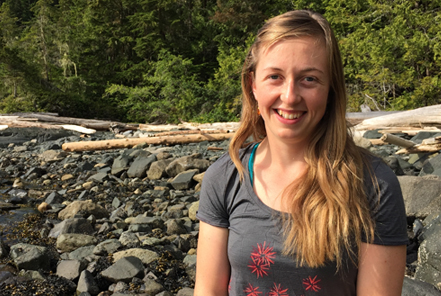 Robin Humphreys | Kayak Guide
Born and raised in the Discovery Islands, Robin has spent much of her life on the ocean. In addition to guiding in many areas of the BC coast, she has also had the opportunity to lead trips with Spirit of the West in Chilean Patagonia and the Bahamas. In between kayaking seasons Robin has worked as a snowmobile guide and, more recently, a ski patroller at Mt. Washington on Vancouver Island. When she's not working Robin can be found riding her mountain bike, skiing or plotting where her next kayaking adventure will take her. With a life long love of her home on the BC coast Robin brings a passion and local knowledge that she is keen to share. Rain or shine she's at home! 2016 will be Robin's ninth (!) season with Spirit of the West Adventures.
Gaspard Laniece | Kayak Guide
Gaspard is a prairie boy who has found his love for the ocean and the mountains in BC with the Wilderness Leadership Program at Capilano University. Nothing brings him more pleasure than sharing wildlife sightings and the beautiful outdoors with guests, friends, and family. This is Gaspard's second season with Spirit of the West.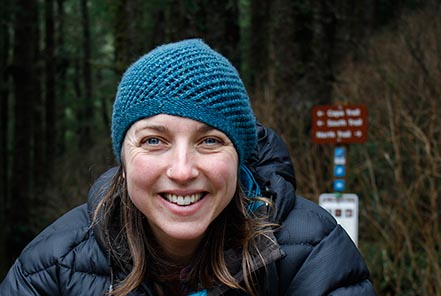 Tessa Stiven | Kayak Guide
A born and raised Vancouver Island girl, Tessa loves the ocean and mountains of her home. She has spent the last six years exploring the Island as an environmental educator guiding backcountry trips for youth. She is occasionally persuaded to leave the Island, and works internationally as a wilderness guide for college study abroad programs. When not guiding, Tessa can be found with her hands happily in the dirt on her permaculture farm in the Cowichan Valley.
Leah Chandler | Kayak Guide
After living in Montreal working with at-risk youth while pursuing a Geography degree, Leah decided to leave the hustle of the city to head west. BC's Vancouver Island has been Leah's home for the last 5 years. Hooked on the ocean and mountain lifestyle she has been exploring the island's backcountry, working as an outdoor educator for youth. Leah's fun-loving, playful energy has led her into the guiding world where she enjoys meeting new folks and sharing in the magic of the natural word. Her passion for kayaking has been fuelled by the ability to explore and discover less accessible areas by sea. Outside of guiding, Leah can be found out in the field at her small scale farm in the Cowichan Valley.
Ashley Hamilton | Kayak Guide
Ashley is an adventurer, outdoor educator, and traveller who lives for exploring the natural world and meeting new people. Her passion for the outdoors began in Niagara On The Lake, Ontario where she was born and spent almost every summer day mountain biking the Niagara escarpment and swimming and canoeing in lakes and rivers. Her thirst for adventure continued through University where she led social justice programs abroad for young adults to Morocco, India, and Belize. She is a certified teacher with a degree in biology and psychology and has spent the past six years working with inner-city youth from Toronto teaching and directing at an outdoor experiential school. Ashley is excited to be working as a guide sharing her passion for paddling and the environment with others while experiencing the beauty and inspiration of the West coast.
Beverly Marshall | Kayak Guide
Bev's love of the outdoors has always been amplified when sharing it with others and it has brought her to guiding in locations off of Gabriola Island, Tofino and mostly recently Haida Gwaii. Whether it's slowing down to take in the scenery or waking up with a destination in mind, Bev brings infectious energy, humour, and care to each tour. She keeps busy in Victoria in the off season working at a local pub, learning about meditation and yoga, and visiting with her extended family!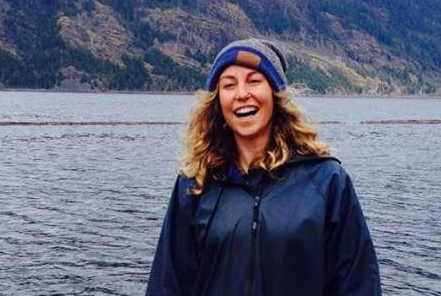 Savannah Zumach | Kayak Guide
Savannah was raised on Vancouver Island in Victoria with much of her childhood spent outside either camping, hiking, or kayaking. She's been in love with the outdoors since she was a kid and now is lucky to have a career working outside with super rad people sharing my passion. In 2014 she took a program called Canadian Outdoor Leadership Training at Strathcona Park Lodge, and has been guiding and working with youth in the outdoors since.
When I am not working my hobbies are skiing, surfing, and exploring the coast!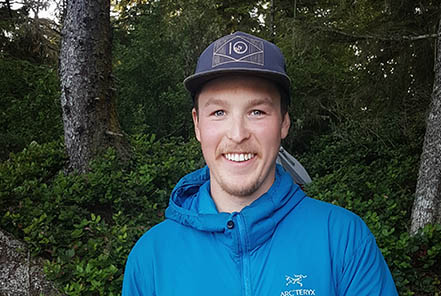 Brandon Exner | Kayak Guide
Brandon was born in and raised in the eclectic mountain town of Nelson, British Columbia. After graduating from the Adventure Tourism Business Operations Diploma in Golden BC he began kayak guiding, and has since found a love of exploring the ocean and it's inhabitants. When not on the water Brandon can be found exploring his passion for the outdoors, hiking, rock climbing, or working as a ski patroller in Nelson. He looks forward to sharing his positive attitude, calm demeanour and nature facts to enrich you're experience.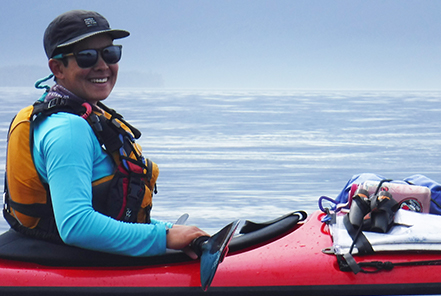 Aleia Wylie | Kayak Guide
Aleia grew up in Coquitlam, BC, and has always had the water and mountains as her backyard to play in. She took the Adventure Studies program at TRU, where her love for kayaking and guiding began. Aleia's favourite part about being in nature is that every moment of every day is different and always offers new experiences to share. Given the opportunity, she can be found sitting by tide pools for hours at a time, watching the lives of the many tiny creatures unfolding slowly in the still water. When not guiding, Aleia can be found climbing, riding her bike, snacking or finding new and narrow places to squeeze her kayak into.
Devon Stephenson | Kayak Guide
Devon is a graduate from the Adventure Guiding program at Thompson Rivers University. When he's not in school he can be found enjoying the power and beauty of the ocean. Devon is a very personable, passionate, and empathetic person and is very compatible with others. He prides himself on his openness and his ability to help others feel comfortable. He loves to learn and teach all about the ocean and the flora and fauna that live around the coast of BC. Devon is a believer that experiences are the best thing to collect and share in life and he is looking forward to sharing them with you!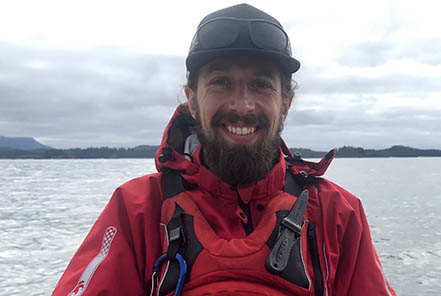 Cass Sica | Kayak Guide
Cass is a guide, outdoor educator, and teacher who loves to explore and play outside. He has a passion for ecology and helping people find their connection to the natural world. When he is not engaged with youth programming he can be found paddling, climbing and hiking across the coast.
Robin Gannett | Food Superstar
Originally from Edmonton, AB, Robin has called Vancouver Island home for the last four years, after falling in love with the West Coast and all it has to offer. She has worked for the past couple of years as the out-trip food coordinator at Strathcona Park Lodge, and is now excited for a new adventure working with the kitchen team at Spirit of the West. She is currently pursuing a degree in Geography at the University of Victoria, and loves to spend her free time surfing, climbing, hiking, and adventuring around the island.
Josh Smaill | Kayak Guide
Josh is a New Zealand resident living a life of endless summer, split between the Abel Tasman National Park in New Zealand and coastal British Columbia. After completing a master of science in geology, Josh dabbled in office life as an environmental science consultant. This didn't last and Josh quickly went back to guiding in the Abel Tasman National Park where he has recently started his own company running guided sea kayak day trips. Josh loves guiding on the BC coast because of the scenery and the wildlife viewing opportunities. When he's not on the water Josh is a keen guitarist and likes to spend time exploring new places with friends.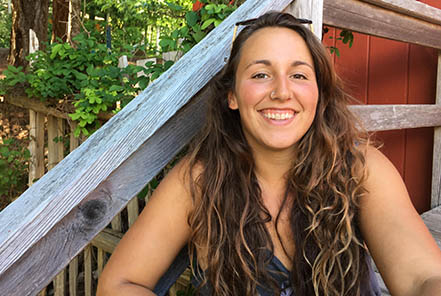 Nicole Kilistoff | Kayak Guide
Nicole is lucky enough to have spent the majority of her life residing on the B.C. coast. She cultivated a deep love for the ocean and the mountains from her parents who were either out exploring nature or planning the next family adventure. Nicole continued to feed this passion and entered the Wilderness Leadership Program at Capilano University, wherein she discovered a world of career possibilities for an outdoor enthusiast such as herself. Now working as a Ski Patroller in the winter and Sea Kayak guide in the summer, Nicole has found a tangible means to constantly learn and challenge herself. When not strapped to a pair of skis or in a kayak she can be found in Squamish, her home for the past 4 years, rock climbing, hiking, crafting, laughing and cooking for friends.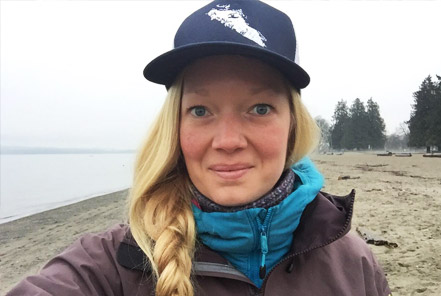 Lisa Denholm | Kayak Guide
Lisa's many adventures brought her from Alberta to the coast a number of years ago. As a trained educator (BC teacher) she is keen to share the natural world with those on her trips. In between seasons with Spirit of the West, Lisa can be found introducing students to the outside world teaching with school outdoor programs in Vancouver.
Carly DeFoe | Kayak Guide
Carly fell in love with the outdoors while she was living in the Rockies, and was happiest hiking and running through the mountains. After a few years of wandering around overseas and spending all of her money, she found home on Vancouver Island where her passion for nature, kayaking and outdoor adventure grew. She is currently attending Thompson Rivers University and spends her time climbing, skiing, and looking forward to a summer on the ocean.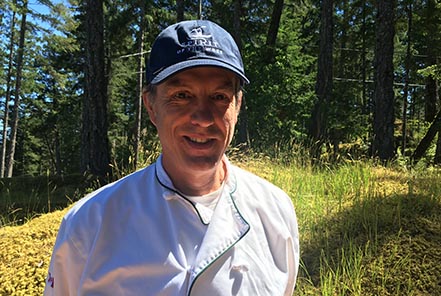 Neil Unwin | Glamping Chef
Neil has traveled through 30 plus countries and has discovered that it just doesn't get any better than his current home on Quadra island. Learning from foodie trends all over the planet, together with classical professional training in Vancouver BC, he brings over 20 years of culinary credentials and the fine dining elegance of international hotels, to the rugged and remote reaches of the Pacific Northwest. But it was his experience preparing meals in remote northern camps, cementing his love for the wild outdoors, that drew him to us and to Blackfish Sound for a second season.
Trevor Jones | Kayak Guide
Trevor fell in love with the ocean at a very young age after spending many family vacations on the east and west coasts of Canada. Born and raised in Alberta, Trevor was always eager to get back to saltwater when he could. After high school, Trevor spent two years travelling the world where he visited countries including New Zealand, Australia, Bosnia and Herzegovina, Germany, and Morocco where he worked as a surf instructor. Most recently, Trevor has graduated the Adventure Studies program at Thompson Rivers University where he discovered his love for sea kayak guiding.
Amy Benskin | Kayak Guide
Amy has been leading groups on BC's coast and rivers for 13 years as a sea kayak guide, whitewater canoe and kayak instructor, and scuba diving instructor. As a Level 3 sea kayak guide with the SKGABC & a Paddle Canada Level 1 Instructor, Amy spends the guiding season in various locations around Vancouver Island, Haida Gwaii, and the Great Bear Rainforest. Amy enjoys sharing her knowledge of natural history with her guests, and would love to take you on an adventure to learn about sea birds, trees and plants, tide pool critters, as well as the cultural history of the area.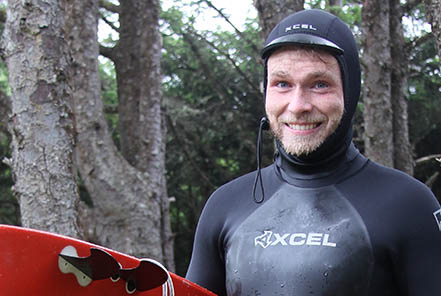 Ben Boulton | Kayak Guide
Ben appeared on Vancouver Island a few years ago with a dream that he would find waves, whales and whitewater. Well folks, it turns out this dream came true and now this coast might be stuck with him for a while. Over the years Ben has been found guiding in a variety of vessels on the pristine lakes of Algonquin Park, the rushing rivers of Ontario and Quebec and the high peaks of the Adirondack Mountain range. He has a degree in Civil Engineering, working for a while in this field before being drawn back to guiding and exploring this wonderful world where we live. In the off season, Ben can often be found in the water attached to a surf board or kayak somewhere around Vancouver Island, Chile or New Zealand.
Brad Wipp | Kayak Guide
Brad grew up in Ontario and lived most of his life there, but has also lived in Alberta and BC. He and his wife recently moved to Vancouver Island to be closer to family and have loved every minute since they arrived. He's been in the electrical trade in one form or another for 44 years until retiring last June. Brad started paddling later in life but has always enjoyed being outdoors, and has been doing both sea kayaking and whitewater kayaking for about 15 years. His first big trip was with Spirit of the West in 2004, and since then has paddled both coasts, Belize, Costa Rica, and too many places to list in Canada and the US. He has a passion for learning new kayaking skills and loves to pass on that knowledge.
Andrew Green | Kayak Guide
Andrew grew up a proud canoeist, bouncing around the rivers and lakes of Ontario. At first he was a reluctant kayak convert, but now he can't get enough of what the BC coast has to offer. On trips he loves exploring intertidal zones, tying knots and making gourmet oatmeal. These days Andrew splits his time between nursing at Royal Jubilee Hospital in Victoria, kayak guiding, and rock climbing.
Hannah Roy | Kayak Guide
Hannah lives for adventure, whether in her hometown of Nelson, BC or on Vancouver Island where she spends her summers leading sea kayak expeditions and climbing any rocks she can get her hands on. For Hannah adventure means new experiences, often under the sun and/or the stars. She fell in love with the magic of BC 8 years ago. Whether in the mountains, the ocean, the rivers or the forests, she finds it all utterly enchanting and is excited to share the uniqueness she finds, with you.